The Truth About Princess Diana's Wedding Veil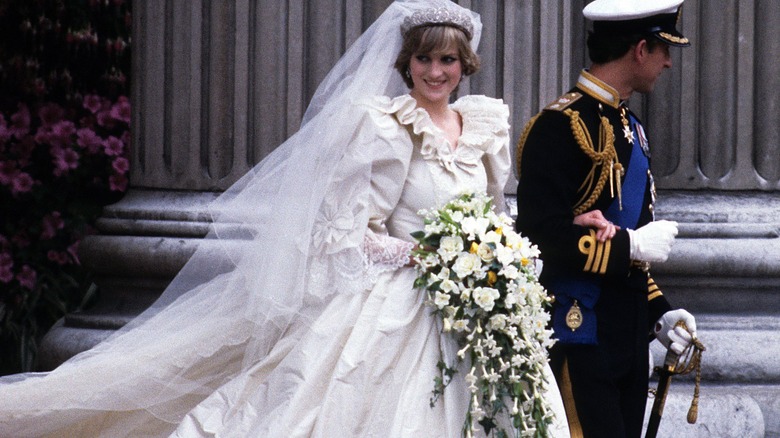 Anwar Hussein/Getty Images
When Diana Spencer wed Prince Charles of Wales on July 29, 1981, 750 million people tuned in worldwide and remained glued to their screens as the 20-year-old woman became a princess in a uniquely exquisite gown little girls dream of in their fairytale fantasies (via TV Insider). The gown, along with the veil and epic train that looked as if it would never end, were one-of-a-kind creations made especially for the royal occasion.
The ivory-taffeta gown was one of two dresses made for Spencer, and it was created by the husband and wife design team of David and Elizabeth Emmanuel and included countless sequins and 10,000 pearls, bringing the cost to a whopping $115,000. The royal family knew how to play with people's anticipation, knowing the world would be watching, and nobody got a glimpse of Diana's wedding gown until the bride first appeared in public that historic July day (via Town & Country). Still, her veil with that train — the longest ever worn for a British royal wedding — was the showstopper that day and for good reason.
Diana Spencer's veil was a secret design created by the best of the best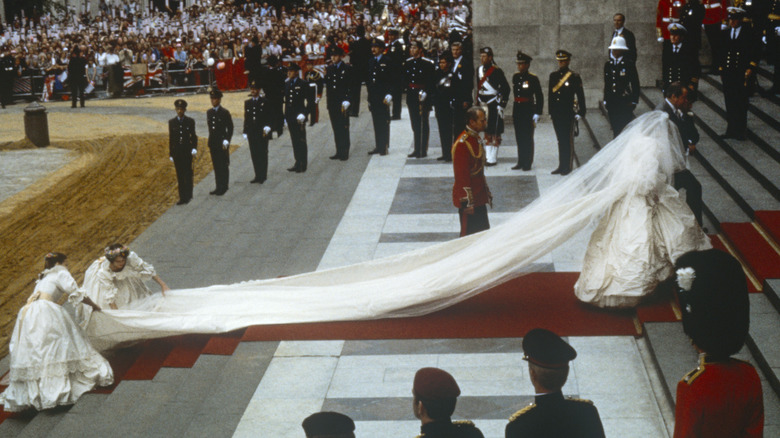 David Levenson/Getty Images
Peggy Umpleby of S. Lock, which decades later is now known as Hand & Lock, was tasked with creating Diana Spencer's veil by hand. "I asked that the tiny mother of pearl sequins looked as if they were scattered on the tulle," Elizabeth Emanuel, the dress designer, told British Vogue. "As the sequins were almost transparent, only the sparkles of light would be visible, creating a fairy dust effect. We used the same sequins on the gown itself, so that it would also sparkle as Diana walked down the aisle."
Umpleby, a 35-year employee of S. Lock, also known as Miss Peggy, knew the details of the veil and worked on it at home throughout the night for weeks. In the mornings, she would bring it back to the fashion house on public transportation.
"Progress was slow and to make the deadline she told fellow embroiderers she was going on holiday, but in truth, she sat at her kitchen table embroidering for two solid weeks," Hand & Lock Fashion historian Robert McCaffre told British Vogue. "The veil was completed ... and she returned to work, only to have her colleagues remark on how pale she was despite her two week 'holiday.'"
Emanuel had nothing but praise for Miss Peggy and what she managed to create in such a short amount of time. "The effect was magical and Diana looked dazzling — like a real life fairytale princess bride," gushed Emanuel (via British Vogue).