Why You Should Be Using Marshmallow Root Extract For Skincare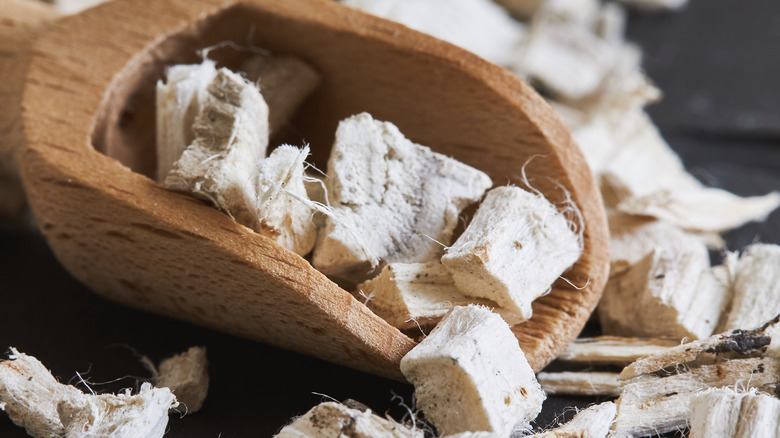 Shutterstock
Using marshmallow for skincare might sound kind of strange, but it's not the squidgy pink and white sweets that we're talking about here, it's the root of the plant originally used to make them. (As per Byrdie, today, marshmallows tend to be made with a substitute instead of the traditional plant.) Marshmallow root has been used for medicinal purposes for hundreds of years.
As per Glamour, marshmallow root is actually a "supercharged beauty ingredient" that offers some fantastic skincare properties. More and more beauty brands are starting to incorporate marshmallow root into their products, and it's easy to see why, thanks to the many benefits it offers.
Byrdie reports that marshmallow root extract derives from the Althaea plant from Northern Africa, Europe, and Western Asia. Dermatologist Dr. Kenneth Howe explains that, "The roots of the marshmallow plant contain a thick, gummy substance called mucilage. The mucilage is extracted from the root and used for medicinal purposes. In addition to mucilage, the root extract contains a number of other ingredients that promote skin health, such as polysaccharides and flavonoids."
In addition, marshmallow root can also be used to soothe skin, according to Howe, so it's easy to see why it's become such a popular ingredient in skincare products, and the new beauty buzzword.
How can marshmallow root benefit skin?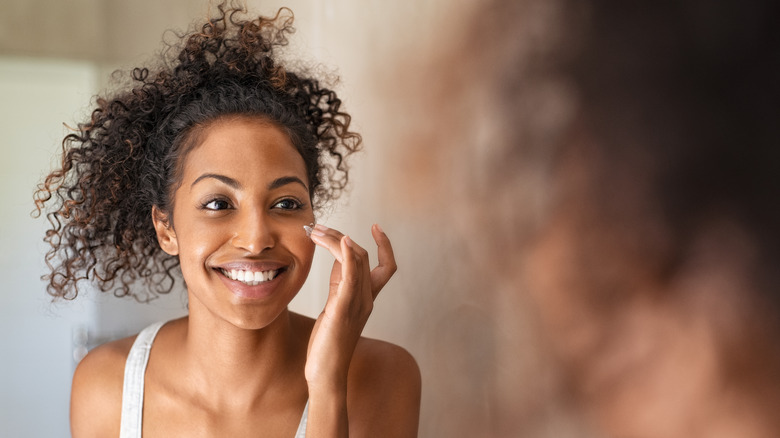 Shutterstock
As per Byrdie, chemist Ron Robinson explains, "Marshmallow root extract may provide anti-inflammatory benefits as it helps to soothe irritation as it hydrates skin." He also says that, "Traditionally, MRE has been used to treat skin burns and insect bites. But as scientific studies have determined that MRE possesses antimicrobial, anti-inflammatory, and immunomodulatory effects, the clinical uses of MRE have expanded."
Byrdie reports that, as Howe explains, "The anti-inflammatory properties of the extract make it a great choice for people with problem skin, such as sufferers from eczema or rosacea." Mandy Vance, director of education and esthetics at Dr. Hauschka, suggests using it beneath the eyes, saying, "The eye area is so delicate and prone to sensitivity, and wrinkles are caused by lack of moisture. This makes marshmallow extract a fantastic ingredient to address visible concerns while preventing future ones."
Lorraine Dallmeier, Director of online organic cosmetic science school, Formula Botanica, explained to Glamour that, "Marshmallow is well known for its demulcent [inflammation-relieving] properties." Marshmallow root is also thought to be able to stimulate tissue regeneration, and it's suitable for use on all skin types, even sensitive skin.
Dallmeier also explained that for skin that's prone to sensitivity, inflammation, and irritation, there tends to be good results from cosmetic formulas rich in marshmallow root.