Trendy Bathroom Products That Are Really Worth The Hype, According To Reviews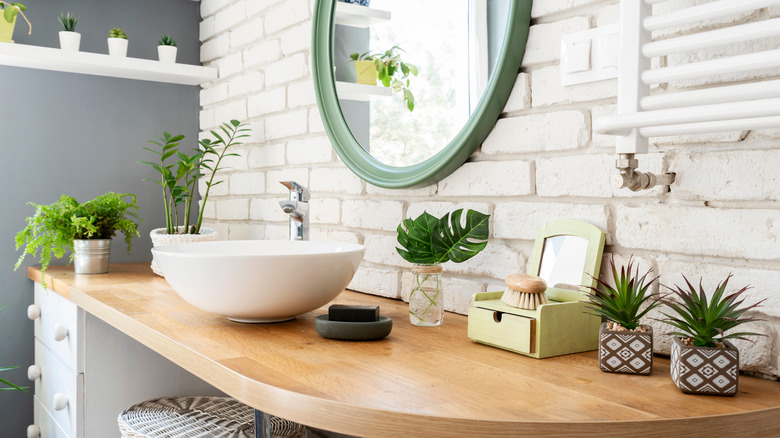 Shutterstock
We may receive a commission on purchases made from links.
Are you tired of buying nifty bathroom decor that turns out to be useless junk? Fortunately, we've found the products that are actually worth your money. These fun and unique tools are not just conversation starters. They're functional, and can quickly brighten up the look and feel of your bathroom — after all, who doesn't love a relaxing, spa-inspired bathroom.
It's all too easy to buy a product that seems useful at first, but doesn't hold up in the long run. Cheap plastic shower hooks, for instance, might solve the problem of hanging up your towels temporarily, but will cause you an even bigger headache when they fall off. Instead, consider investing in stainless steel adhesive hooks. The Budding Joy brand sells a pack of four for just $8.99 on Amazon and gets excellent reviews. Plus, stainless steel hooks will look a little classier in your bathroom. Other nifty items that have left customers extremely satisfied include a premium hair catcher, a self-draining toothbrush holder, and a glue-like, non-slip mat for the shower.
A toothbrush holder, shower mat, and hair catcher will revamp your bathroom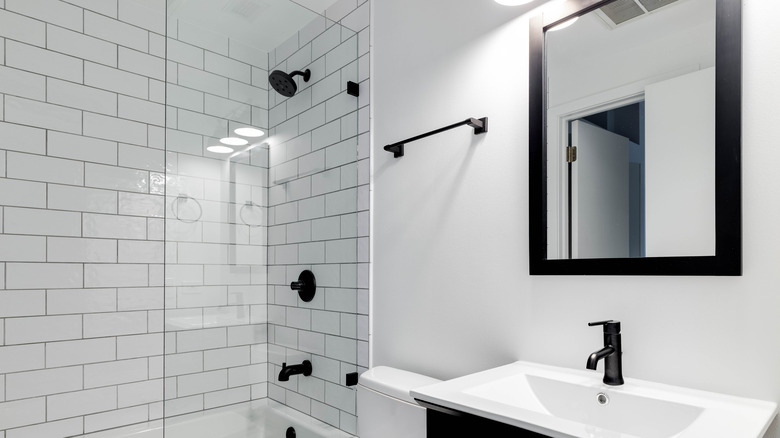 Shutterstock
Sometimes, the best bathroom trends are the simplest ones. That is especially true with the self-draining toothbrush holder from Peleg Design, shaped like an elephant. This cute, unique design allows excess water to drain through an "elephant spout" so you don't have to worry about gunky water sitting at the bottom of your toothbrush holder. One reviewer noted, "It adds a hint of humor to my sink." As an added bonus, the holder works as a cutlery drainer as well.
If you're looking for the bath mat to end all bath mats, check out the Gorilla Grip luxury bathroom mat. This striped rug is non-slip, super absorbent, and machine washable. "Buying this non-slip bathroom rug was one of the smartest things I've done," one reviewer raved. While this mat is pricier than others, reviewers promise that it will last a long time.
To complete your refurbished bathroom, we suggest the time-saving hair catcher from Lekeye. While there are many other fun and colorful catchers out there, none of them work quite as well as the sleek, stainless steel versions. The Lekeye hair drainer is detachable, meaning you can easily lift out the inner basket to clean. "We've been using it for about five months and have had no issues with rusting or corrosion, and it's still as easy to clean as in the beginning," one reviewer mentioned. If you have a shower drain instead, Lekeye also makes a simplified version.