What Do You Use A Skincare Fridge For?
Shutterstock
We may receive a commission on purchases made from links.
It's time to talk about refrigerators, but not the one in your kitchen. Everyone has their perfect skincare routine and the skincare products they do and don't use based on their skin type, but how are they storing those products? It's safe to say that most people store their beauty products at room temperature, either in their bedroom or their bathroom where they regularly complete their skincare routine. However, skincare fridges are becoming increasingly popular online. These fridges are small and compact and perfect for a bedroom, and they keep your products nicely cool. Are they necessary, though? Small beauty fridges range from around $45 all the way up to $90 and beyond on Amazon, so one central question remains. Is it worth it?
In short, the answer may be no. Dermatologist Dr. Dennis Gross is wary about this new trend, calling it "a marketing gimmick" (via Elle). Dr. Gross explained that beauty products are meant to be at room temperature. You buy them at the store or order them online at room temperature, so why should you refrigerate them at home? However, the real answer may be more complicated than this.
Here's how to choose what to store in a beauty fridge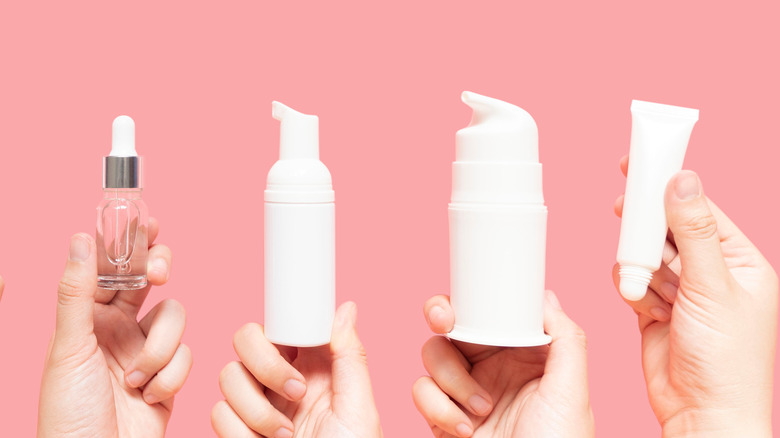 Shutterstock
Rather than assuming all compact beauty fridges are pointless, it's important to think about the source of our products. As dermatologist Dr. Dennis Gross pointed out, if we buy certain products at room temperature, they probably don't need refrigeration. The coolness isn't going to make the products work any better, after all. However, some speciality creams and products prescribed by dermatologists do require refrigeration. Dr. Gross noted that storing these types of products in the fridge is "paramount" (via Elle). Ultimately, then, getting a skincare fridge seems to depend on the kinds of products you have.
Teen Vogue noted that the lifespan of certain products, such as sheet masks, eye creams, and makeup (that should last about 18 months), can be extended if kept refrigerated. This idea works in tandem with Elle's explanation that ingredients and production matter when determining what should be chilled, as natural and organic products will typically expire or lose their effectiveness after a set amount of time if not chilled due to the lack of stabilizers and preservatives in them. As the beauty industry transitions to more organic, sustainable products, a skincare fridge may become a necessity.
It is worth noting, too, that there is nothing different about a skincare fridge from a regular fridge. No one is stopping you from getting a cute, incredibly Instagrammable beauty fridge to store snacks or drinks in!