Emma Watson Clears Up Those Engagement Rumors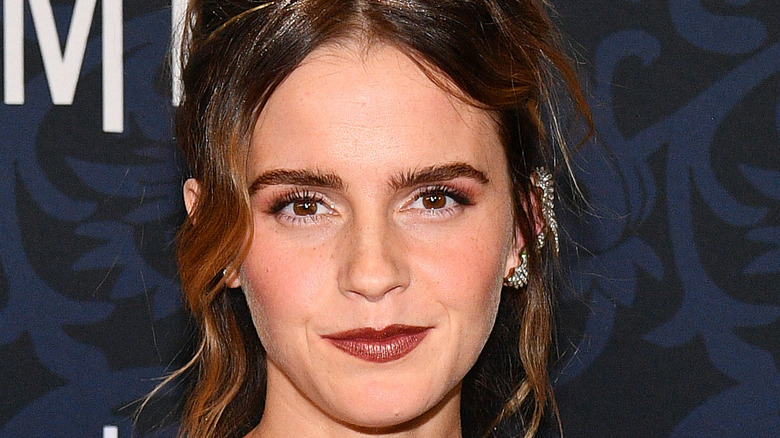 Dia Dipasupil/Getty Images
In the world of "Harry Potter," Hermione Granger ended up with Ron Weasley. In real life, Emma Watson, the actress known best for the magical role, is dating Leo Robinton. According to Elle, he is a businessman from California — but don't set out to try and stalk him online, as he reportedly deleted his social media accounts after photos of this couple kissing surfaced/
Previously, Watson was romantically linked to "Glee" actor Chord Overstreet, Johnny Simmons of "The Perks of Being a Wallflower", and Will Adamowicz, whom she met while studying at Oxford University, (via PopSugar). There have even been rumors that she was with Tom Felton, who played Draco Malfory in the "Harry Potter" films. And in 2019, as stated by British Vogue, Watson referred to herself as "self-partnered," showing how empowering it can be to be happily single.
Now, though, she has been in a relationship with Robinton since April 2020, many fans have been wondering: Are they engaged?
Emma shares her thoughts on the engagement rumors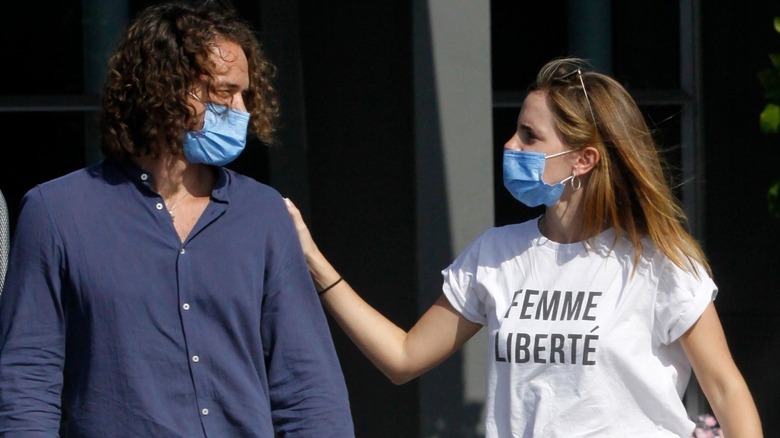 Backgrid
Emma Watson shut down the engagement rumors, and she has not, in fact, taken her current relationship with Robinton to this next level.
On Monday, May 17, the star turned to Twitter to clear up any confusion, writing, "Dear Fans, Rumours about whether I'm engaged or not, or whether my career is "dormant or not" are ways to create clicks each time they are revealed to be true or untrue." 
In a follow-up tweet, she added, "If I have news – I promise I'll share it with you." The star closed her announcement, with a final tweet, which read, "I am sending so much love to you, hoping you're ok and as well and happy as you can be in these strange times. And again, thank you to everyone working so hard to keep us safe and well. E Xx." 
Of course the tweets were met with grace and acceptance from her loyal fanbase, but mostly excitement from fans who were ecstatic to see Watson even using social media, as she is rarely active on her Twitter profile.