Barack Obama Reveals How Sasha And Malia Really Felt About The Secret Service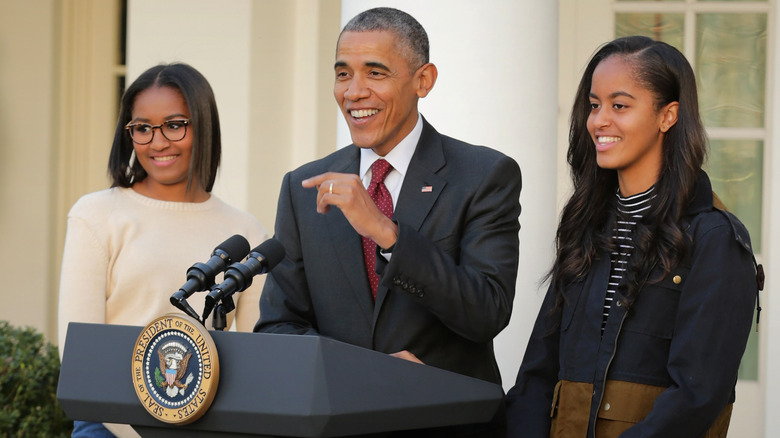 Chip Somodevilla/Getty Images
Imagine being a teenage girl and having someone follow you around wherever you go. You know it's for your own protection, but it can be both disconcerting and aggravating to feel you never have privacy, especially when on a date. However, that's exactly what Sasha and Malia Obama, daughters of former President Barack Obama, have had to deal with thanks to the Secret Service.
Malia Obama was just 10 years old and Sasha Obama was only seven when their father became president of the United States, according to Miller Center.org. They grew up with Secret Service agents all around them, as presidents and their family all have had Secret Service detail.
The Secret Service began protecting presidents back in 1901 after President William McKinley was assassinated. Through the years, Secret Service duties expanded to family members, vice presidents, and even presidential candidates. Former presidents also receive Secret Service protection for life, but children of former presidents can opt out of this protection when they reach age 16 (via Secret Service.gov). Still, when Sasha and Malia were First Daughters, they had agents with them wherever they traveled.
Sasha and Malia Obama experienced moments they'd like to forget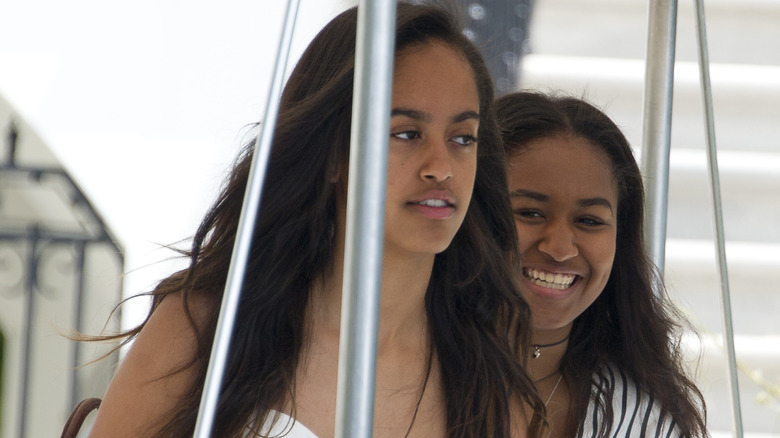 Pool/Getty Images
When former President Barack Obama appeared on "The Late, Late Show" on May 17, 2021, he revealed a few things about how his daughters grew up never really feeling like they are alone.
"First of all, them as teenagers having Secret Service guys follow them when they were going out on dates, I think probably has shut down their interest in public service," Obama said, according to E Online. "They still have PTSD from guys talking into their wrist microphones with glasses as they're trying to go to a music concert."
Obama also noted that growing up in the spotlight may have steered them away from very public careers. "You have to have a certain tolerance for nonsense and silliness and meanness, frankly, to go into public service," he said. "As a father, I want to protect my girls from that stuff. I think they are probably going to find other ways to serve rather than run for office themselves, but you never know. If they decided to do it, obviously I would be extraordinarily proud of them."