How To Use Makeup To Make Your Eyebrows Match Your Red Hair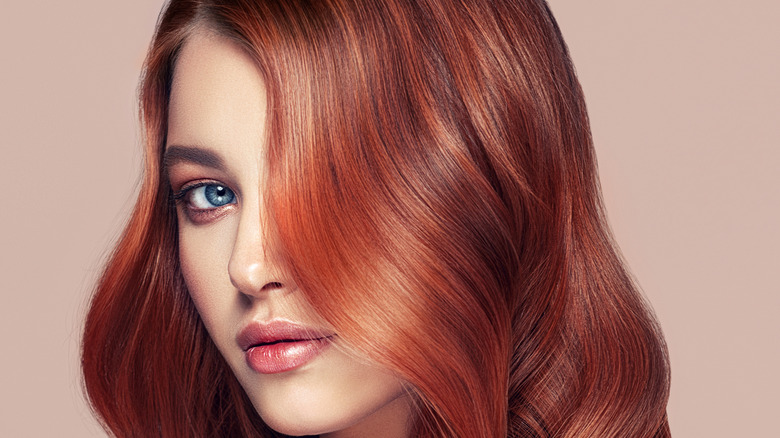 Shutterstock
There are certain ways to properly take care of red hair, there are still myths about redheads, and you can even match the red shade of your hair to your skin tone to look seamless and flawless — as you can tell, with red hair, there are a lot of pros and cons. What you may not have considered if you're a red head (natural or otherwise), however, are your eyebrows and how they will look with your hair's hue. Your eyebrows can always be worked on regardless of whether you're dying your hair red or you're a natural redhead. What's the trick to getting the perfect eyebrow, though?
According to Glamsquad Artistic Director Kelli Bartlett, your eyebrows don't need to match your hair color (via Makeup.com). On this, Bartlett noted, "Because there are so many different colors and shades of red hair, finding the right shade of eyebrow truly comes down to taste and comfort level." In fact, rather than aiming for a perfect match, you can try an eyebrow color that is one shade lighter or darker than your hair color to make both your face and your hair pop (via LiveAbout). When it comes to the color itself, it's all about personal preference. After all, self-expression is in style.
Here's how to best switch up your eyebrows when you have red hair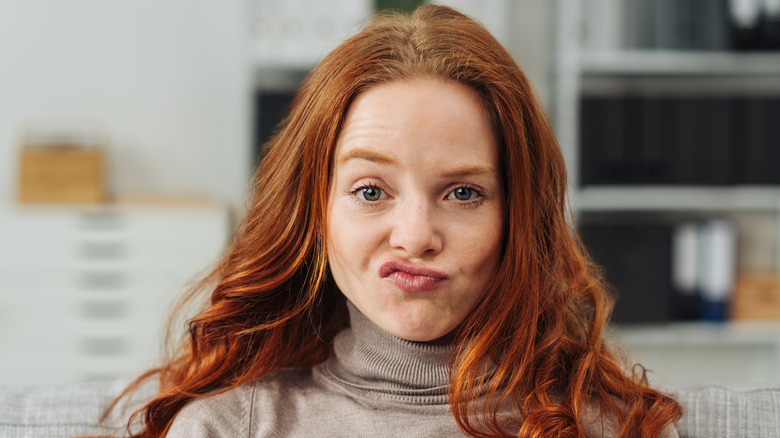 Shutterstock
How do you get the shade just right without attempting to dye your eyebrows, you might ask? Brow pencils and brow gels prove especially handy here. "Finding the right base color of the brow hairs is most important, especially if you have stubborn light or white brow hairs," Glamsquad Artistic Director Kelli Bartlett said (via Makeup.com). Putting time into finding the right color brow pencil or gel will help you in the long run, and it will create a base over which you can build with pencils and gels of lighter and darker shades to create well-rounded, three dimensional brows that will wow yourself and others.
If you do want to go the dying route, though, Bartlett recommended dying your brows either blonde or brunette. She highlighted blonde brows for strawberry blondes and other lighter shades of hair, and brunette brows if your hair is a deeper shade of red. These add dimension to your face in ways that having both red brows and hair doesn't.
Overall, using brow pencils and gels are the easiest route to go down for highlighting your brows, but other options do exist, such as brow tinting (via LiveAbout).