Here's What Laurie Hernandez's Net Worth Really Is
Harry How/Getty Images
At the age of 20, professional gymnast Laurie Hernandez has already had an illustrious career. In addition to winning a gold and silver medal at the 2016 Olympic Games in Rio, she has also won gold at the 2016 Pacific Rim Championships and the 2016 Jesolo Trophy. She is also the only first-year senior-level gymnast to be chosen for the 2016 U.S. Olympic Women's Artistic Gymnastics Team. (per Team USA)
The New Jersey native started training in gymnastics in 2005. "At five years old I watched a gymnast on the TV do flips on the balance beam. I pointed to the screen, looked at my mom and said, 'I want to be just like those girls.' She smiled and said okay, then put me in!" she recalled (per USA Gymnastics).
Following her win in Rio, Hernandez signed an endorsement deal with Procter & Gamble to become a brand ambassador for Crest toothpaste and Orgullosa, an online platform for Latinas (per ESPN). She also became the youngest contestant to win "Dancing with the Stars," and even traveled around the country with the show's live tour.
"Floor exercise is my favorite gymnastics event because I've always loved to dance, so doing this tour was a no-brainer for me," she told People. "I did the [Kellogg's Tour of Gymnastics Champions], which was amazing, but this will be the first show I'm doing on a proper stage."
Laurie Hernandez's career and net worth continues to grow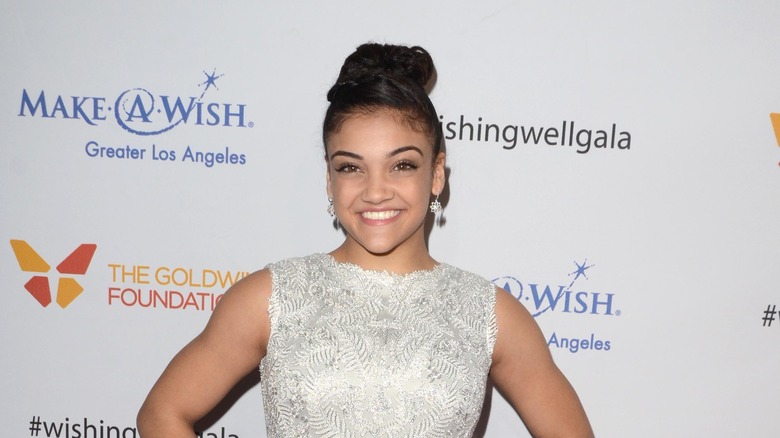 Shutterstock
Laurie Hernandez's gymnastics career, as well as endorsement deals and "Dancing with the Stars" win and tour, has earned her a net worth of $2 million, according to Celebrity Net Worth. And her sports career is far from over — she is preparing to compete at the 2021 Tokyo Olympics, working with new coaches after speaking out about the verbal and emotional abuse she suffered from her former coach, Maggie Haney.
"I now have to relearn what I thought was good this whole time and it was not, it was just behavior that I learned to adapt to or something that I was taught, that's not actually right. Being in that environment from age five to 16, those are my developmental years. So there's just a lot of unlearning that's constantly happening," she told People about her experience. Hernandez continued, saying that her journey towards healing was certainly an up and down experience, as she would feel great one day and terrible the next. 
"That can sting a little bit, but being able to talk about it and share it on social media and then have people connect to it. I think that's been really important," she said.