The Truth About The Friends Theme Song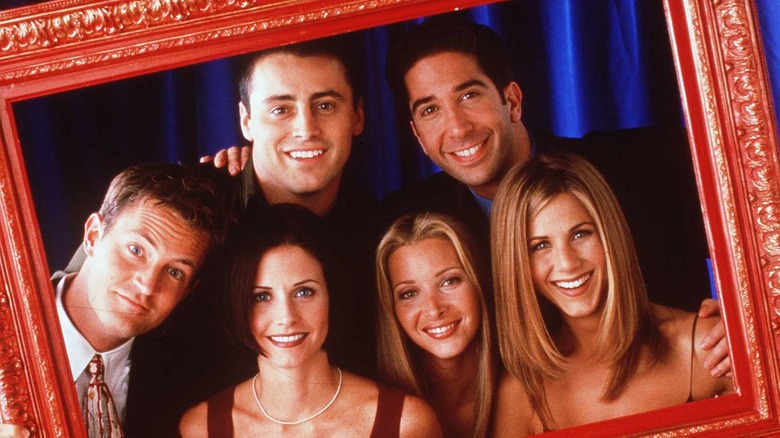 Getty Images
The "Friends" theme song is one of the most recognizable and well-known of all time. The tune is officially titled "I'll Be There for You" and is performed by a band named The Rembrandts. While fans all over the world are very familiar with the bop, the truth behind how the song came to be is actually a mystery to even some of the biggest "Friends" fanatics. According to BuzzFeed News, the series almost had a very different theme. The creators of the show originally wanted to use the R.E.M. song "Shiny Happy People" for the opening (per ScreenRant), which features cast members Jennifer Aniston, Courteney Cox, Lisa Kudrow, Matt LeBlanc, David Schwimmer, and Matthew Perry dancing and splashing around in a large fountain. 
R.E.M., however, have made it clear how much they dislike the song and apparently didn't want it attached to a TV show, where it would play week after week. Creators took matters into their own hands. They went to The Rembrandts and helped to co-write a song specifically for the show. 
The series obviously went on to become super popular, and the song was pulled up along with it. It eventually became a No. 1 hit on the American pop charts, and also climbed the charts in Canada, Scotland, and other countries. While fans loved the tune, the cast was said to feel differently. 
The music video for the Friends theme song featured the cast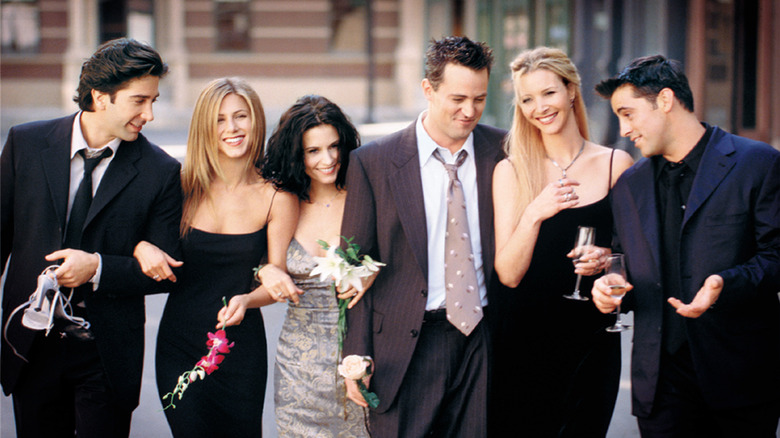 Getty Images
"No one was really a big fan of that theme song," Jennifer Aniston admitted back in 2016 (via The Wrap). Despite that, the "Friends" theme song became a huge hit due to the popularity of the series, and the music video was also a fan favorite. The video for "I'll Be There for You" is iconic because it features the "Friends" cast singing along, playing music, and even grabbing instruments from The Rembrandts as they attempt to perform the song (via BuzzFeed). The video wasn't filmed until after the series premiered due to scheduling conflicts among the stars. "It kept getting postponed and postponed and postponed because the cast members couldn't all get together," Rembrandts member Danny Wilde revealed, adding that the shoot lasted for three days and was filmed at the legendary "Saturday Night Live" Rockefeller stage.
The video was reportedly very scripted to begin with and featured the gang trying to sneak into one of the band's shows. However, Rembrandts member Phil Solem admitted that the cast wasn't on board with the idea. "We sat around a table and talked about it. And the cast was like, 'I don't think we should do what this says to do.' Then everyone just started pitching ideas," Solem said. Eventually, everything worked out perfectly. The song and video were huge hits, and "Friends" has turned into one of the most beloved TV shows of all time.