How To Build A Skincare Routine For Oily Skin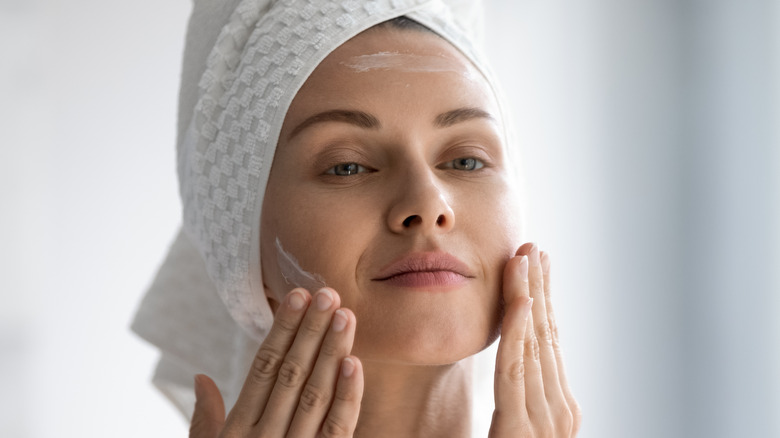 Shutterstock
The world of skincare can be really complex, but also really fun to dive into. Depending on your skin type, you might have to use products that are really different from what your friends or relatives use. After all, your skincare routine is about finding what works for you, not making mistakes that could be costly later.
When it comes to oily skin, finding the right skincare routine can be the key to controlling your oil levels and getting a healthy radiant face. Let's start with what you should say no to when it comes to skincare. Dr. Adarsh Vijay Mudgil told Healthline, "Avoid any products with alcohol, which can cause a paradoxical increased amount of oil secretion. Also, avoid anything thick or greasy, like cocoa butter, shea butter, and Vaseline." 
To start off, always wash your face after waking up and before going to bed. "Though most people should be washing their face morning and night, it's especially important for those with oily skin to give their face a complete cleanse in the morning," Dr. Sandra Lee, founder of SLMD Skincare, told Healthline. After your wash, continue with an exfoliating toner with salicylic, glycolic, or lactic acid and a water-based moisturizer which will help you control your facial oiliness.
These healthy habits will improve your oily skin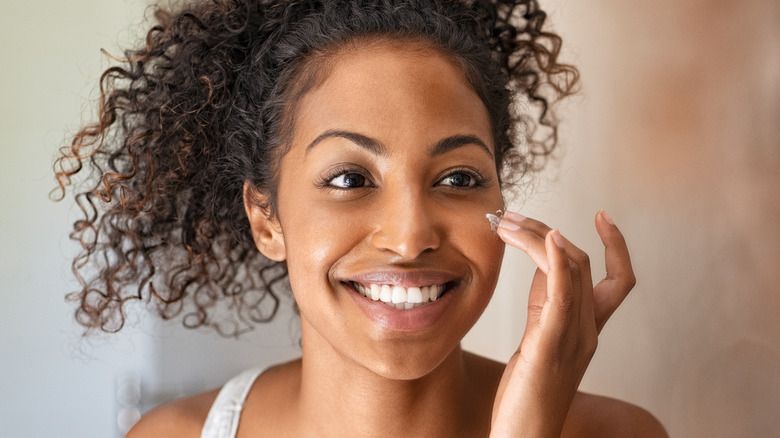 Shutterstock
Beyond using the right cleansing products, getting a clear skin is all about good habits. "The first step to better skin is to ensure you're finding time to relax, exercise and meditate to support your skin," Dr. Selena Langdon of Berkshire Aesthetics told Women's Health. "Stress causes hormones to become unbalanced, which can affect skin health."
Consuming a balanced diet will also help you see improvements in your skin. Dr. David Jack told Women's Health that a diet low in refined sugar and animal products and high in vegetables will "reduce inflammation and sebum production." 
While it might be uncomfortable to put on sunscreen with oily skin, you must use it when you go outdoors. While celebrity esthetician Renée Rouleau acknowledged to Byrdie that it's tough for oily skinned people to find a sunscreen that works for them, it is absolutely crucial that they use one on a regular basis. "Definitely look for zinc oxide sunscreens because those will leave a more matte finish to your skin," Rouleau said. "Plus, it's a natural antibacterial and ideal for people prone to breakouts."