Stars You Never Knew Courteney Cox Dated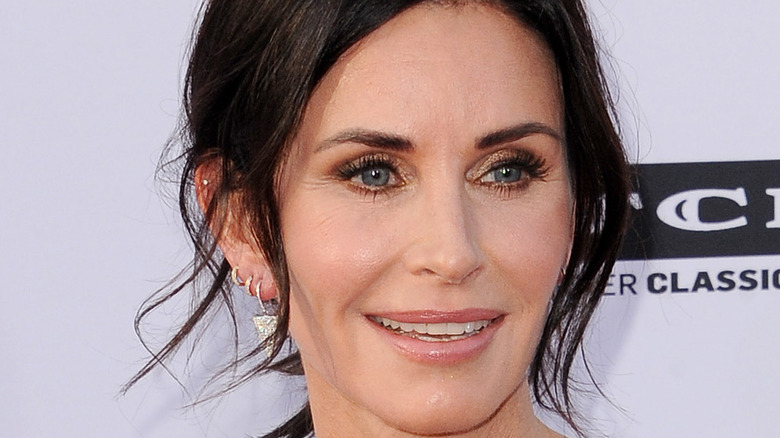 Shutterstock
For "Friends" fans, Monica and Chandler were OTP, but in real life actors Courteney Cox and Matthew Perry obviously weren't a couple. In fact, Cox's most high-profile relationship was with fellow actor (and father of her daughter) David Arquette, who guested on the classic sitcom as Ursula's stalker (via YouTube). As People notes, the couple got married in 1999, split in 2010, and finalized their divorce in 2013. Arquette gushed to Yahoo! Entertainment about how the two continue to "have a really great relationship" thanks to co-parenting their daughter, Coco. 
Unlike many other celebrity couples, they maintain there's been no bad blood over the years, even during the divorce. As Cox told Entertainment Weekly, "David and I love each other so much and we get along so well. ...We are the closest of friends." 
Although the "Friends" star's relationship with her former husband is the one most people would point to if put on the spot, it's worth noting Cox has dated several other fellow celebs over the years.
Monica and Batman used to be an item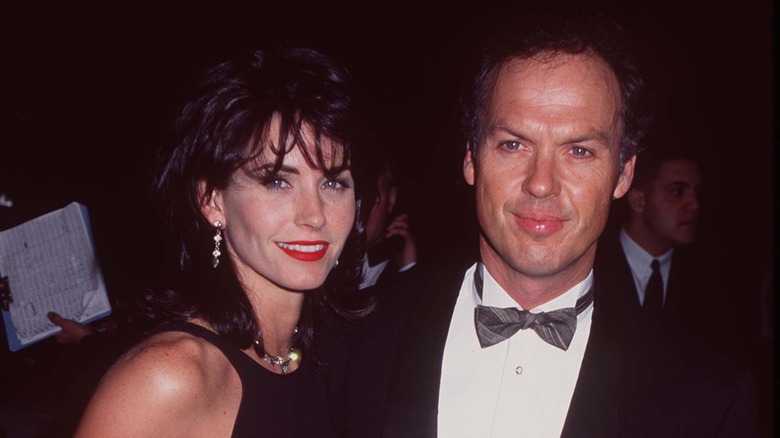 Tammie Arroyo/Getty Images
As Us Weekly notes, Courtney Cox's career kicked off in 1984 with a take-notice part in a Bruce Springsteen video but, naturally, it was her role as lovable neat freak Monica on "Friends" that really put the actress on the map. During her time as one of the most in-demand TV stars in the world, Cox dated many famous men including Batman himself, Michael Keaton, for six years. The actress sought Keaton out in 1989, after enjoying his performance in the previous year's "Clean and Sober." 
Following their breakup, she gushed to People, "It's the most important relationship I've ever had, and I think he's the most wonderful person I've ever met" and hinted at a reconciliation down the line. Later, the actress admitted to USA Today (via People), "Relationships are tougher than I thought," adding, "And I've got a lot of work to do on myself."
The actress also dated a couple co-stars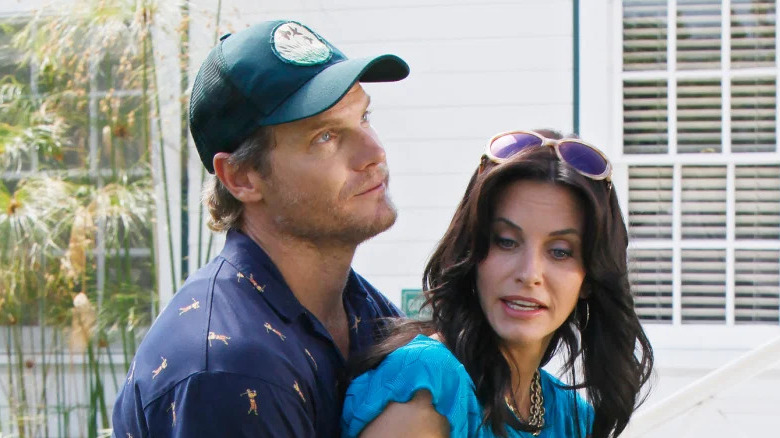 ABC
"Friends" star Courteney Cox began a tradition of dating co-stars with none other than Kevin Costner, whom she appeared in "3000 Miles to Graceland" with, and who Cox was rumored to be dating in the mid-nineties, according to Us Weekly. She followed that maybe relationship up with Counting Crows frontman Adam Duritz who also, weirdly, dated Cox's co-star Jennifer Aniston for a while. He hooked up with the "Cougar Town" star in 1997 after she starred in the music video for his 1996 song "A Long December." 
On managing to nab both Monica and Rachel, Duritz told Men's Health in 2014, "They were nice girls and I went out with them and that was that." 
Following Cox's split from Arquette, she briefly dated her "Cougar Town" co-star Brian Van Holt for a few months, in 2013. These days, though, the TV icon has found love once again with musician Johnny McDaid who, although still a public figure, is less high-profile than some of her former partners.