How Much Do The Richest Tattoo Artists Actually Make?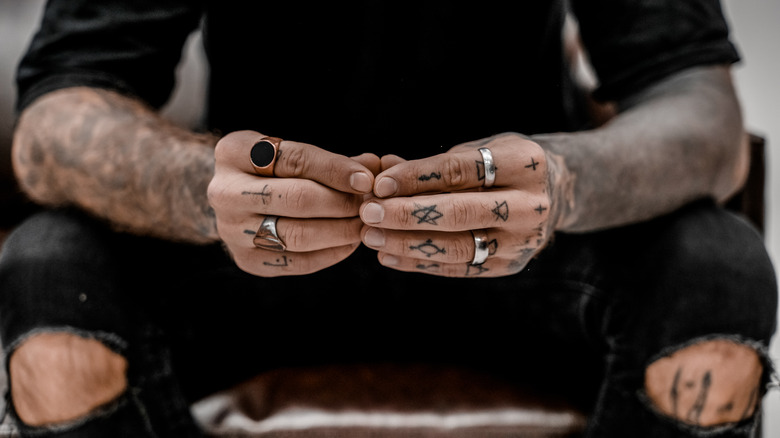 Shutterstock
Tattoos are perhaps the most personal pieces of art you can invest in. After all, your body is the canvas. We hope that when deciding to get inked, you do the necessary research beforehand and find a tattoo artist who is going to give you the body art you're envisioning. These artists certainly have an important job, which is why we're so intrigued to find out how much the top players in this industry of ink make.
Reputation and years of experience are two of the biggest factors that impact a tattoo artist's salary. An entry-level artist who has newly received their license and is fresh from an apprenticeship tends to make $15,000 to $23,000 a year. After some gained experience, an intermediate artist usually makes around $30,000 a year (via Wild Tattoo Art). Sure, you can live on these salaries, but what happens to your bank account when you start to make a name for yourself? 
Celebrity/tattoo artist/queen of ink Kat von D is earning $200+ per hour for her artistry. She gained a hefty fan base after appearing on four seasons of "Miami Ink." She has since moved on from the show and opened up her own shop, High Voltage Tattoo, in Los Angeles (via The Richest).
The highest-paid tattoo artist is a former biochemist
Even higher on the pay scale is tattoo artist Paul Booth who charges $300 or more an hour (via Money Inc.) Booth is known for his dark and gothic pieces in the world of rock and prefers to develop clients' rough ideas of what they want with his own interpretations. And with an hourly rate like his, we're guessing clients are pretty satisfied with the final product.
Topping our list (and many others) of the most expensive tattoo artist you can book is ink master Scott Campbell. His exorbitant fee of $2,000 for the first hour, plus $200 for every additional hour has us begging to know more about his resume (via Money Inc.). You would likely never guess, but Campbell is a former biochemist who worked at the University of Texas. After abandoning his lab coat, he moved to the west coast to begin his now insanely successful career as a tattoo artist. Today, Campbell has set up his own shop in Brooklyn and has quite the star-studded client list, including Marc Jacobs, Josh Hartnett, and the late Heath Ledger (via Scott Campbell Studio).
So there you have it. The richest tattoo artists are certainly showing that ink can come at a price. Though seeing as they have years of experience and epic reputations, we're guessing their fees will only increase in the future.