Best Lip Colors And Application If You Have Thin Lips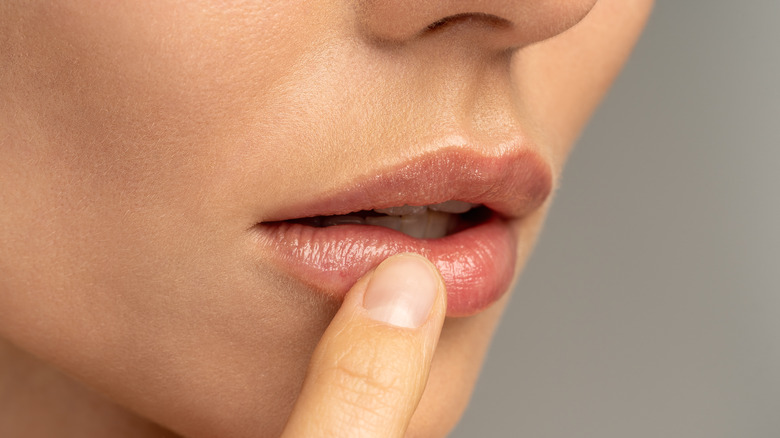 Shutterstock
There's no escaping the fact that a fuller pout — think Angelina Jolie or Kim Kardashian — is one of those beauty trends that is somewhat of a pipe dream for many of us, or at least it can seem that way. If you aren't blessed with big beautiful lips, it's easy to feel dissatisfied with your facial aesthetic and want to enhance your lips to create a fuller look. 
When it comes to a plump pout, the bigger your lips, the better your lipstick tends to look. But what can you do if you weren't blessed with big lips? While lip plumpers can add some temporary fullness to lips, they don't offer a long-term solution, and for many, injections and fillers just aren't an option (via Bustle). 
Believe it or not, according to experts, it is possible to achieve a fuller looking lip simply through your lipstick. It's just a case of getting the application, and the color, spot on.
How to create the illusion of fuller lips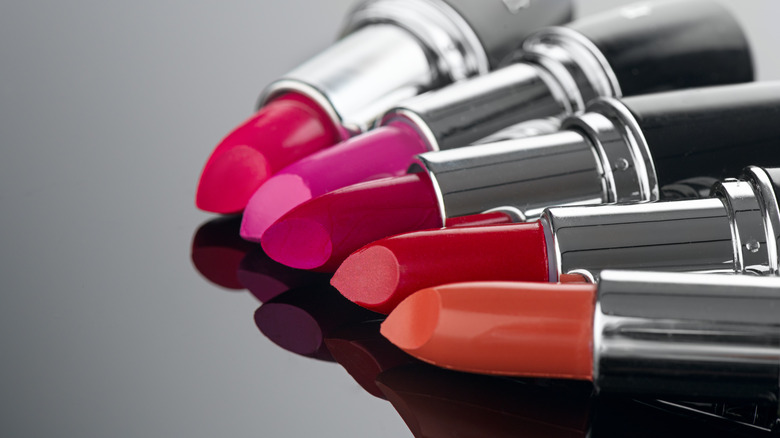 Shutterstock
According to Byrdie, when it comes to adding some oomph to thinner lips, it can seem like all everyone talks about is injections and fillers, and while there's nothing wrong with these procedures, a cheaper alternative can be a lip plumping lipstick.
Another option is to be smart about how you apply your lipstick. Celebrity makeup artist, Sir John explained to Byrdie that, "One thing to remember is everyone has a fuller bottom lip – so you can sort of create the illusion of fuller looking lips by first completely saturating the bottom lip in full color." Further adding, "Then, take your bottom lip and press it into your top lip. Don't be afraid to let it overlap the top lip just a little bit. That will give you a fuller appearance vs. looking so literal like you would do with a lip liner."
Bustle also recommends highlighting to create the illusion of fuller lips, in the same way that you can use contouring to change the shape of your face. Beauty expert, Bailey Sessoms explains, "It's the same principle you use when you highlight and contour your face. The darker shade makes areas recede and lighter shade brings the areas forward."
Choose your lipstick shade wisely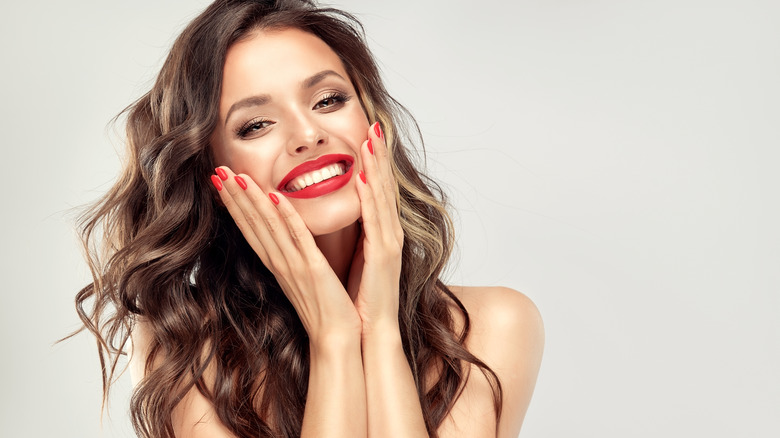 Shutterstock
As per Byrdie, most makeup artists suggest that it's best to steer clear of rich, darker shades if you have thin lips. Kelli. J. Bartlett, Glamsquad's director of artistry, says that, "Dark shades can make lips look smaller if you don't respect the lip shape and apply color shyly."
When it comes to your lip liner, makeup expert Hannah Hatcher told Bustle that the first step is, "selecting a color that is either nude, a pinky nude or a light neutral shade. Wearing too dark of a color can create the illusion of lips looking smaller or slimmer." She also suggests using a white eyeliner pencil and applying a small amount above the Cupid's bow on the top lip line, as well as a smaller amount on the lower lip. After thoroughly blending, she explains, "The light color around the lips creates an illusion of light, and it makes the lips stand out."
Makeup artist Annie Marie DeMauro, further advised, "Line your lips (especially the Cupid's bow area) with a soft cream liner and blend," adding, "this helps to open up the space visually, allowing the color application to pop and in some cases be drawn a little over the natural lip line for a fuller look."