Who Is Kirsten Dunst's Fiance, Actor Jesse Plemons?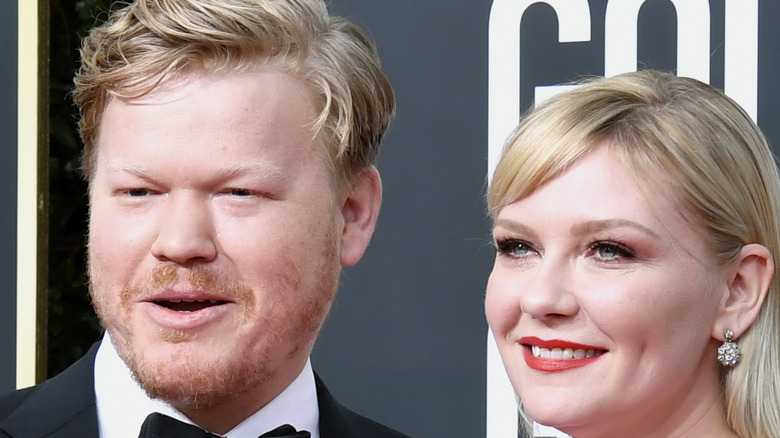 Frazer Harrison/Getty Images
Workplace romances are a common occurrence, so it's no surprise that Kirsten Dunst met her fiancé, actor Jesse Plemons, on the set of "Fargo" in 2016 while the pair played fictional couple Peggy and Ed Blumquist. Having so many scenes together, the now-engaged couple connected through late nights running lines together. Plemons spoke to The New York Times of his strong connection with Dunst, saying, "I knew that she would be in my life for a long time."
While it would be a year and a half before they started dating, the two have since been inseparable, proving Plemons right. In 2017, Dunst and Plemons announced their engagement, and a pregnancy followed soon after. In 2018, the couple welcomed son Ennis to the world (via People). In March 2021, the couple announced that they would soon be welcoming another child on the cover of W Magazine (via The Hollywood Reporter).
It's safe to say that this pair plans to be in it for the long haul, and for good reason. The two both have vibrant acting careers, despite the fact that you hear Dunst's name significantly more often. Plemons has an impressive acting resume himself. So, where have you seen him before?
Jesse Plemons has been acting since childhood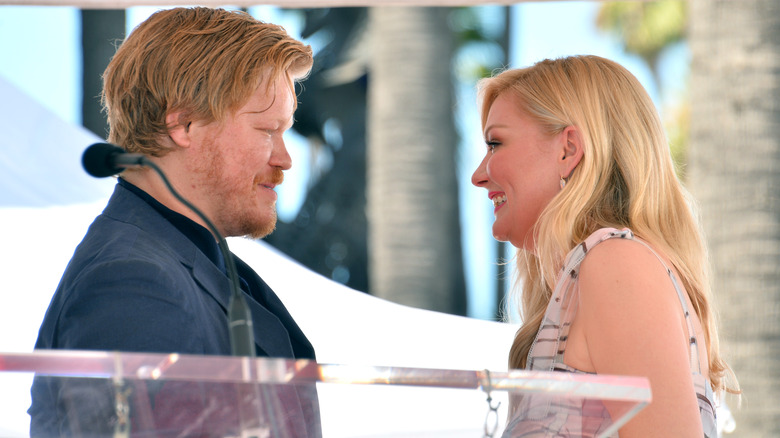 Shutterstock
Kirsten Dunst and Jesse Plemons both found early success as child actors. Plemons often traveled between his home in Texas to Los Angeles for auditions and eventually reaped the benefits of his efforts, noted The New York Times. Roles in well-known films and television shows like "Varsity Blues," "Sabrina The Teenage Witch," and "Like Mike" are where Plemons found his early success, which helped segue him into meatier roles in his young adult life. As an adult, he was expertly cast in mega-hit shows "Breaking Bad" and "Friday Night Lights" (via IMDb).
Though he's found plenty of success in Hollywood, Plemons doesn't always feel like a star. One role that made him feel like this was that of Jake in Charlie Kaufman's movie "I'm Thinking Of Ending Things." Finding it to be a challenging role, Plemons found himself questioning why he'd even been cast in the vague and haunting drama. Upon being offered the part of Jake, Plemons told The New York Times he was startled. "I had no clue that Charlie had any idea who I was," he said. "There was a part of me that was like, 'Are you sure, Charlie? You want to see me do something first?'"
The humble actor is now in his best role yet as a supportive partner and loving dad. There's no doubt that Dunst and Plemons are a near-perfect couple, and watching their family grow will warm your heart.