How To Build A Skincare Routine For Aging Skin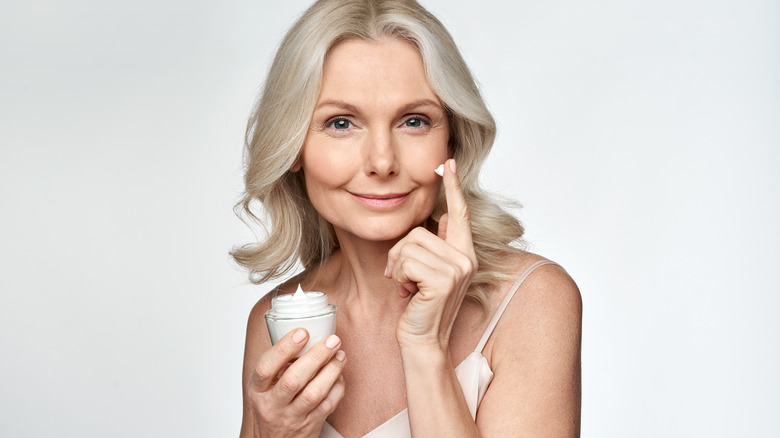 Shutterstock
We have available to us an endless array of beauty products promising to provide necessary care like plumping, peeling, and preparing our skin. While the results commonly desired include firmer, smoother, more hydrated, younger looking skin, often, we wind up with the wrong skin care routine. 
According to Refinery29, your skincare routine should be based on your current skin type and specific problem areas. If you're acne prone, you should be using products that help with acne, while if you have mature skin, your products should contain specific, anti-aging ingredients. The beautiful thing about having so many options in skincare is that there is something for everyone, but all those options can also be a burden if you are unsure of which products to use.
Noella Gabriel, co-founder and managing director at Elemis, told Refinery29 that, "The secret to good skin maintenance and radiant, well-hydrated skin is the daily use, morning and evening, of a good-quality cleanser." Gabriel went on to say that the type of cleanser you use does matter and it's important to choose a product that is appropriate for your skin type.
Morning skincare for aging skin is imperative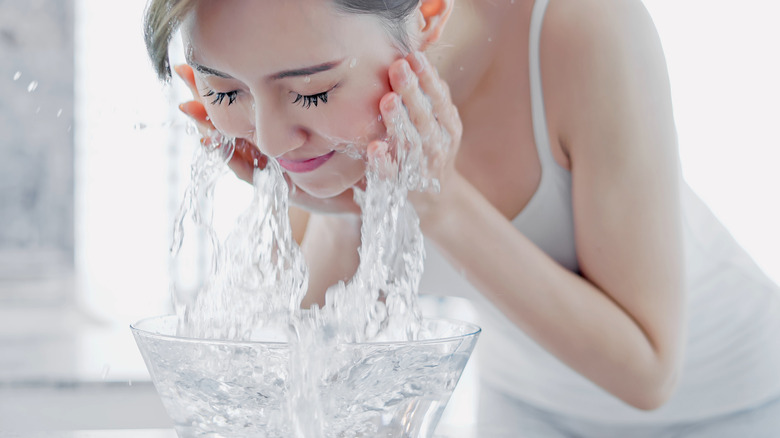 Shutterstock
Skin expert and celebrity esthetician Renée Rouleau shared a step-by-step skincare routine for aging skin with Byrdie, and said that everyone should be using at least a cleanser, a toner, a daily moisturizer with SPF, and a good night cream. Specifically for aging skin, she added that in addition to your face routine, you cannot forget the neck area as it is one of the first areas of the body to show signs of aging.
Rouleau suggested a four-step routine in the morning, including cleansing, followed by an alcohol-free toner that helps brighten the skin. After toning, you will want to use a serum containing brightening and antioxidant properties, like licorice and vitamin C, as well as anti-aging specific ingredients such as peptides, hyaluronic acid, and resveratrol. The serum helps with balancing the tone of the skin by minimizing dark spots. 
To complete your morning skincare routine, Rouleau said to add an appropriate moisturizer containing SPF to your face and neck area. The experts at Refinery29 suggested applying the product with gentle, circular motions, in an upward movement, to help combat sagging skin, reduce puffiness, and increase circulation.
Here's what your evening skincare for aging skin should look like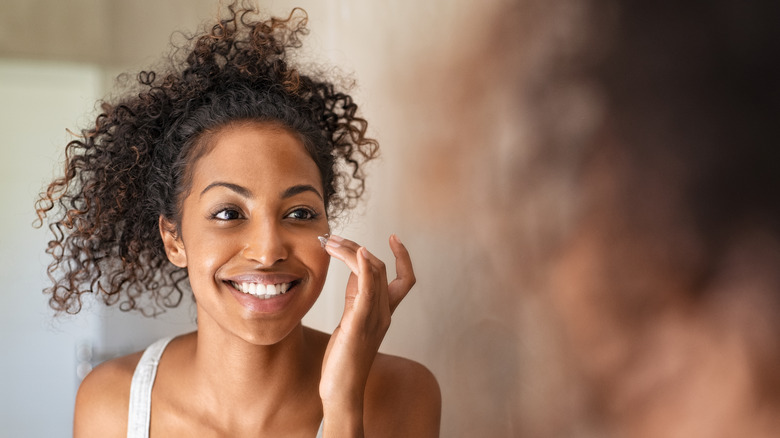 Shutterstock
After a long and busy day, it's certainly easy to skip your evening skincare, especially if you are comfy and sleepy on the sofa. According to In Style, skipping your routine is not in your best interest, as evening skincare focuses on renewal and repair. Begin with a good cleanse, slathering off all the debris and make-up, and follow with a gentle exfoliator containing round beads, which celebrity esthetician Renée Rouleau said is best for aging skin, via Byrdie.
Next you'll want to apply a retinol serum, either over-the-counter or prescribed by your dermatologist. Dr. Corey L. Hartman – founder of Skin Wellness Dermatology — said retinol is, "The holy grail ingredient." 
"Retinol ... helps regulate exfoliation, prevent acne breakouts, smooth the skin's surface and even out discoloration," Dr. Hartman said, as noted by In Style. 
Finish off your nightly regimen with a peptide eye cream and add a hydrating moisturizer to the face and neck area. There are specialty add-on products you can use for specific concerns, brightening serums for dark spots, and face oils for extra dry skin. Of course, working with a dermatologist or esthetician is the best way to support your skins specific needs.