Bode Miller And Wife Morgan Beck Just Announced Exciting Family News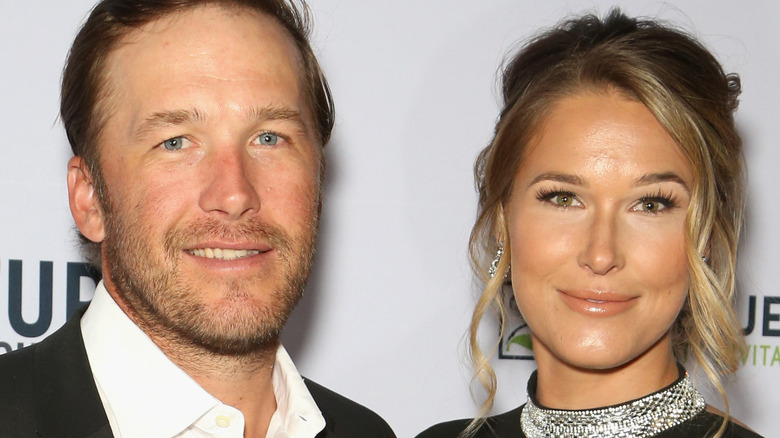 Gabe Ginsberg/Getty Images
It was 2018 when six-time Olympic medal winner Bode Miller and his pro volleyball player wife Morgan Beck lived every parent's worst nightmare. Their daughter, Emmy, drowned in a neighbor's pool (via USA Today). Just four months later, they would welcome a son, Easton (via E! Online). Then, in 2020, the couple became parents to twin sons, Asher and Aksel (via People). The three boys joined big brother Edward, whom the family calls Nash, while Miller also has two other children from previous relationships.
Now, Miller and Beck have more happy family news to share three years after their daughter's tragic passing at 19 months of age, and just 18 months after the birth of their twins (via Daily Mail). This will be the sixth and final pregnancy for Beck, with the mom telling People, "We're at the finish line." Miller adds, "We're finally on our last pregnancy."
The overjoyed athletes shared their little one is due in November, and that they can't help but hope the child will honor Emmy in a special way.
Bode Miller and Morgan Beck hope the baby is a girl
Miller told People upon sharing the news he and his wife of nine years are expecting again, "After losing Emmy, we both felt like we wanted to try for a girl." He added, "You know, there's obviously no replacing kids." But he noted that after having twin boys, he and Beck thought, "'Whoa, maybe, maybe that's the end for us.'"
This notion didn't stick, with Beck telling the outlet, "We constantly knew that we had more space in our hearts to give more love." She added, "We have a lot of attention and a lot of love to give."
So, how does she know this is the final baby? "We feel like this will be the last one for us to be able to put all of ourselves into," the expectant mom said, adding, "So that way, all of them still get a bunch of love and attention. And we're not stretching ourselves too thin."
The family will soon find out the baby's gender, with Beck sharing on Instagram, "Family means everything to us and we are so excited that ours continues to grow!"