The Truth About Demi Lovato And Miley Cyrus' Friendship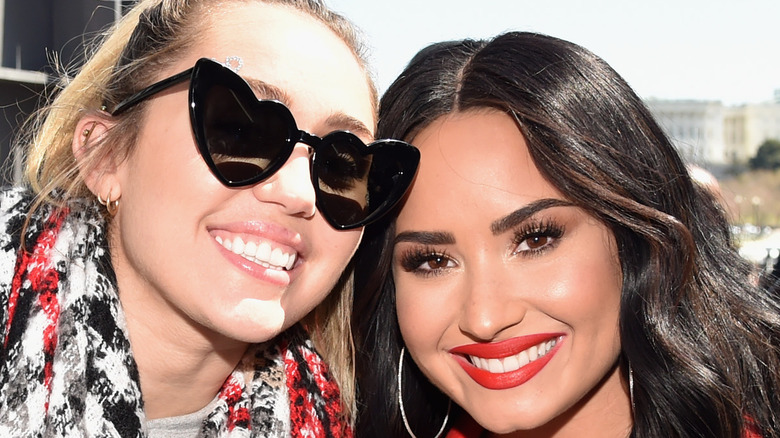 Kevin Mazur/Getty Images
Miley Cyrus and Demi Lovato are two of music's biggest names today, but are they friends? Both actor-singers began actively working in Hollywood as teenagers, and they ultimately followed similar paths. They each starred in their own Disney series, with Lovato as Sonny in "Sonny with a Chance" and Cyrus as the titular character in "Hannah Montana," and both starred in films for the conglomerate (via CheatSheet). CheatSheet further notes that the two singers both left Disney around the same time to pursue their careers and lives, consequently producing more mature content as they grew older to which Disney likely wouldn't have agreed. Having been around each other and taking similar paths, they definitely knew each other, but have they been friends?
According to Us Weekly, Lovato and Cyrus have had a tumultuous relationship over the years, with their paths not always aligning. They explain that Lovato was often closer to fellow Disney star Selena Gomez than to Cyrus, and Lovato and Cyrus' relationship was further strained when Lovato became sober, because Cyrus was still in a party phase. While they may not specifically have been fighting at this time, their lifestyles didn't align, which didn't leave room for them to be as close as they wanted to be at that specific time. In fact, in 2012, Lovato said of their relationship, "No matter how many times we fight, we will always be in each others' lives" (via Us Weekly). Lovato says that they were both strong-headed but nothing could make them stop being friends forever.
Here's how Lovato and Cyrus feel about each other now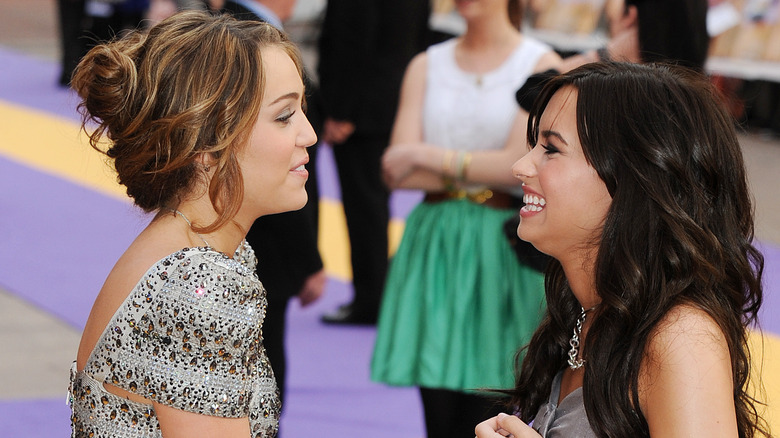 Samir Hussein/Getty Images
Despite their relationship being rocky over the years, Lovato and Cyrus consider themselves friends today. In 2020, the two singers chatted together on an Instagram live video, with Cyrus saying, "Life is moving usually so fast that it's hard to slow ourselves down and appreciate people in our lives. You've been that person for me for so many years and we've been friends for so long," before further adding that Lovato is often the person Cyrus turns to when she needs a friend's help or someone to talk to (via Us Weekly).
In that same Instagram live video, Lovato said to Cyrus, "I feel like you've always been such a light and that's why we connected at 14. We connected then because we just saw something in each other. Maybe it was because of spirituality or maybe it was just our hearts" (via Glamour). This comes six years after Lovato said in 2014 that they did "have anything in common" anymore with Cyrus (via CheatSheet).
Also in 2020, Lovato talked with Harper's Bazaar, saying of Cyrus, "She's awesome, and I love her to death and always will, always have. But I think she's kind of the only one from that era that I still stay in touch with." It's clear that the relationship has been strained at times, but what matters is the unabashed and unfiltered love the two share for each other now.