The Truth About Demi Lovato And Selena Gomez's Friendship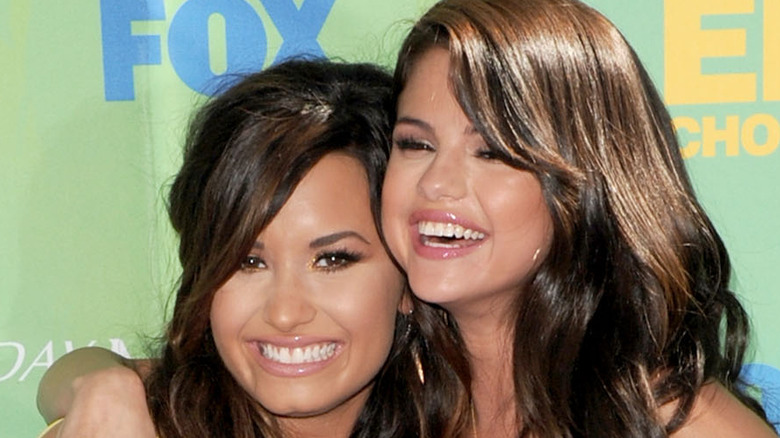 Jason Merritt/term/Getty Images
Selena Gomez and Demi Lovato first became friends when they were little tykes on their breakout roles on the "Barney & Friends" show in 2002. Gianna, played by Gomez, and Angela, played by Lovato, frequently appeared on the show from 2002 to 2004. A few years later, both of them became Disney starlets, (via Billboard).
Gomez starred as Alex Russo in the longest running Disney show, "Wizards of Waverly Place" from 2007 to 2012. And Lovato got into Disney two years later as Sonny Munroe, in the hit comedy series, "Sonny with a Chance." The pair were inseparable in the late 2000s and early 2010s, with vlogs uploaded to their YouTube every chance they could, (via Insider).
In one vlog, they both declared their best friendship by stating, "And this is my best friend in the entire world" and "And this is my best friend ever since we were seven years old." Unexpectedly, the vlogs stirred some Disney drama between Miley Cyrus and the duo, though it blew over quickly. And in 2009, an editorial spread of their friendship was shown to the world and fans of both singers affectionately called them "Delena." The pair also went on to film Disney's "Princess Protection Program" together, because of course, who doesn't want to work with their best friend?
They've supported one another with their musical career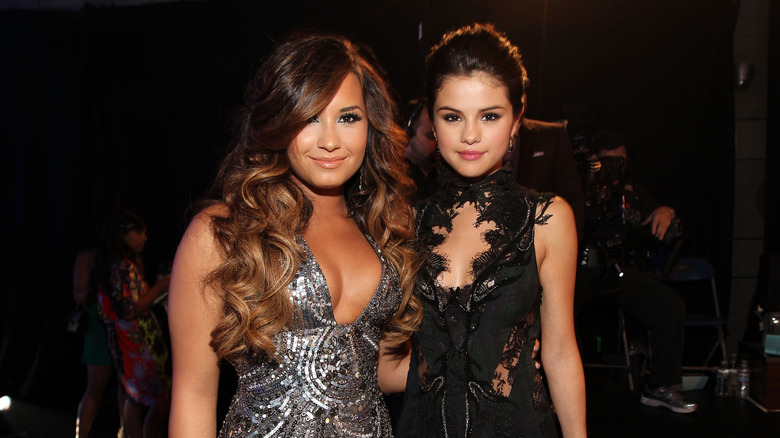 Christopher Polk/Getty Images
In 2010, drama reared its ugly head when Selena Gomez started spending more time with her best friend, Taylor Swift. Lovato claims they wanted nothing but the best for Gomez, but fans could tell there were issues between the two of them. But one year later, after Lovato's first stint at a rehab center, the pair became closer. 
In an interview with MTV, Lovato said that Gomez checked on them. "[Selena] called me crying when I was in there and was just so worried," Lovato recalled at the time. "I was like, 'Look, I should be the one crying, it's all good!' But she was so worried and ever since then, we've gotten closer."
From then on they supported each other's musical careers with tweets and Instagram posts dedicated to their appreciation for one another's music, (via Billboard). But soon after, more drama came as Lovato unfollowed Gomez on social media in 2013. However, two years later, the pair seemed to hang out after a long while and Gomez called Lovato "part of her family." In 2017, they continued to support each other on social media. However, Gomez did the unfollowing this time in 2018, (via Insider).
Despite such a long history, the pair are no longer friends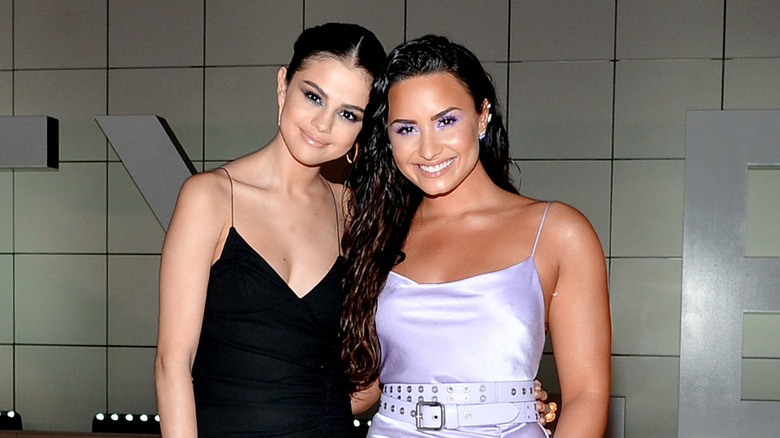 Donato Sardella/Getty Images
Selena Gomez and Demi Lovato continued to comment on each other's music, but nothing more until April 2020.
Lovato discussed it with Harper's Bazaar, saying, "When you grow up with somebody, you're always going to have love for them. But I'm not friends with her ... I will always have love for her, and I wish everybody nothing but the best." Later that year, fans suspected that Lovato made a private Instagram to harass Gomez, but it has never been confirmed or denied.
Throughout 2020, fans sparked some drama, but claims there's no animosity. In a feature on US Magazine, claims were made that they don't have an issue towards one another – they just aren't close anymore. However, they continue to praise one another with their music. Most recently, Gomez celebrated Lovato as one of "the best lyricists in the game right now" in an advertisement, (via Insider). As of 2021, no reported words have been exchanged between the stars, but longtime "Delena" fans hope there could be a reconciliation in the future.