The Truth About Prince Harry's EMDR Therapy
Max Mumby/indigo/Getty Images
During a frank discussion about mental health with Oprah Winfrey in the Apple TV+ series "The Me You Can't See," Prince Harry revealed details of the alternative therapies he has tried while coping with his own mental health issues (via The Independent). One of those therapies is EMDR, which stands for Eye Movement Desensitization and Reprocessing. 
According to Ok, EMDR is a clinically proven psychotherapeutic technique that involves a person reflecting on traumatic events from their past and reframing their associations in the brain. During a session, participants are asked to discuss their personal trauma in detail, while a therapist instructs them to make certain eye movements. Another EMDR method involves tapping on the body in order to create a new memory while discussing past trauma. 
In an episode of the Apple TV+ series, the Duke of Sussex revealed that he has used EMDR methods in an attempt to treat his PTSD diagnosis, and takes part in a session led by therapist Sanja Oakley to show viewers how the therapy actually works. "EMDR is always something that I wanted to try and that was one of the varieties of different forms of healing or curing that I was willing to experiment with, and I never would have been open to that had I not put in the work and the therapy that I've done over the years," Harry explained to Winfrey, who watched on as the Duke took part in the EMDR therapy (via The Independent).
Prince Harry revealed the source of his past trauma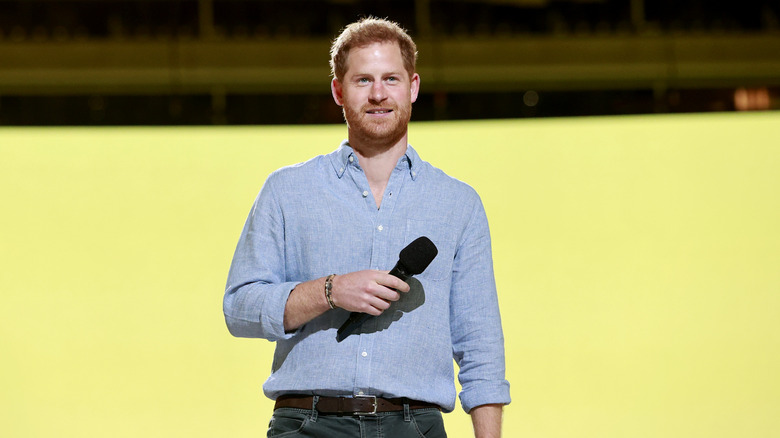 Emma Mcintyre/Getty Images
According to People, the Duke also revealed that the city of London is where he's "always felt worried, concerned, a little bit tense and uptight." Recalling some of his past trauma during the EMDR session, the royal added, "I was like, 'Why do I feel so uncomfortable?' And of course, for me, London is a trigger, unfortunately, because of what happened to my mom and because of what I experienced and what I saw." 
Harry was referring to the death of his mother, Princess Diana, who tragically died in a car accident in August 1997 when the prince was just 12 years of age. 
Speaking in the Apple TV+ series, the Duke of Sussex also explained how dealing with "really uncomfortable situations" and being able to properly process them is an integral part of the healing process (via People). "For me, therapy has equipped me to be able to take on anything. That's why I'm here now. That's why my wife is here now. That feeling of being trapped within the family is ... There was no option to leave. Eventually, when I made that decision for my family, I was still told you can't do this," Harry explained.
If you or someone you know is struggling with mental health, please contact the Crisis Text Line by texting HOME to 741741, call the National Alliance on Mental Illness helpline at 1-800-950-NAMI (6264), or visit the National Institute of Mental Health website.