Adorable Dogs Before And After Haircuts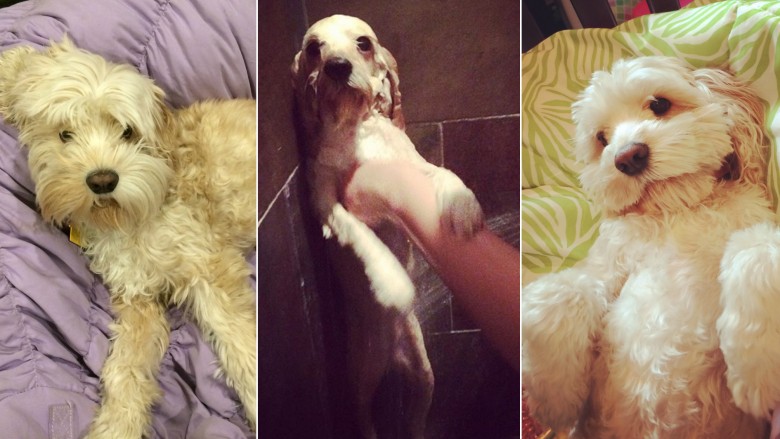 Courtesy of Crystal Henry
Nothing beats a case of the Mondays like a fresh new 'do and cute pictures of puppies. Well, we've done you the ultimate favor and combined those two things into one. So grab a cup of coffee, shut your office door and treat yourself to these adorable dogs' before and after haircuts!
Georgia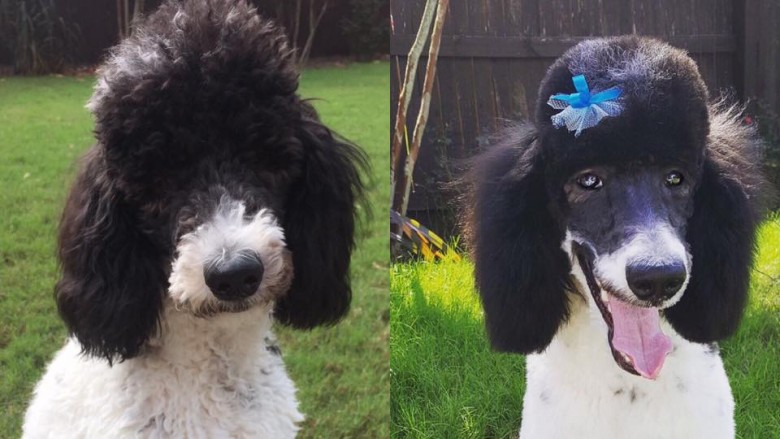 Courtesy of Jenna Allen
Georgia the standard parti poodle is stone cold Insta Famous. According to her owner, Jenna Allen, Georgia is a total paparazzi lover who recognizes the phone as a camera and photo bombs every shot. And with over 12,000 followers on Instagram, this parti poodle must know a thing or two about posing for the camera.
Allen says Georgia is not even phased by the prep work it takes to be camera ready all the time. In fact she insists on being brushed before bed, and she loves her groomer, Angela. Georgia willingly flies out the door to the mobile grooming van when it's beauty day. Follow Georgia's adventures on Instagram @parti_like_georgia.
Timmi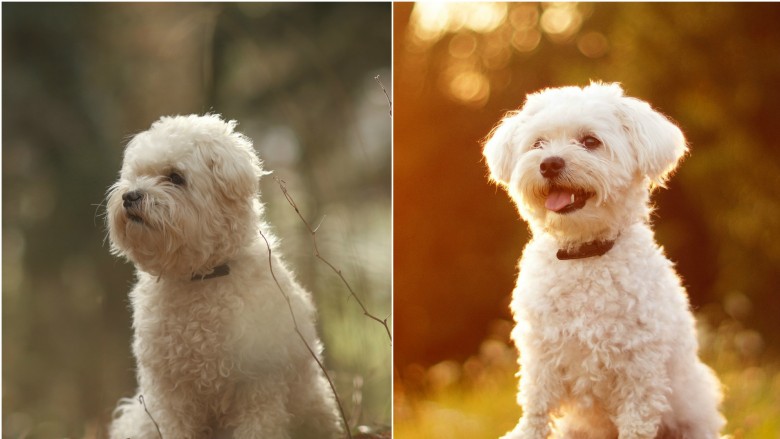 Courtesy of Maria Eberherr
Timmi the Maltese lives in Germany with his mama, Maria, who says he never gets overly shaggy because he is a regular at the puppy salon. She said he is a very smart and sweet boy who is very well-behaved during his haircuts.
But Timbo, as she calls him, always sports five minutes of fabulous frenzy after a cut, running through the whole house jumping on chairs. His best friend is a feisty feline named Minnie. And Timmi — who has excellent taste in music, by the way — loves to quote artists like Jim Morrison and Selena Gomez on Instagram @malteser_timmi.
Bailey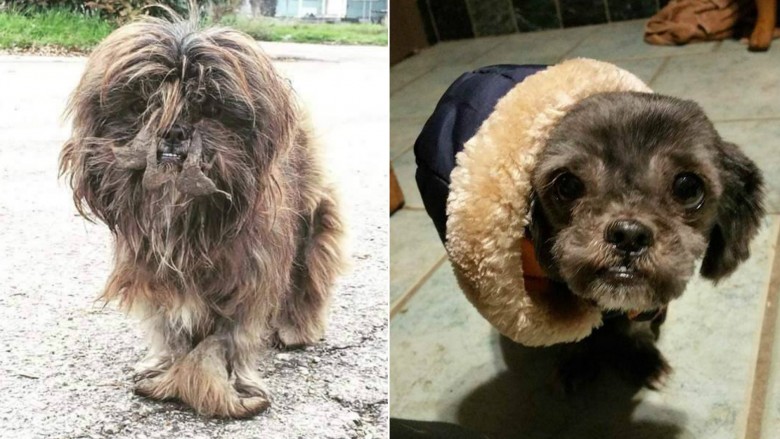 Courtesy of Debbie Davis
Bailey was found matted, scared and alone roaming the streets of San Antonio. A local animal rescue group called God's Dogs Rescue found her and took her in. Volunteer Christine Potter said it took about two and a half hours to groom the timid and nervous little creature.
But under all that fur was a very appreciative and cuddly pup. After a fabulous new haircut and lots of TLC, Bailey blossomed into a very sweet and loving little lap dog. She was adopted shortly after she joined the rescue, and she is now living a happy and very-loved life with her new family.
Baxter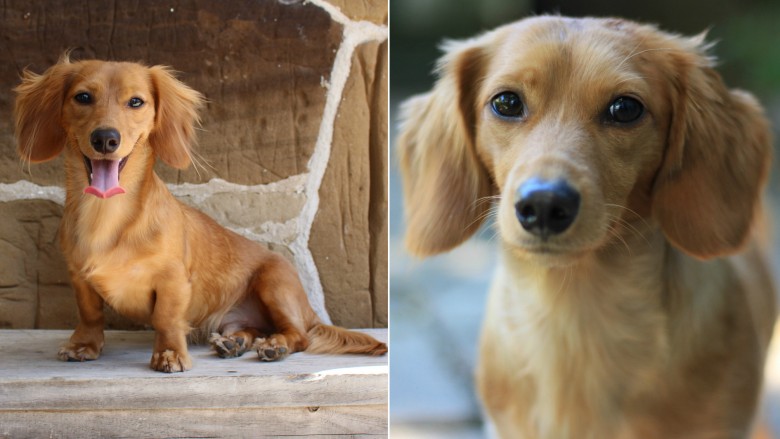 Courtesy of Mandy Smith
This cheeky devil is Baxter. He doesn't often get very scruffy, but he is a pampered fella who always feels much more handsome after a good grooming.
His owner, Mandy, says Baxter's a feisty boy whose favorite activities include road trips, howling at nothing at all, giving his mama kisses, nibbling fish and eating waffles. His arch nemeses in life are the squeakers inside of his toys, and he will stop at nothing to find and destroy them. Follow Baxter on Instagram @baxterthebossydachshund.
Berkley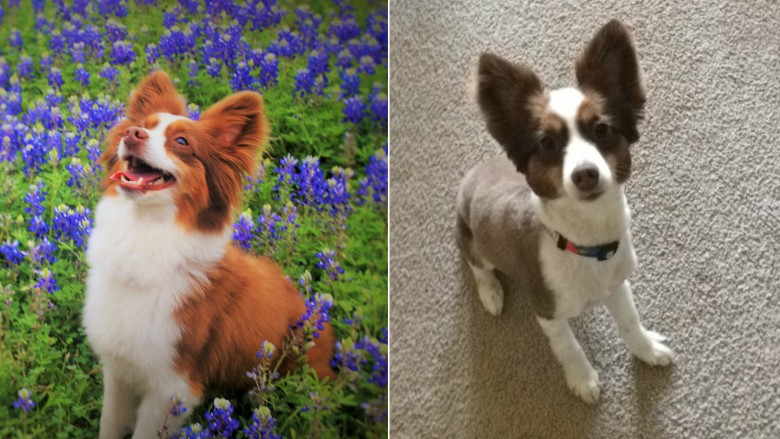 Courtesy of Tyler Smith
Ever get a haircut that you immediately regretted? Mini Australian Shepherd, Berkley, needed a summer cut, but she wasn't exactly thrilled with her stylist. Her signature red coat was gone, she fully felt the buyer's remorse some of us have had over an impulse decision to get bangs.
She's since grown out of her "I'd like to speak with a manager" short 'do, but she has only recently started to forgive her owner for the betrayal. Tyler Smith said Berkley finally started to trust again, once he married her beautiful new mama, Alexandra. Alexandra vowed to consult Berk from here on out, and they have adopted a "her fur, her choice" policy in their home.
Norbert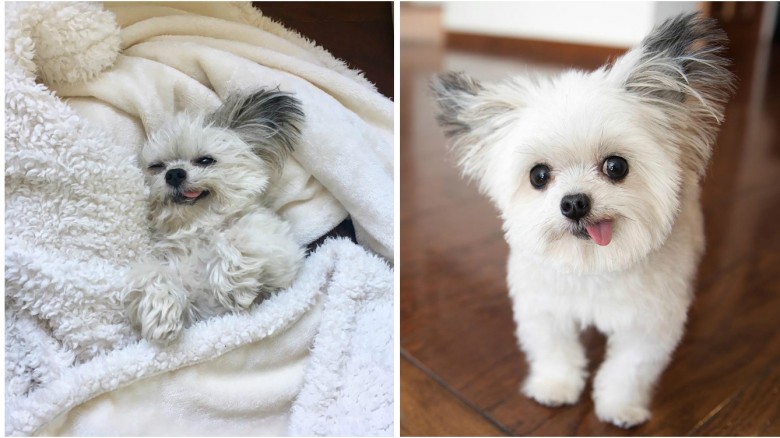 Courtesy of AuthorJulie
This pup is more than just a pretty face. He's a philanthropist whose mission is to inspire kindness, spread smiles and do volunteer work by bringing comfort to those in need. Norbert is a one-of-a kind mixed breed: a 3-lb registered therapy dog. This little rescue dog is the star of the international award-winning picture book Norbert: What Can Little Me Do?, and a world-famous high-fiver.
Norbert has more than 1.2 million followers across his social media platforms. He's a mix of Chihuahua, Cairn Terrier, Lhasa Apso and superhero who visits nursing homes, hospitals and schools helping those who need his calming presence. This little celebri-dog has worked on awareness and branding projects with companies like Pottery Barn Teen, iTunes, PetSmart and The Walt Disney Company. He's rubbed paws with other celebrities like Harry Connick Jr., and he is a cover dog for several magazines.
The cuddly inspiration behind the award-winning Norbert picture book series, Norbert, with the help of his owner, uses his stardom to bring happiness to the world. He even has his own plush toy in his likeness. For each toy sold, Norbert donates to the Marine Toys for Tots Foundation.
This tiny pup has proven that great things come in tiny fluffy packages. Follow him on Facebook, Twitter,Instagram or YouTube.
Luna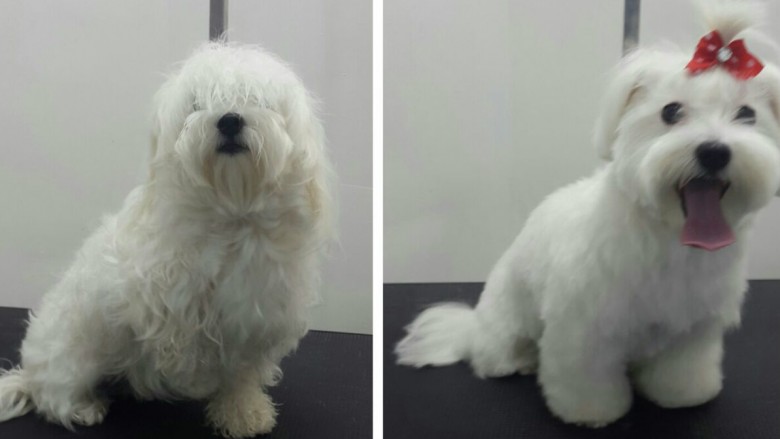 Eduardo Ysea
Luna looks great with her natural shag, but look at that smile after groomer Eduardo Ysea gets her rocking her favorite red bow. Luna is completely spoiled rotten and loves to run around the park and play with her unlikely best friend Sergio, a 6-month-old kitten. To see more puppy makeovers follow Eduardo on Instagram @petsgroomerpty.
Coco Marie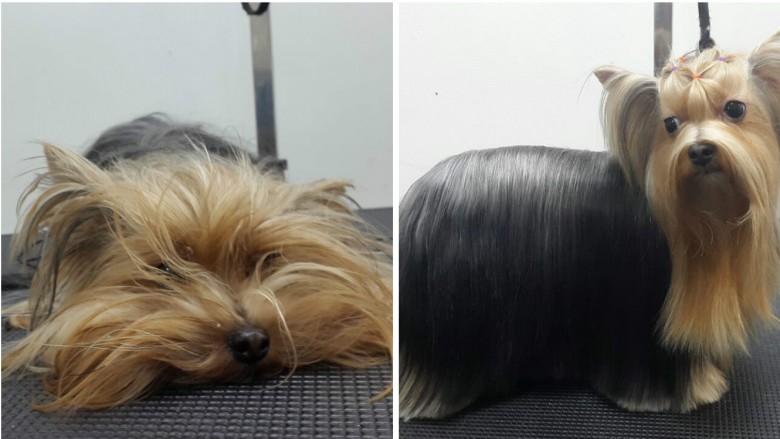 Eduardo Ysea
Coco Marie is a little Yorkie princess who loves to play in the garden before every hair appointment. Unlike other dogs that have fur, Yorkshire terriers have hair, which groomer Eduardo Ysea said requires extreme hydration after her hair cut. Without her regular appointment with Eduardo, Coco's hair could grow up to two feet.
Nutley & Buttercup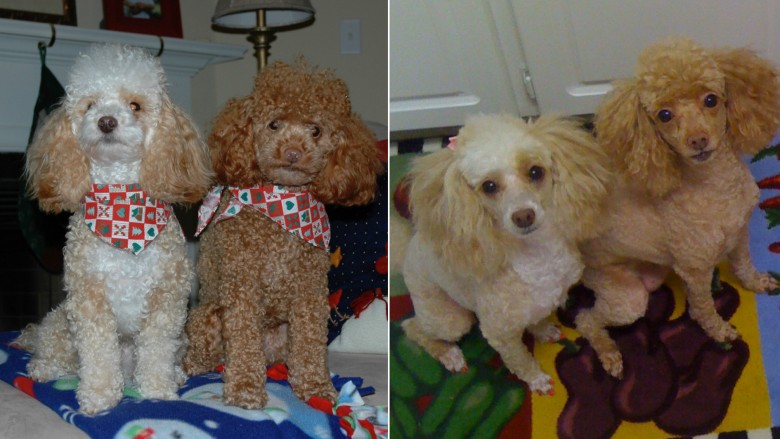 Courtesy of Shelly Henry
Nutley (in red) and Buttercup (in white), are brother and sister, and the oldest of the five Fido siblings in their home. Nutley is a very serious gentleman who often doesn't have time for his younger siblings and their wild antics. And Buttercup is a dainty girl who doesn't let her diabetes get her down.
NutterButter (their celebrity mashup pup name) are always on their best behavior when their mama is around because she is a dog trainer who taught them all their manners. But they get a little bit rebellious for their dad, who has been known to sneak them bacon on occasion.
Cupcake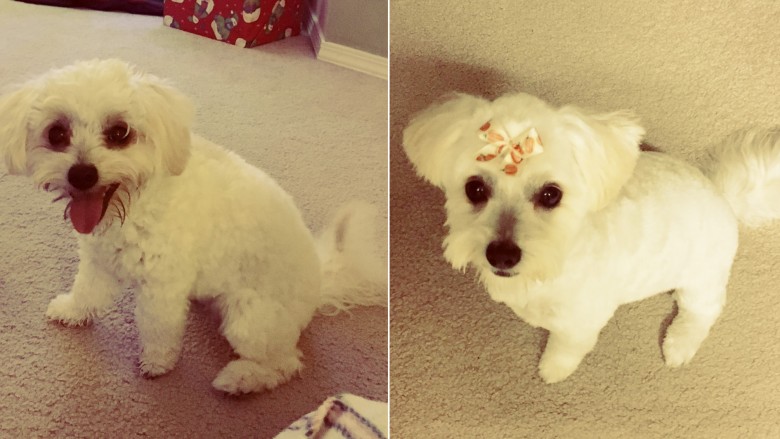 Courtesy of Shelly Henry
Cupcake is the feisty youngest sister of Nutley and Buttercup. She is a poodle and chihuahua mix who is still learning to be a dog. She's mastered sit, stay and beg, but she'd really like to work on world domination next.
She often accompanies her mom when she goes to work to train the uncivilized beasts who wander into PetSmart. Cupcake loves to show off her manners and flash a cheeky smile after each trick.
Fuji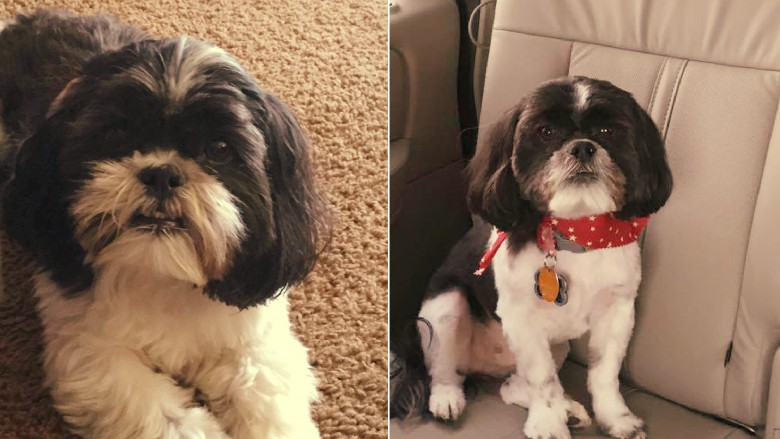 Courtesy of Tiffiny Crosswright
Fuji is a Shih-tzu mama's boy who was rescued from a shelter in Denver in 2011. His owner, Tiffiny, says he is a mellow fellow who only ever barks to greet his daddy when he gets home. When Fuji hears the garage door open he alerts the entire house until someone opens the door so he can run to Dad.
He's a sweet boy, but he is a bit jealous of his recently adopted blind brother Teddy, who needed lots of attention and help because of his disability. Fuji has adjusted, but he now insists on sleeping under his mom's bed every night. And he's still fiercely protective of his favorite stuffed pet frog.
Salty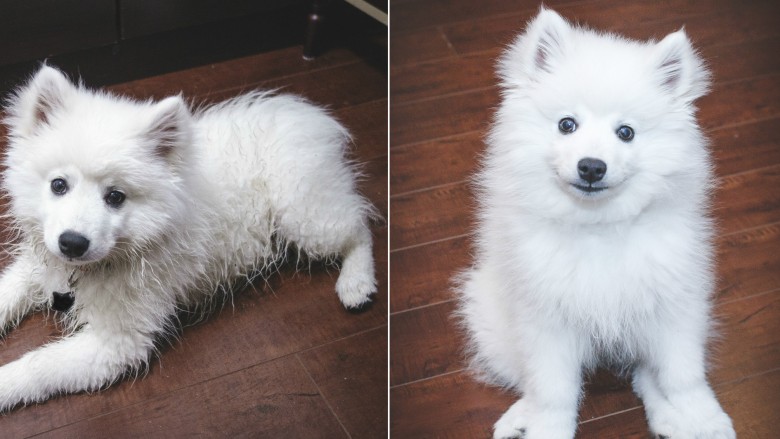 Salty Eskie
Salty is a 3-month-old American Eskimo from British Columbia, Canada. And as much as he loathes being such a basic white dog, he totally loves the snow and getting yogurt with friends.
But don't let the sweet face and pristine coat fool you. His two favorite past-times are barking and getting dirty. Salty's least favorite things include peanut butter, taking baths and staying still. Follow this fabulous ball of fluff @saltyeskie on Instagram.
Ribeye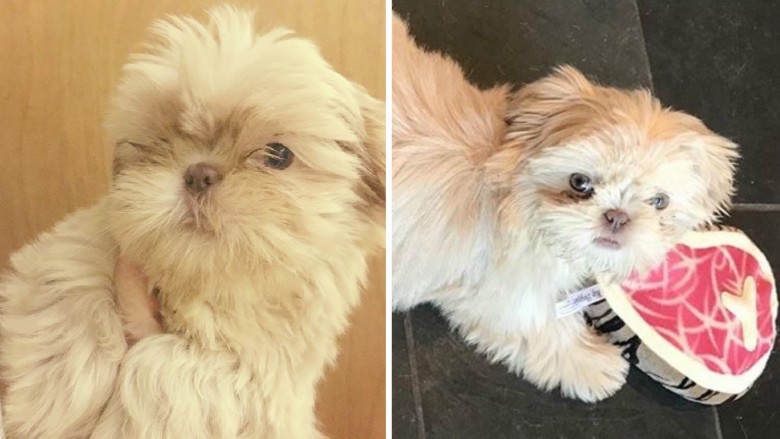 Katie MacDonald
Ribeye is a lavender shih tzu, which means he carries both the liver and the blue recessive genes. He's a one-of-a-kind pup who might just be part cat, according to his owner. Ribeye is a fierce hunter who loves to pounce, and prefers his steaks medium rare. Follow Ribeye The Pup on Instagram.
Butters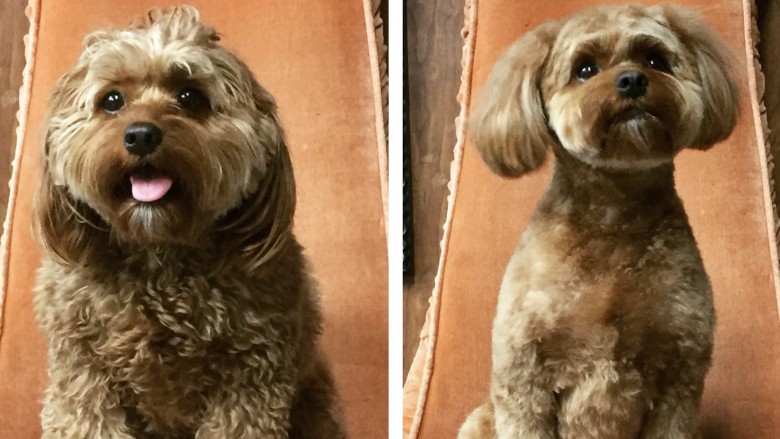 Courtesy of Jess Rona
Butters is an outdoor-loving, adventure-having Cavapoo who loves indoor rock climbing and sticking her head out of the car window. These designer mutts are a cross between a Cavalier King Charles Spaniel and a purebred poodle.
Huckle Barrett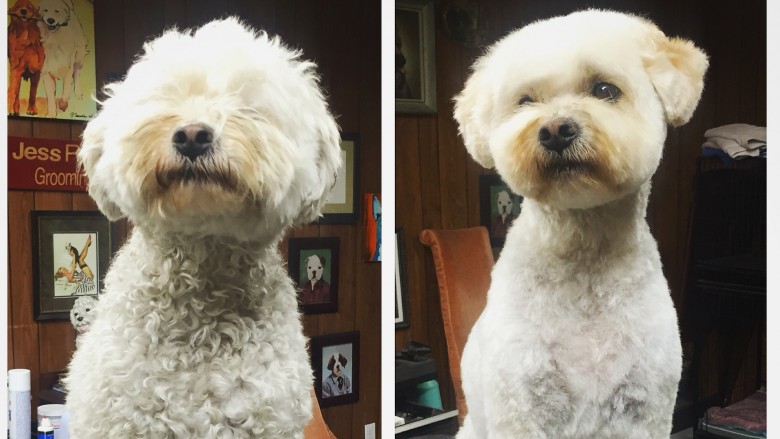 Courtesy of Jess Rona
Don't let the fluff fool you, this pup is an avid outdoor enthusiast. According to his groomer, Jess Rona, Huckle Barrett is an outdoorsy gentleman who loves to hike and roll around on his back.
Gilligan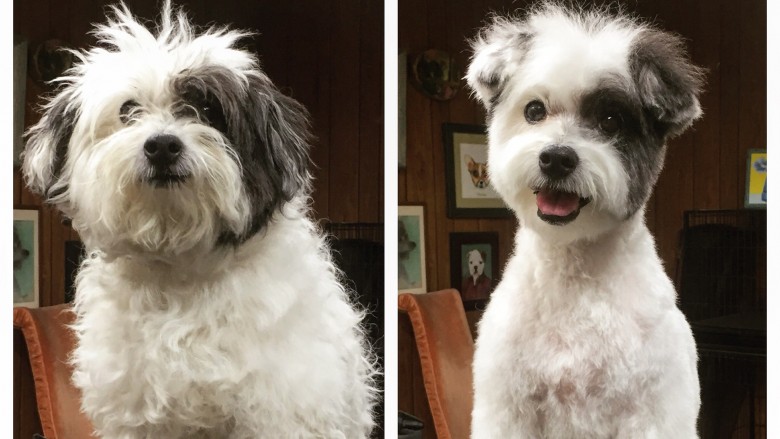 Courtesy of Jess Rona
Daisy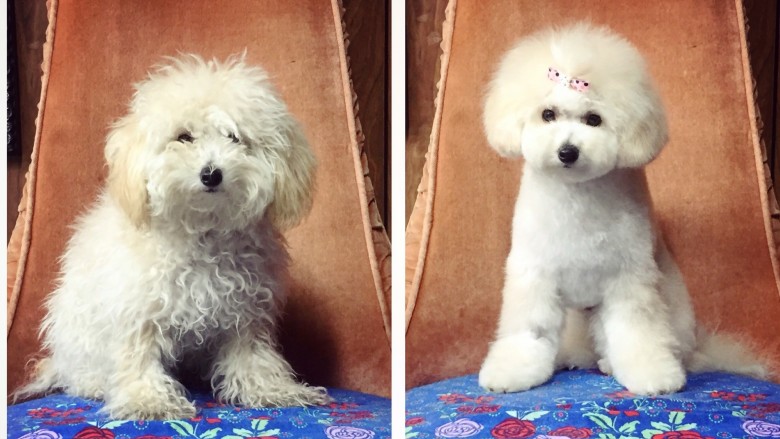 Courtesy of Jess Rona
You are looking at baby's first haircut. Groomer Jess Rona said this little pumpkin was an absolute doll before and after her spa day.
More adorable dogs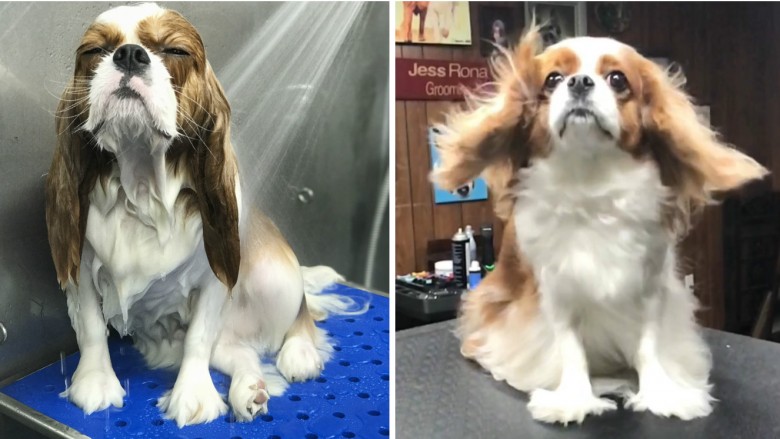 Courtesy of Jess Rona
If these cute little canines and their couture cuts aren't enough to cure those midday blues, head over to Dogs Of Instagram for a puppy picture overload.