The Hair Product That Awkwafina Swears By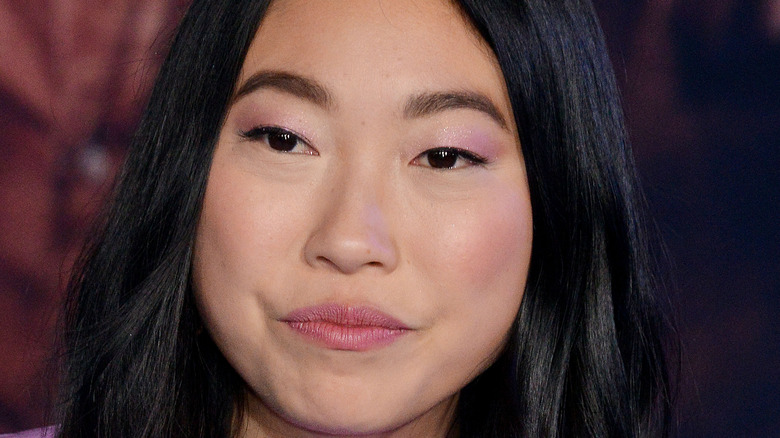 Shutterstock
We may receive a commission on purchases made from links.
Awkwafina has grown quite the career in recent years, most recently appearing in Disney's "Raya and the Last Dragon." She's a gemini, which in part means she always wants to appear her best. To accomplish this for her hair, the "Ocean's 8" star reaches for Living Proof Perfect Hair Day Dry Shampoo, according to PopSugar. This product retails for $26 on Living Proof's website and is described as "a dry shampoo spray that actually cleans hair, eliminating oil, sweat, and odor." The website further describes it as making your hair "look, smell, and feel clean" and giving your hair a pleasant smell all day long. 
When speaking about this dry shampoo, the actor told Into the Gloss, "That stuff is so good! I normally just shower and then spray my hair with the Living Proof and go about my day." She also explained that she uses Bumble and bumble Hairdresser's Invisible Oil Shampoo in the shower and Bumble and bumble Thickening Dryspun Volume Texture Spray out of the shower. Of the latter, she said, "I use the Texturizing Spray which does nothing to my hair but I love the way it smells."
Here's how to use Awkwafina's favorite hair product
Awkwafina swears by the Living Proof Perfect Hair Day Dry Shampoo, and it looks to be for good reason. In addition to claiming to clean your hair and leave it smelling nicely all day, the product's webpage states that it is gluten-free, paraben-free, silicone-free, color safe, vegan, phthalate-free, sulfate-free, PETA Certified Cruelty-free, and safe for chemically treated hair. The product is also recyclable.
To use this product, the website explains that you should hold the product away from you and shake well, as this will make sure all of the cleaning agents are distributed and emulsified. They recommend applying the product in a "sweeping motion" and waiting 30 seconds before combing it out of your hair. If you see white residue, it's okay. They say that means it's working, and the residue can simply be combed out of your hair. They finally add that a hair dryer can be employed to remove excess residue, though they note most people don't need to do this. 
Awkwafina never seems to have any problem with excess residue, as she tells Into the Gloss she loves this product and puts it in right before she leaves on the go. Maybe this product is worth a shot!