This Is The Best Grocery Store Chocolate Chip Cookie You Can Buy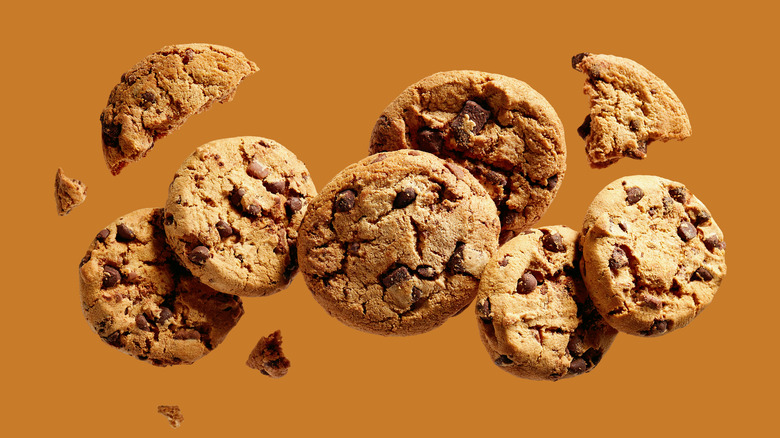 Shutterstock
Baking has become an essential survival tactic during the pandemic, turning even the most unskilled in the kitchen into a regular Betty Crocker. This is because baking is known to quell anxiety, via The Atlantic, and who hasn't experienced anxiety in the last year? No, really. WHO? And what's your secret?! According to food journalist Kat Kinsman, baking is a cheap, self-soothing tactic. "We're at a time when people who aren't used to any self-care practices are having to develop them for the first time in their lives," Kinsman told the magazine. "People are afraid to spend money, and they're feeling like sh**. Baking is cheap, it's easy, and it's visceral."
Whether you're new to baking (welcome!) or you've been separating eggs since you were in diapers, one recipe everyone can agree on is the chocolate chip cookie. It just makes sense. If Oreos are milk's favorite cookie, chocolate chip cookies are America's favorite cookie. However, not all chocolate chip cookies are created equal. Many recipes claim to produce the "best" or the "ultimate" chocolatey, chewy goodness, but if you're searching for real perfection, look no further than your own grocery store.  
Sure, there's a plethora of grocery store-brand cookies that will leave you feeling unsatisfied (I'm looking at you Kroger Simple Truth). Fortunately, we were able to suss out the most delectable, mouth-watering chocolate chip cookie on the market, and we're sharing our research with you.
Trader Joe's Deep Dish Chocolate Chip Cookie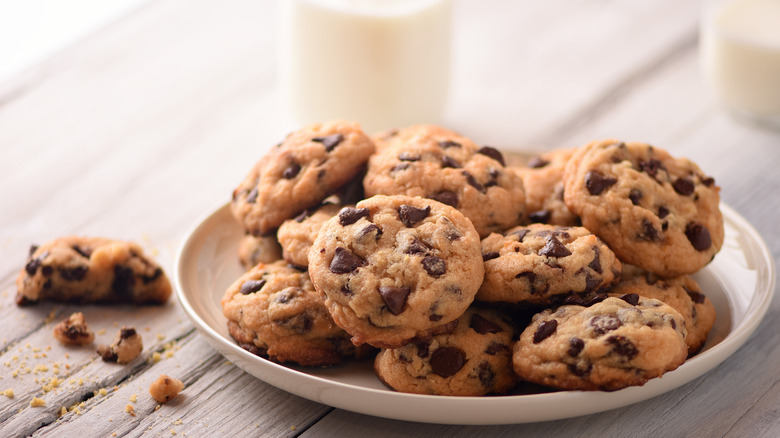 Shutterstock
Trader Joe's has been bringing it in the cookie department with their Soft Baked Peanut Butter Chocolate Chip Cookies and Way More Chocolate Chips Cookies but none have left us as satisfied as the Deep Dish Chocolate Chip Cookie. In order to reach nirvana, all you have to do is pop these bad boys in the oven, wait the longest six minutes of your life and voila! Heaven.
The product has its own oven- and microwave-safe tray, so clean-up is easy. Especially after you find yourself licking the tray clean. These frozen cookies offer a restaurant-quality experience for less than $4 (via Insider.) The reason these deep dish delights have us going gaga is their artistry in maintaining a crisp crunchy structural integrity amid a soft gooey center. Science, you've done it again!
Honorable mentions for grocery store cookie goodness goes to Pepperidge Farm Sausalito Milk Chocolate Macadamia Chocolate Chip Cookies or, for my nut allergy queens, try their equally tasty Montauk Milk Chocolate Chip Cookies. Whichever cookie you go with, make sure to pair it with a scoop of vanilla ice cream. You've earned it!