How To Use Carrot Seed Oil In Your Skincare Routine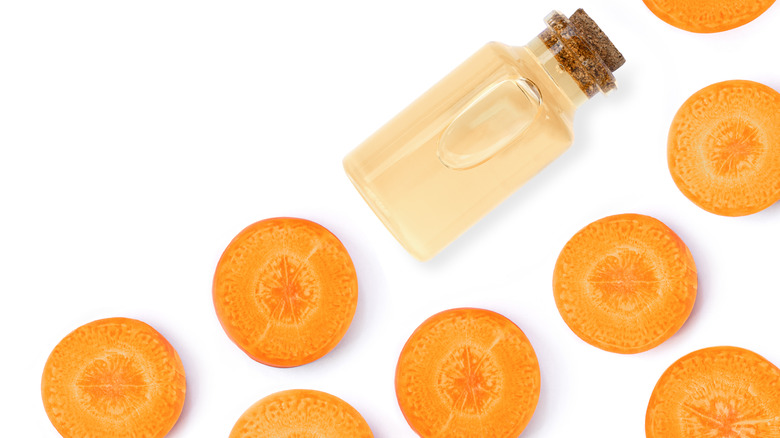 Shutterstock
We may receive a commission on purchases made from links.
By now you've probably become accustomed to using certain oils in your skincare routine. Squalane, coconut, argan, and tea-tree are examples of oils that you may already be using, or that may be ingredients in your current skincare products. Using oils on your face is a great way to help moisturize, reduce puffiness, and achieve a radiant glow, but specific oils can help you achieve targeted results.
Carrot seed oil, unlike carrot oil which can be used for cooking, is an ingredient that is cold-pressed from carrot seeds and used in cosmetics (via Healthline). While you may have noticed carrot seed oil as an ingredient in your anti-aging face cream or rejuvenating overnight serum, you may not be aware of this oil's wide array of benefits.
For example, according to Healthline, carrot seed oil's antioxidant properties might be beneficial for aging skin. A recently published study in the Journal of Cosmetic & Laser Therapy shows that carrot seed oil used in cosmetic products has "sufficient potential" in rejuvenating aging skin. Antioxidants, like beta carotene which is found in carrot seed oil, are crucial at fighting free radicals which can come from the sun, pollution, and even some foods we eat (via Pharmacognosy Reviews).
Carrot seed oil is in more products than you think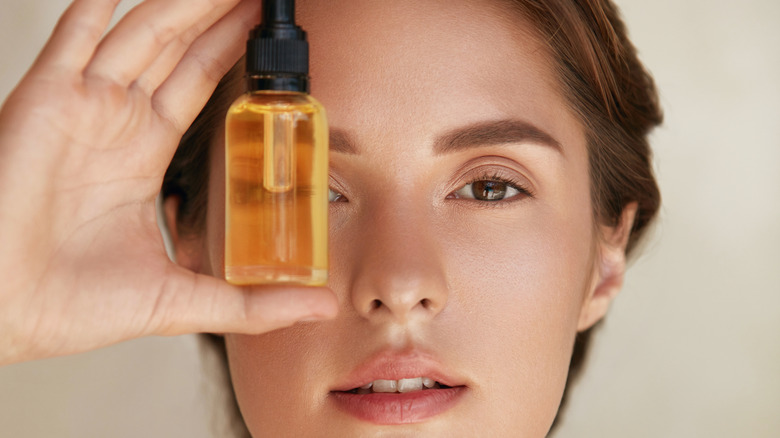 Shutterstock
It is suggested that carrot seed oil might also help speed up cell turnover, which brings the less damaged, healthier cells to the skin's surface (via Byrdie). Healthline reports that the oil also has anti-inflammatory properties which can help soothe inflamed and irritated skin.
Fitting this fabulous oil into your skincare routine is easier than you think, as there are many products containing this oil available in all price ranges. Dr. Kevin Mun, founder of VENN Skincare, tells Byrdie that it's relatively easy to find a skincare product already containing carrot seed oil, mentioning that the oil should only be used with a carrier oil or if it's already in a skincare product.  
For dry skin, a good choice is the affordable, light SPF, YES to Carrots, which nourishes and protects the skin. A more expensive treatment that is said to plump and replenish, is the Vine Activ Overnight Detox Oil (a winner of Allure's Best of Beauty award), which is infused with plant-based ingredients including carrot seed oil. For those with skin in need of a quick pick-me-up, try the affordable exfoliator AHA 30% + BHA 2% Peeling Solution from The Ordinary, which is highly rated by Sephora, and Byrdie declared impressive.