The Hair Product That Chrissy Teigen's Stylist Swears By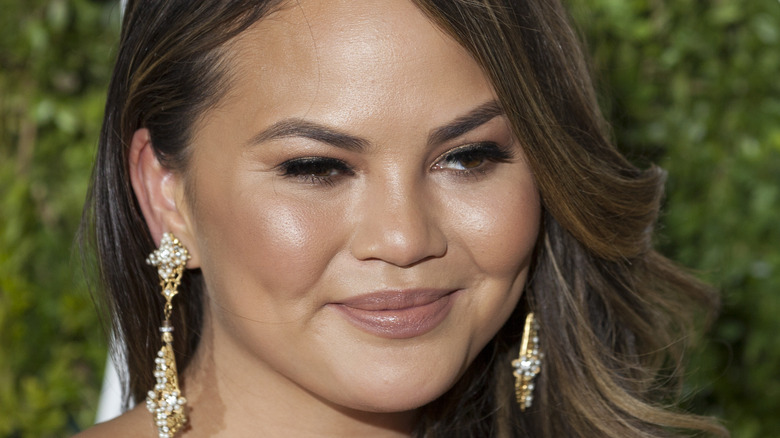 Shutterstock
Chrissy Teigen is known for her snarky internet presence and bomb recipes, but she's more than just a handful of anecdotes. Along with food and social media savvy, Teigen has carried her reputation of beauty and style from her role as a supermodel, to mom and culinary icon. Her supermodel skincare and makeup routine is certainly something to marvel over, but her hair is just as iconic. 
While there's no denying that she was blessed with naturally beautiful hair, Teigen's famous stylist, Jen Atkin, swears by one particular product that keeps her hair looking shiny and camera-ready no matter what life, or her two energetic kiddos, throw at her. What is this fabulous, mystery product, you ask? Well, according to Atkin, it is OUAI Volume Spray – which you can purchase for a surprisingly affordable $26. The spray provides the perfect combination of body and fullness to your hair (via Pop Sugar). Along with Chrissy Teigen, other big names like Kaia Gerber and Camila Coelho have used it as a core aspect of their hair care routine, as well.
What else does Jen Atkin use on her hair?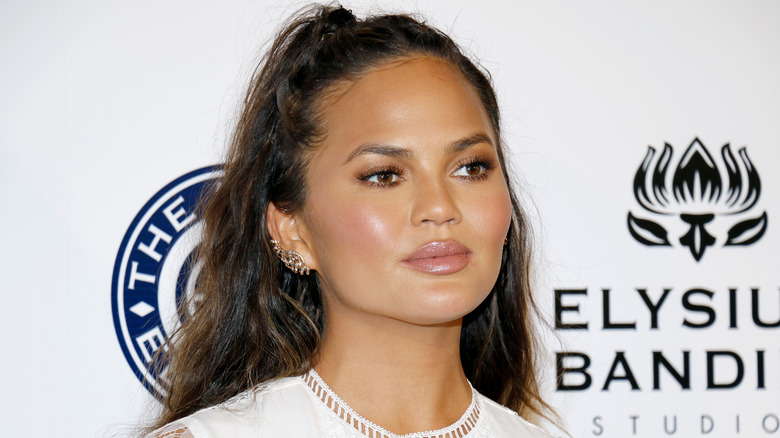 Shutterstock
Along with this lifting spray, Atkin also recommends making good use of hair masks to repair damage and improve the overall look of your hair. Speaking with Today back in 2016, the stylist to the stars revealed her number one recommendation for having glamorous hair: take care of it the way you do your skin. She created a hair mask that comes in single use applications, the Ouai Treatment Mask, with the busy lifestyles of Americans in mind. "In American culture, we're so busy and the last thing we think about is taking care of our hair," Atkin told Today. 
Atkin has also opened up about her trick to making the most of your post-wash blow dry. "Every girl has the bad habit of turning their heat up and air flow up on their dryer all the way, because we think we're saving ourselves time, she told Harper's Bazaar. "But you could be missing out on a great hairstyle. If you turn it down a little bit it'll still dry the hair but let you mold it and shape it as it dries. Unless you have very coarse, really hard to straighten hair and you're trying to deal with that then go ahead and use the high heat, but generally you don't need it."
The key is making your hair a priority. Don't rush your drying process, and make time for quality products. Then you, too, can have runway ready hair any time.