What Happens When You Use African Black Soap Every Day?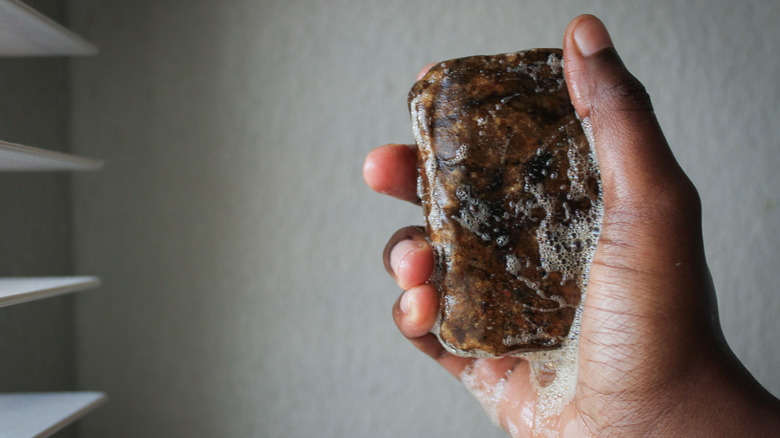 Shutterstock
African black soap has quickly climbed the ranks of must-have skin care products and for good reason. It can be used to treat a variety of issues and is handmade from natural ingredients. But what happens when you use African black soap every day? It can have impressive results when used regularly.
A natural soap that has roots in West Africa, and Ghana more specifically, it is made from the ash of local plants like cocoa pods, palm tree leaves, and plantains (via Black Doctor). According to Healthline, this special soap can be used to treat everything from hyper-pigmentation and stretch marks, to acne breakouts. When you incorporate this powerful product into your regular skincare routine, it can make all the difference for difficult skin. A gentle antibiotic cleanser, African black soap can be used on the hands, body, and even your face. A 2017 study published on Semantic Scholar found that it may even remove more bacteria from the skin than traditional antibiotic soaps. Here are some of the benefits that can come from washing with it daily. 
Benefits for your face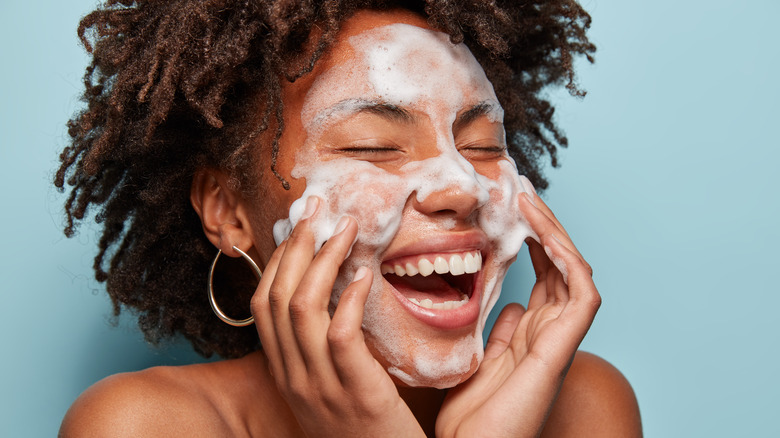 Shutterstock
Using African black soap as your facial cleanser can have numerous benefits, especially for oily and acne prone skin. Its powerful antibiotic quality helps to treat and prevent breakouts, Black Doctor reported. The natural ingredients in this soap also work to remove makeup; fade discoloration, dark spots, and acne scars; and relieve rashes and eczema and psoriasis. African black soap is also a great choice for anyone suffering from UV damage.  
Additionally, Birdy reports that it can also help to firm and tighten the skin on your face when used regularly. Jessica Weiser, MD, a board-certified dermatologist and assistant clinical professor of dermatology at Columbia University, told the outlet that the inclusion of plantain leaves provides vitamin A, which aids in cell turnover and exfoliation. "Additionally, vitamin A gradually turns over the skin surface cells to reveal fresh skin cells, which will also brighten and even skin tone," she said. 
Benefits for your body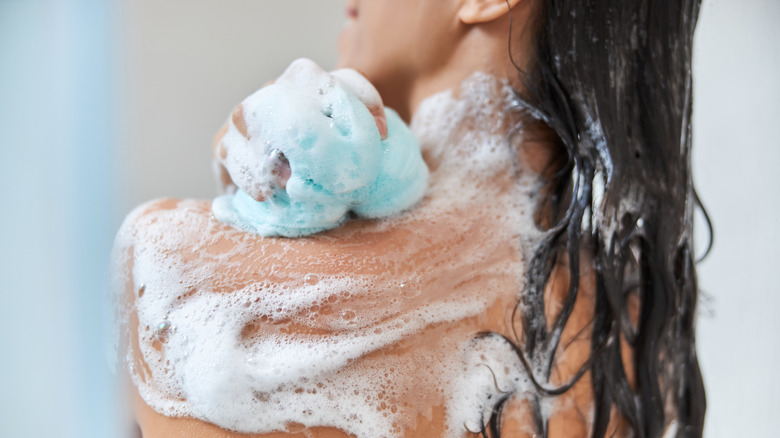 Shutterstock
African black soap pairs well with exfoliation when used in the shower. The ash in the soap is a natural exfoliant and can remove built up dead skin cells on the skin. A popular use for the soap, according to Birdy, is as a cleanser for shaving. The high levels of shea butter in African black soap helps to protect the skin, while the exfoliants can release ingrown hairs, and the sulfur prevents post-shave irritation. 
Aside from shaving, those same benefits that you receive from washing your face with African black soap also transfer to the skin on the rest of your body. If you struggle with breakouts on your back, or rosacea on your arms, choosing this soap for washing your body can provide relief, according to Healthline. With natural anti-fungal properties, African black soap can also help you fight toenail fungus and athletes foot. 
So, there you have it. There are a variety of reasons to reach for a bar of African black soap when washing your face and body, and even shaving. So lather up and soak in all that sudsy goodness.