The Real Reason The Inkey List Products Are So Cheap
We may receive a commission on purchases made from links.
Sephora is probably the last place you would think of shopping for a budget-friendly vitamin C serum, but there is one skincare brand in Sephora whose products are all under $15 — The Inkey List (via Allure). The Inkey List is based in the United Kingdom and carries a variety of skincare and haircare products with active ingredients. The company was founded by former Boots' co-workers, Colette Newberry and Mark Curry, who used to work as branding and product developers, per Allure. According to Glamour, The Inkey List started in 2018 and has recently seen a rise in popularity due to influencers on TikTok. 
Newberry told Buro Singapore, "Our brand is called The Inkey List, and it's a play on words because every product has an in key list." The goal of the company is to ensure transparency in the ingredients and to keep each ingredient list simple. "Better information drives better decisions. We believe that the confusing world of skincare needs cutting through, and we developed an ingredient range that makes them simple to understand and easy to use," Newberry told HypeBae. Customers can identify their unique skincare needs and buy products to create a custom skincare recipe (via Byrdie). By keeping the prices down, it affords the opportunity for customers to try out various skincare products at the same time, for a reasonable price.
How does The Inkey List keep their prices so affordable?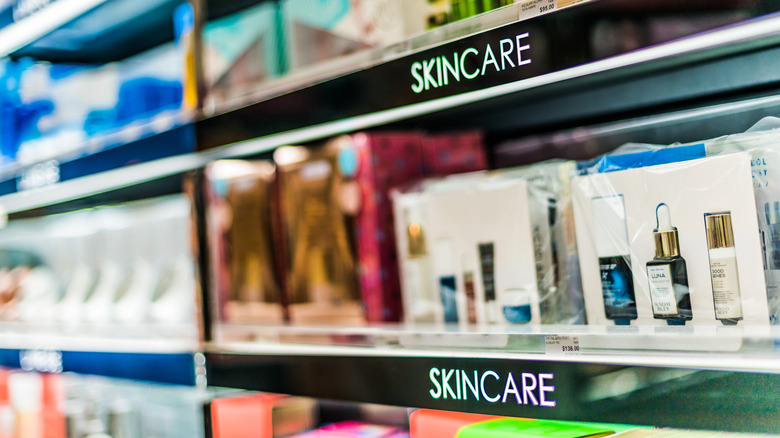 Shutterstock
The Inkey List co-founder Colette Newberry partially credits the lower prices to using cheaper, sustainable packaging, stating that she would rather invest more money into the formulations itself (via Buro Singapore). Newberry also told Buro Singapore, "I worked at Boots, so I know all the main manufacturers that the premium brands use. We acted very differently from most brands, because we cut the middle man out and source the ingredients ourselves." Newberry said it has been helpful to sell their products in Sephora, as it has expanded the brand's customer base to those who may have otherwise not heard of the company. By being in Sephora, Newberry also thinks that it helps cement the brand's credibility. 
The Inkey List also prides itself on listening to customers' regional needs and catering products to meet those needs (via HypeBae). For example, Newberry told HypeBae that there are certain ingredients that sell better in the Western countries over Eastern cultures, and vice-versa. "Key ingredients perform much better in the Western hemisphere. Lighter textures and oils, squalane in particular, and antioxidants such as Q10 are much more prevalent in the Eastern hemisphere," she said. Newberry added that Western countries tend to layer less skincare products than their Eastern counterparts. 
Here are some recommended products to try from The Inkey List
For dry skin, The Inkey List co-founder Colette Newberry recommends their hyaluronic acid, because the lightweight texture sinks into the skin (via Buro Singapore). She also recommends their polyglutamic acid, claiming it works well as a hydrating primer or moisturizer (via HypeBae). Glamour recommends several of The Inkey List products, including their squalane, tranexamic acid night treatment, and their retinol. According to dermatologist Alexis Stephens, tranexamic acid is an effective treatment in lightening hyperpigmentation. Stephens especially recommended The Inkey List's version (via YouTube). "When looking at a tranexamic acid, it is important to actually look for it to be coupled with other ingredients, because it's proven to be more effective when used with other antioxidants," she said. "This Inkey List tranexamic acid is coupled with vitamin C and vitamin E."
Dermatologist Cristina Psomadakis recommended The Inkey List's salicylic acid cleanser to PopSugar, stating that it can help control sebum for those with oily skin and clogged pores. And if you suffer from an oily scalp, The Inkey List now carries a salicylic acid exfoliating scalp treatment. Raleigh-based hair stylist Kayley Melissa also had several haircare recommendations from the brand (via YouTube). She especially recommended the PCA bond repair hair treatment and the caffeine stimulating hair treatment. The PCA bond treatment helps repair hair that has been damaged by color treatments, bleaching, and heat styling, and the caffeine treatment claims to stimulate hair growth. Looks like the recipe for perfect hair and skin can be affordable and achievable.