Inside Kit Harington's Relationship With Rose Leslie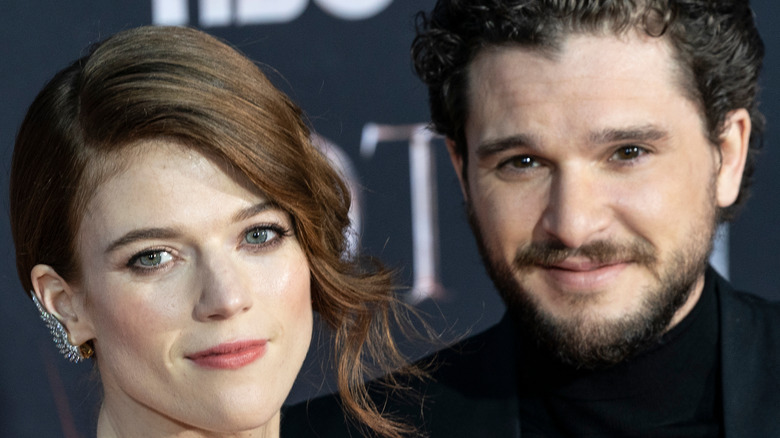 Shutterstock
"Game of Thrones" alumna Kit Harington has a sharp intuition. He knew when it was time for the hit HBO series to end, and he was "disappointed" at first about how his character, Jon Snow, returned to the world of the living after being killed in Season 5 of "Game of Thrones" because he knows this character so well. His intuition further served him well when he met Rose Leslie on the set of the fantasy series and fell for her, just as their two characters fell for one another in Westeros. 
Because of the series, the two actors began dating in real life, and in 2018 they married in a castle (via Insider). Insider further reports that Harington and Leslie welcomed their first child into the world in February 2021. According to Page Six, a representative of the happy couple said that Leslie gave birth to a boy and both actors were "very, very happy." Page Six reported that Leslie revealed her pregnancy in September 2020 and in October told The Post, "I am thrilled to be expecting, and I can't wait to meet the new member of our family!" Now, her baby boy is born, and the couple seem happier than ever.
The two actors almost didn't make it to marriage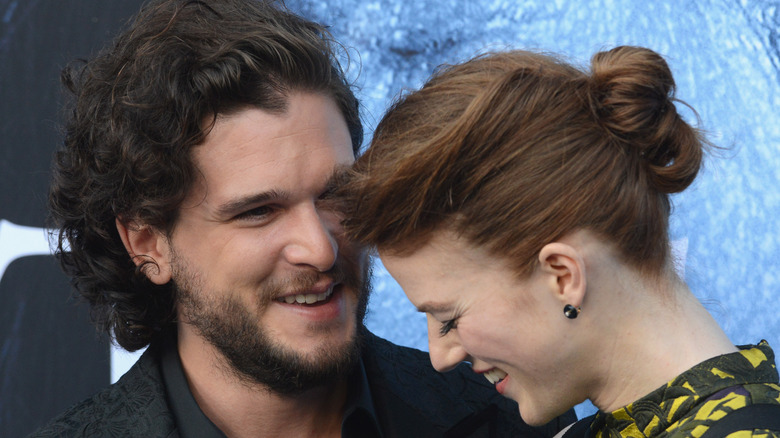 Albert L. Ortega/Getty Images
According to Harper's Bazaar, Harington and Leslie fell for each other in 2012, six years before they would make it official in a Scottish castle owned by Leslie's father. On falling in love during filming of Season 2, Harington said, "The country is beautiful, because the Northern Lights are magical, and because it was there that I fell in love. If you're already attracted to someone, and then they play your love interest in the show, it becomes very easy to fall in love."
The two actors moved in together in 2017, and Harington almost ruined their relationship one year before marriage due to an April Fool's Day prank (via Harper's Bazaar). The Jon Snow actor placed a fake severed head in their refrigerator, which considerably spooked Leslie. On this prank, Harington said, "She pretty much told me that if I did it ever again, that would be it, and I think that's marriage included." it's safe to say he never committed to a prank like this again!
Harington's proposal was 'highly romantic'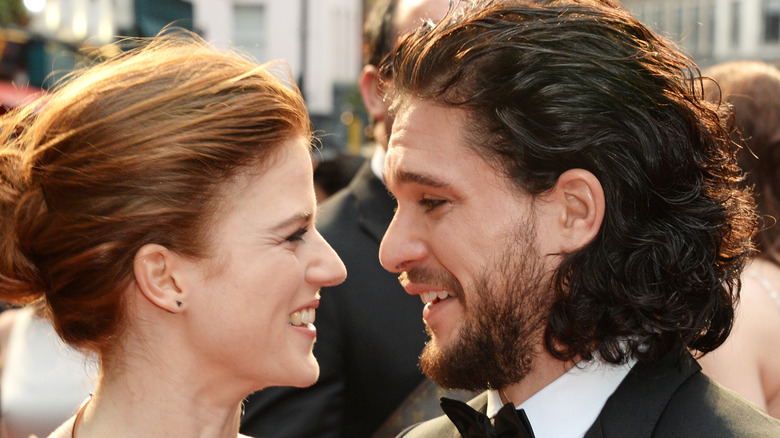 David M. Benett/Getty Images
According to Insider, Leslie and Harington's relationship wasn't always hearts and butterflies. In 2013 and 2014, the two were reported to have broken up, with Leslie beginning to date a man that wasn't in the "public eye." While simultaneously explaining that he wouldn't admit to being in a relationship even if he was, Harington said in 2014, "Me and Rose [Leslie] are very, very close and very good friends. And continue to be, actually. She's wonderful. But no, no love affair." No one could tell at the time if this was true or not, and we still don't know today!
We do, however, know that the two are happy today, which is all that matters. As it turns out, Harington, who already had plans to propose to Leslie, was guilted into proposing by Nicole Kidman when she and Harington appeared on a late night talk show together (via Harper's Bazaar). Kidman told him, "No, I just think it's kind of nice if you're going to live together maybe to at least get engaged." And so he did. On their proposal, Leslie told TV Week, "We happened to be in the English countryside, which is kind of an area that I don't know that well. It was at night time under a beautiful blanket of stars. The man did well. It was highly romantic" (via Harper's Bazaar).
Ultimately, because her character, Ygritte, died in the series' earlier seasons, Leslie banned Harington from discussing "Game of Thrones" with her; she didn't want spoiled on anything whatsoever. It seems like he listened, because the two are incredibly happy today with their baby boy, and "Game of Thrones" stamps even graced their wedding invitations.