Here's How The Ordinary Peeling Solution Really Affects Blackheads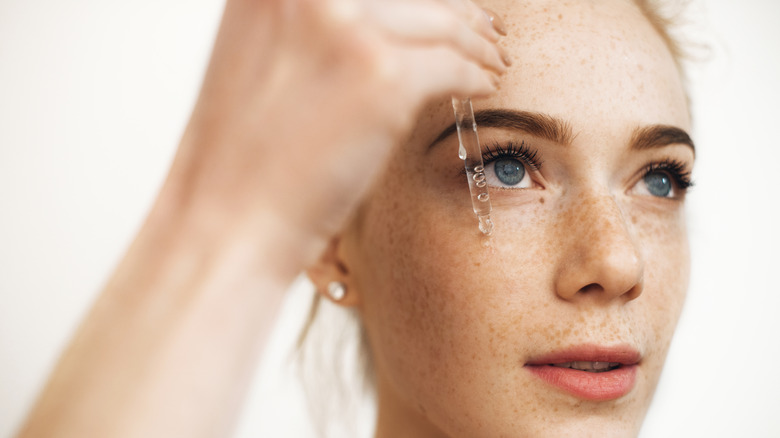 Shutterstock
Skincare has become an enormous genre on TikTok. Dermatologists and skincare specialists are offering free advice, and Gen Z'rs are sharing their favorite products to achieve smooth, glowing skin. The platform has even caused meteoric sales spikes for some skincare brands, including The Ordinary, a brand that prides itself on low prices and no-nonsense formulas. The Ordinary experienced a 426% sales spike of its AHA 30% + BHA 2% Peeling Solution after TikTok users generated huge amounts of unsolicited content praising the product, via Fashion Monitor.
But why did the peeling solution gain so much attention? For one thing, it has a striking appearance. The tiny glass vial of AHA and BHA solution is blood red, which makes for dramatic TikTok videos, as skincare enthusiasts drip a line of the thick red stuff across their cheeks. It is also very potent, with Glamour writer Jenny Singer explaining that, when used correctly, the chemical exfoliant causes your skin to glow like nothing else. When used incorrectly, it can cause redness, irritation, and peeling. So, why should we trust such a strong formula? How exactly does it work?
The Ordinary peeling solution works by chemically exfoliating the skin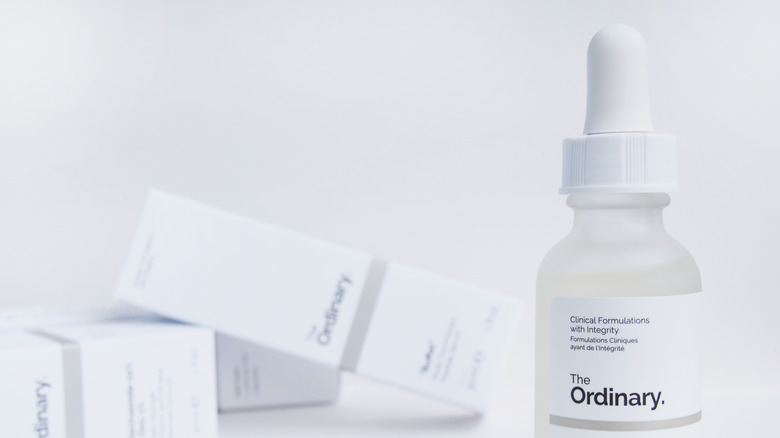 Shutterstock
While publications such as Insider have hailed The Ordinary peeling solution as a luxury facial for a bargain price, the formula ought to be used only once or twice a week. Because it's a strong chemical exfoliant, it sloughs off dead skin cells in just 10 minutes or less. In doing so, the solution cleans out pores and helps eliminate acne, from whiteheads to blackheads — but if used incorrectly, it can lead to some unwanted skin issues.
AHA, which stands for alpha hydroxy acid, is an umbrella term for water-soluble acids made from fruits with high sugar, per Healthline. AHAs work by peeling away the top layer of the skin to reveal new, smooth skin underneath. BHAs, or beta hydroxy acids, are oil soluble and can penetrate the pores more deeply to remove dirt, dead skin cells, and sebum. When used together, AHA and BHA can not only clear up acne-prone skin, but can also reduce the appearance of fine lines, improve uneven skin tone, and improve skin texture, via Ulta Beauty. If the product is used correctly with plenty of noncomedogenic moisturizer afterward, The Ordinary peeling solution may be one of the best affordable products out there.