The Best '50s Hairstyles To Try For A Retro Look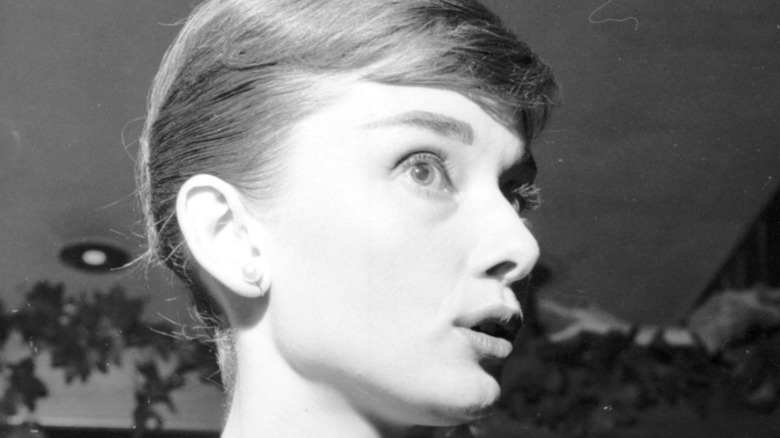 Michael Ochs Archives/Getty Images
As the years go by, there are trends from past decades that live on and survive. These are either classics that are always in style or popular choices that reemerge. Right now, there are some hairstyles from the 1950s that are being seen more and more, and they are as gorgeous now as they were back then!
One such look is the cropped pixie, made most popular by Audrey Hepburn. It has been seen on modern-day stars ranging from Charlize Theron and Jennifer Lawrence to Rihanna and Emma Watson. Along the same lines, there are short cuts with baby bangs, seen on Mia Farrow in the '50s, as well as on Zoë Kravitz in recent years. Another option for those with short hair is to create and fluff curls around the face, adding volume and interest, just like Janelle Monáe has been known to do, as pointed out by Byrdie.
Men and women can copy these hair trends from the 1950s
Next up, when it comes to trending hairstyles from the 1950s, is a high and flirty ponytail. Think like Sandy from "Grease," and be sure to flip the ends, for some extra oomph, as stated by All Things Hair.
Years ago, there were not as many gadgets for fixing hair, so people turned to items like soda cans and rags. Refinery29 walks through step-by-step instructions on how these things can still be used today, in order to get picture-perfect waves and curls.
We can't forget about the men! Men Hairstyles World puts two options of the "contour" hairstyle — both "executive" and "college" — on display, with modern-day examples. The executive contour was big in the '50s, and it has been seen on George Clooney in today's time, just as Zac Efron has been seen rocking a quiff. This style is achieved by combing hair to the side and brushing bangs to the side and then up. Voila!