Lamar Odom Opens Up About His Feelings For Khloe Kardashian Now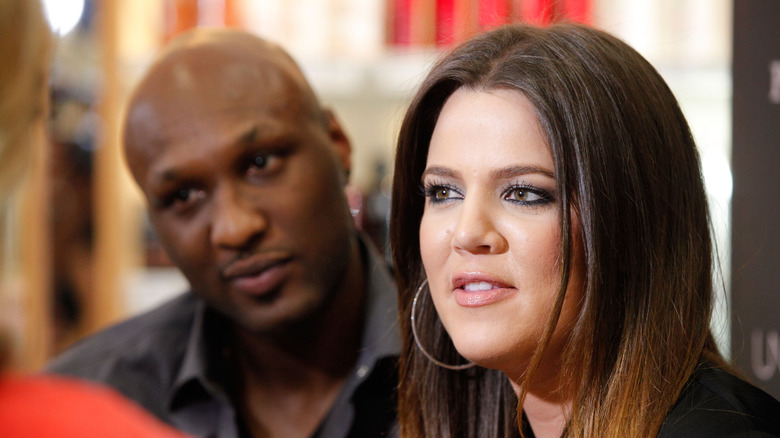 Imeh Akpanudosen/Getty Images
Khloé Kardashian and Lamar Odom were once one of the most talked-about celebrity couples. The reality star and the former NBA player met in August 2009 at a party hosted by former NBA star Ron Artest (via OK! Magazine). The pair quickly hit it off and began dating. Just days after meeting, the couple made their first official appearance together when they attended a movie premiere. The whirlwind relationship heated up quickly and the couple opted to walk down the aisle just a few weeks after they began dating. Odom became a staple on Kardashian's reality series "Keeping Up with the Kardashians," and the couple even eventually landed their own spin-off show simply titled "Khloé and Lamar."
In 2012, rumors began to swirl that Odom had been unfaithful to Kardashian during their marriage. The couple stuck together, but the following year, it was reported that the basketball player was dealing with a substance abuse problem. The pair began couples counseling, but by December 2013 they decided to call it quits when Kardashian filed for divorce. In 2015, Odom made headlines when he was hospitalized after being found unresponsive in a Nevada Brothel. Kardashian, who was still legally his wife at the time, flew to his side and helped to nurse him back to health. Despite speculation that they may have reconciled their relationship, Kardashian and Odom finalized their divorce in 2016, the same year she began dating NBA player Tristan Thompson. So, what's going on between Kardashian and Odom today?
Lamar Odom spoke out about his relationship with Khloé Kardashian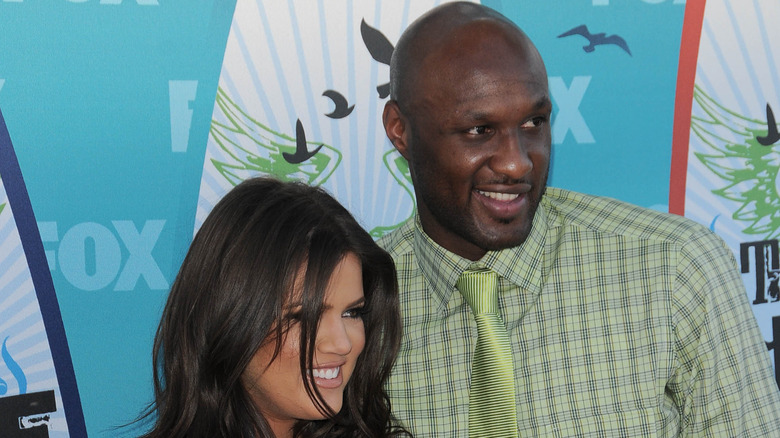 Shutterstock
In a surprising twist, Lamar Odom opened up about his feelings toward his former wife, Khloé Kardashian (via Us Weekly). The ex-Los Angeles Laker was a guest on the SiriusXM radio show "Radio Andy" and he spoke out about the love he still has for the reality star. "Of course, anyone's always gonna miss love. That's genuine. You know, the personalities, just spending time with them, it was one of the best times in my adult life," Odom admitted of his time as a member of Kardashian's famous family. However, the NBA baller confessed that his actions caused a lot of strain within the relationships. "Unfortunately, you know, due to my behavior and some bad decisions, we don't really talk any longer. I miss their family tremendously. We have to live with the decisions that we make and then, hopefully in time people heal and [will] be able to forgive me," Odom added.
As for Kardashian, she's busy parenting her daughter, True, whom she shares with basketball player Tristan Thompson. However, she reportedly doesn't carry any negative feelings towards Odom. "She has always had hope that he would find his way and live a long and healthy life. She's happy for him if he has found happiness again. The chapter of her life that she shared with Lamar is closed and she has moved on. She harbors no ill will or jealousy," a source previously told E! News of Kardashian's feelings towards Odom.