Inside Paula Deen's Relationship With Her Grandchildren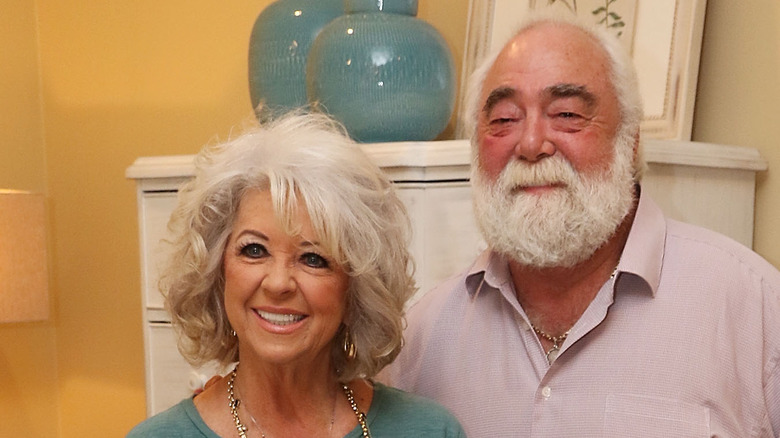 Aaron Davidson/Getty Images
Paula Deen has been a lifelong cook. And she might be famous for her love of butter, but she's recently started to incorporate some healthier ingredients. It was her son, Bobby, who suggested she swap in yogurt for mayonnaise (via People). But food's not the only way Deen relates to her family.
According to Paula Deen's website, the celebrity cook has two children. Jamie and Bobby Deen follow in their mother's culinary footsteps and cook, and both have published books and worked in the family restaurant. In fact, they both own stakes in the restaurant. Jamie and his wife, Brooke, have welcomed three children into the world, with the third, Davis, being born in 2020 (via Instagram). 
Bobby also has three children, but his clan came as triplets. Bobby's wife, Claudia Deen, posted a family photo with their boy and two girls on Instagram which showcases everyone smiling and happy to be together.
Here's how Paula wants her relationships to grow
Moreover, Paula is a step-grandmother to husband Michael Groover's grandchildren, bringing her total number of grandchildren to 10. In a blog post from 2019, she discusses her nine grandchildren, but this was before Davis was born in 2020. Still, this blog post discusses how much she loves them. She writes about wanting to see them more and wanting to schedule more family time into her busy schedule. Her relationship with her grandchildren doesn't seem fractured by any means, but they could be closer, which the cook wants.
In this same blog post, which is centered on New Year's resolutions, Paula explains that she wants to learn to be healthier on a continual basis so that she'll live a long life and get to see not only her children but also her grandchildren for as long as possible. She wants to see them grow up and see the people they become, which goes hand in hand with her previous resolution about wanting to carve more time out in her schedule for her grandchildren.
Overall, it seems the connections between Paula and her family haven't faltered at all, and her goal for the future is to make them tighter than ever.