The Heartbreaking Death Of Eric Carle, Author Of The Very Hungry Caterpillar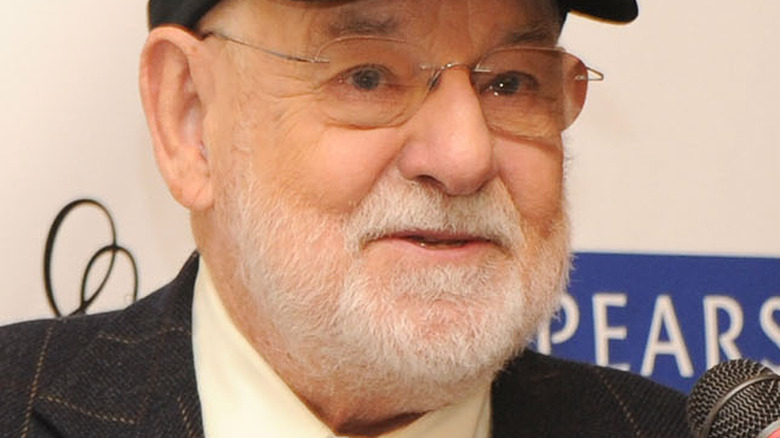 Jason Kempin/Getty Images
Children of all ages are mourning the death of Eric Carle, the creative author and artist who introduced readers to brightly colored characters like "The Very Hungry Caterpillar" and "The Very Busy Spider." The author died at age 91 of kidney failure at his studio in Northampton, Massachusetts.
Carle's death was announced by his family in a simple tribute at Eric Carle's site, which said, "In the light of the moon, holding on to a good star, a painter of rainbows is now traveling across the night sky."
The news shared by the Eric Carle Team on social media was more straightforward: "It is with heavy hearts that we share that Eric Carle, author & illustrator of The Very Hungry Caterpillar and many other beloved classics, passed away on 23rd at the age of 91. Thank you for sharing your talent with generations of young readers" (via Twitter).
Eric Carle's love of color came about because of World War II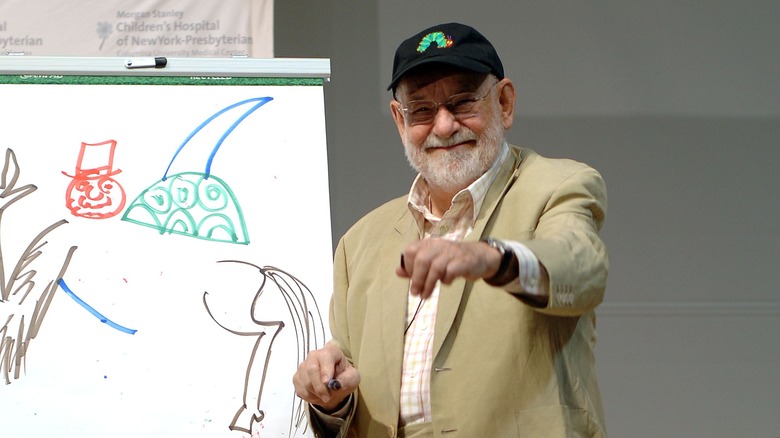 Andrew H. Walker/Getty Images
Eric Carle was born in New York to parents Johanna and Erich, who were immigrants from Germany. He credits his father for being the inspiration for so many of his books, which gave voice to some of nature's smallest creatures. "When I was a small boy, my father would take me on walks across meadows and through woods. He would lift a stone or peel back the bark of a tree and show me the living things that scurried about. He'd tell me about the life cycles of this or that small creature, and then he would carefully put the little creature back into its home," the author said on his site (via The New York Times). 
But because his mother was homesick, they decided to return to the city of Stuttgart, Germany, just as World War II broke out. The decision haunted the family; the elder Carle was drafted before he was captured; the author himself experienced violence at the hands of teachers and soldiers. "All of us regretted it. During the war, there were no colors. Everything was gray and brown and the cities were all camouflaged with grays and greens and brown greens and gray greens or brown greens, and ... there was no color," he told NPR in 2007. Carle would later say that the experience enhanced his love for intense colors.
Eric Carle has written more than 70 books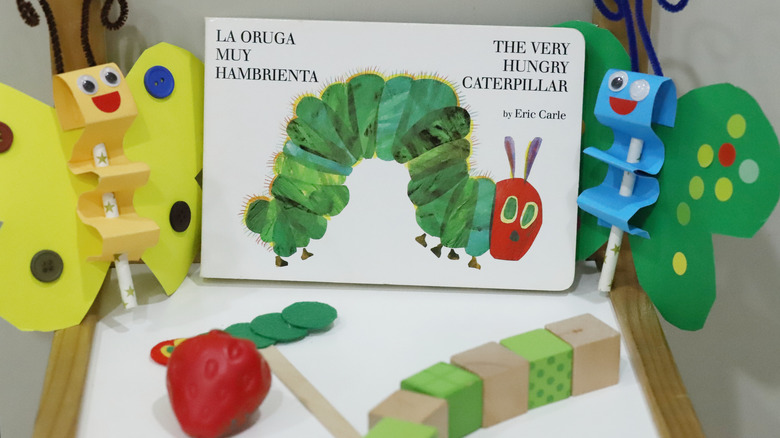 Shutterstock
When the war ended, Eric Carle went to the State Academy of Fine Arts in his home city, and two years after that, he returned to New York and worked as a graphic designer for The New York Times. He returned to Germany a second time as a member of the U.S. Army, and it was after that — as well as a return to the Times that he became a freelance illustrator (via The New York Times).
His first body of work was a collaboration with author Bill Martin Jr. for "Brown Bear, Brown Bear, What Do You See?" which was published in 1967. This led to his book "1,2,3 to the Zoo," which came out a year later. The book he is best known for is "The Very Hungry Caterpillar," which was published in 1969 and has sold more than 55 million copies. He said it took him a while to grasp exactly why the book resonates with children, even to this day. "... I think it is a book of hope. Children need hope," he said in 2019. "You — little insignificant caterpillar — can grow up into a beautiful butterfly and fly into the world with your talent."
His publisher, Penguin Random House, says that book represents just one in a body of work that encompasses 70 books, and for which he was awarded the Children's Literature Legacy Award from the American Library Association in 2003.