The Benefits Of Using African Black Soap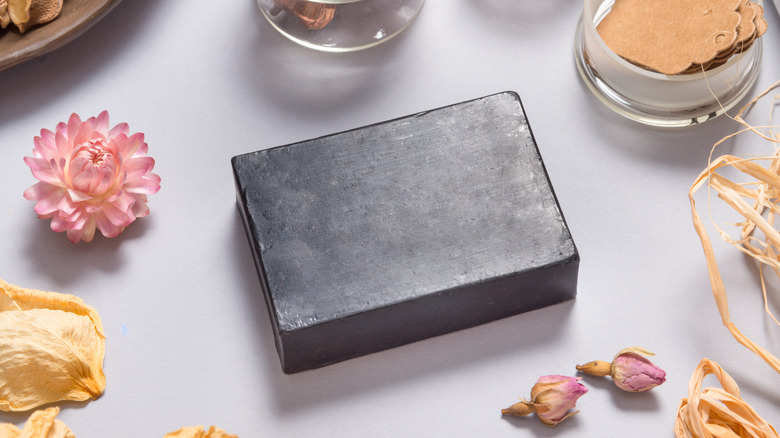 Shutterstock
Almost every week, there's some new skincare product on the market. Because the industry is over-saturated with skincare products dubbed to be the new miracle product, it can be hard to know which products are worth your time and money.
According to Byrdie, one of the best skincare products has been around for centuries. African black soap, a plant-based soap that was born in West Africa, has been used for hundreds of years to protect and care for skin.
Healthline reports that African black soap is the latest beauty product to gain "holy grail" status and it's easy to see why. Offering a solution to a range of skin complaints, from breakouts and hyperpigmentation to stretch marks and everything in between, Black soap is a must-have beauty essential.
But how does African black soap work, how should you use it, and what makes it so special? Let's get into it! 
What can African black soap be used for?
Shutterstock
Byrdie reports that Dr. Ife. J. Rodney, founder of Eternal Dermatology, says, "The main ingredients are plantain leaves or cocoa pods that are cooked down to charcoal ash. Some brands may also contain shea butter, coconut oil, and palm kernel oil." She also explains, "Black soap has been long used for its antibacterial properties. It reduces common skin bacteria and is ideal for oily and acne-prone skin. Additionally, the soothing shea butter helps to ease skin inflammation from razor bumps and rashes."
Healthline reports that what sets African black soap aside from synthetic soaps is the fact that it's handmade from plant-based ingredients. There are no nasty chemicals or synthetic ingredients in it, it's a handmade product. Because of this, the soap is suitable for use on all skin types, whether you have dry or sensitive skin, you can use African black soap on it. Just make sure to opt for an unscented brand if your skin is prone to sensitivity.
For oily and combination skin, African black soap can be used to help balance out oil production and reduce the excess production of oil, and all without stripping the skin of the natural essential oils it needs to remain healthy.
What are the benefits of African black soap?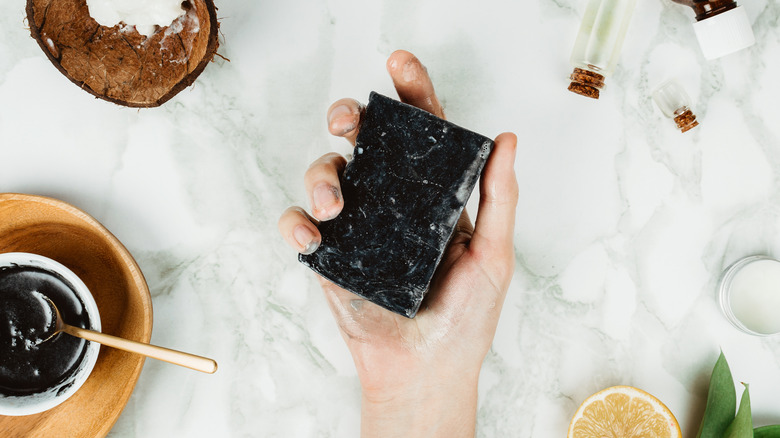 Shutterstock
Medical News Today reports that African black soap offers a wide range of benefits, including helping to treat acne, reducing the visibility of fine lines, reducing the appearance of dark patches, as well as helping to manage a number of common skin conditions, such as eczema.
As per Healthline, African black soap can be used to help manage skin conditions such as contact dermatitis, eczema, and skin allergies. Studies have shown that it may also help to clear rashes related to psoriasis. The outlet reports that the shea butter in African black soap can help to relieve skin itching and irritation, as well as battling dryness and related soreness. The cocoa butter and coconut oil also help to hydrate the skin, locking in moisture.
Byrdie also explains that the right African black soap can help to protect against damage related to sun exposure, as well as helping to smooth skin texture and reduce hyperpigmentation.