Where You Can Buy The Exact Clothes Betty Wears On Riverdale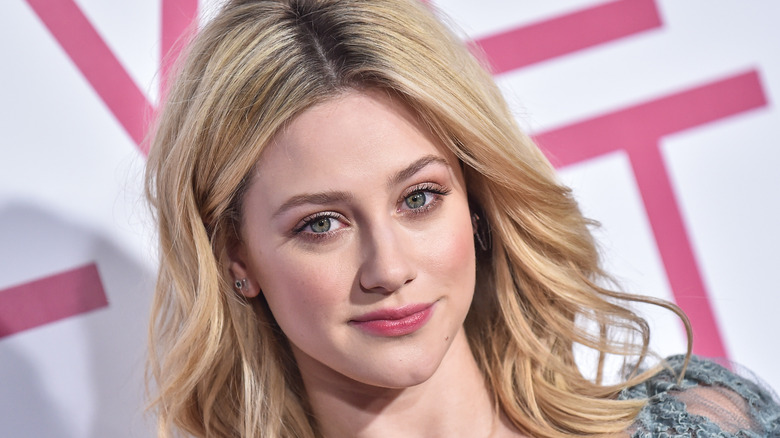 Shutterstock
Lili Reinhart breathed life into Archie Comics blonde beauty Betty Cooper in the CW's "Riverdale". The original character of Elizabeth "Betty" Cooper was first introduced in 1941 in Pep Comics Issue #22 (via Archie Comics). She's described as the "classic girl-next-door," Archie's on-again-off-again love interest and best frenemy to heiress Veronica Lodge. 
The multi-talented character debuted on the CW in 2017 and has remained one of the shows leads for 5 seasons (via IMDb). We thank costume designer Rebekka Sorensen-Kjelstrup for her genius efforts in bringing the two-dimensional comic book world of "Riverdale" into the 21st-century. In a 2017 interview with Vanity Fair, Sorensen-Kjelstrup stated of her costuming process, "I feel and think that you need to bring what's current today in a little bit, mix it up with a little bit of vintage fashion and style to what's in fashion now."
Though the original comic book series takes place in the 1940s and '50s, Sorensen-Kjelstrup has seamlessly transported the characters' signatures styles into a contemporary high schooler's wardrobe. "I love the fashion from different eras," Sorensen-Kjelstrop explained, "and researching it and trying to bring it back somehow in a modern sense." We'd say she's done an excellent job. In fact, fans of the show's costumes are in luck! 
Fashion pieces from Season 5 of "Riverdale" have just become available to the public thanks to Worn on TV and they're more affordable than we thought!
Recreate Betty Cooper's hostage look
Much of Season 5 incorporated the Cooper's familial pastel color palette with darker undertones to symbolize the dramatic storylines to come. "There's less layers to Betty" Kjelstrop stated of her leading lady. "She puts on her jeans and her sweater, and then her sneakers or boots, or she has a cardigan with a simple tank top or blouse underneath. There's less layers and less details" (via Vanity Fair). However, less details doesn't mean any less fashionable. In "Riverdale" Season 5, Episode 10, "The Pincushion Man", Reinhart wore two extremely sought after outfits.
The first was a Maldives Plaid Alpaca Blend Sweater by Dries Van Noten (via Worn on TV), prominently on display while the Coopers were being held hostage by prison escapees Charles and Chic (via TVLine). The striped orange zip-up was available at Nordstrom Rack for a reasonable $260, and though it's currently out of stock, fans can start hunting for secondhand versions. Another outfit that had viewers going gaga was Cooper's Printed Mesh Mock Neck Top paired with an Organic Cotton Corduroy Apron Dress (via Worn on TV), both by Twik. 
Unfortunately, the apron dress has been discontinued, so keep an eye out for the emerald item popping up on pre-owned clothing sites. And while Simons doesn't carry the exact top Cooper wore, it does have multiple alternative patterns to choose from. 
Nab this jumpsuit in the Coopers' signature shade of blue
Season 5, Episode 9 "The Destroyer" had eagle eyed viewers experiencing fashion deja vu. The Marissa Sweater by Rag and Bone was also worn by another television character, Maggie Pierce from "Grey's Anatomy" (via Worn on TV). The wool crewneck is available at Nordstrom Rack for just $118. To complete Reinhart's look, nab the Faux Leather Pipiy Jacket at Ted Baker for $244. 
Looking for a piece in the Cooper family's signature shade of blue? The Short Sleeve Denim Jumpsuit by Dynamite (via Worn on TV) is first seen when Cooper receives a call from Glen about her sister Polly. It's available at Dynamite for $70 or recreate the look with another Nordstrom denim jumpsuit. Finally, take home the Hicks Check Single Button Blazer by A.L.C. (via Worn on TV) that Cooper sports when lying to her mom about her sister's death. The checked blazer is available at Nordstrom Rack, Bloomingdales, Shopbop and The Outnet. 
Just like Betty's ponytail, you too can be "iconic and beyond reproach."