The Sad Thing Matthew Perry Just Admitted About His Time On Friends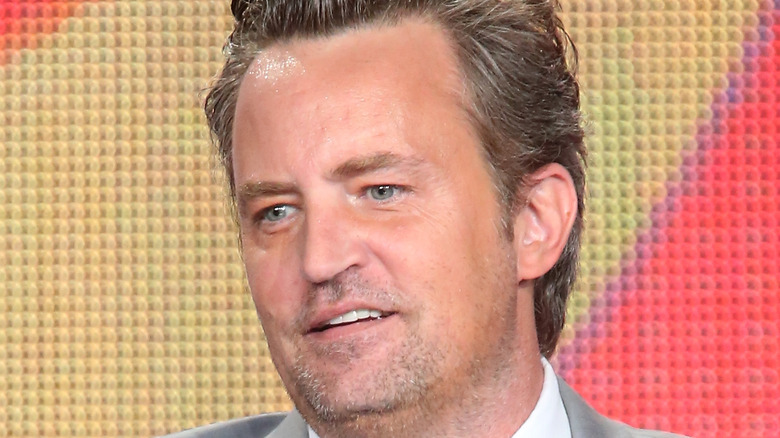 Frederick M. Brown/Getty Images
Could the "Friends" reunion be any more perfect? The original cast members — Jennifer Aniston, Courteney Cox, Lisa Kudrow, Matt LeBlanc, David Schwimmer, and Matthew Perry — all gathered on the show's soundstage for an incredible walk down memory lane (via Us Weekly). The unscripted special had it all. The group did a table read of some of the best episodes, including Aniston and Schwimmer reliving the moment of Ross and Rachel's first kiss. They also had special guest stars like Tom Selleck, Justin Bieber, Cindy Crawford, and more. However, the best moments of the reunion came when the stars were just sitting around reminiscing about what life was like for the 10 years that they filmed the iconic television series. During those times, there were some big laughs, plenty of tears, and even some secrets that were revealed.
One of the biggest moments came when Aniston and Schwimmer revealed that they both had huge crushes on one another, but that the timing never worked out for them to officially date. Instead, Aniston claimed that they took their love for each other and put into their iconic characters. "I remember saying one time to David, 'It's gonna be such a bummer if the first time you and I actually kiss is going to be on national television,' Sure enough, the first time we kissed was in that coffee shop. We just channeled all of our adoration and love for each other into Ross and Rachel," Aniston confessed. In addition, Perry also made his own confession about his time on the show.
Matthew Perry opened up about his on-set anxiety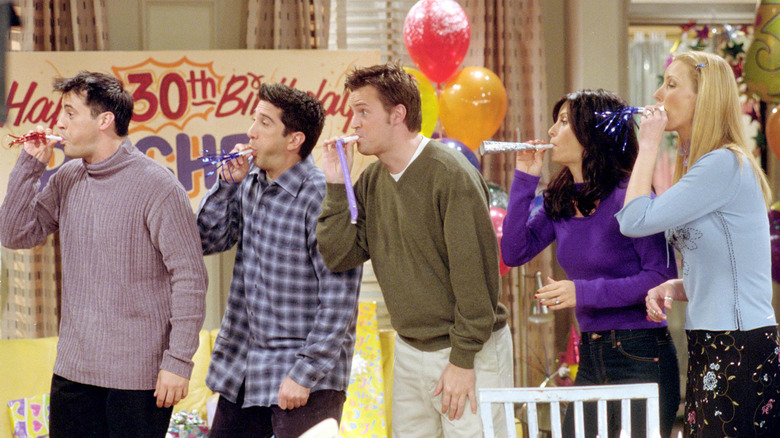 Getty Images/Getty Images
During the "Friends" reunion special, the cast and creators touched on how important the audience was to filming, per People. The cast admitted to feeding off of the audience, and even trying to deliver bigger laughs because of their reactions to the storylines and jokes. However, Matthew Perry said that the audience became a source of stress to him during moments when his jokes didn't hit. 
"To me, I felt like I was going to die if they didn't laugh," he said. "And it's not healthy, for sure. But I would sometimes say a line and they wouldn't laugh and I would sweat and just go into convulsions. If I didn't get the laugh I was supposed to get, I would freak out." Perry's former co-star Lisa Kudrow appeared surprised by Perry's comment. "You didn't tell us that, though. I don't remember you ever saying that," Kudrow said. "Oh, yeah," Perry added. "I felt like that every single night."
Courteney Cox agreed when it came to getting laughs from the live audience. "When they would laugh at something, I would think to myself, 'Oh, if you think that's funny, wait until you get a load of this next line,' I felt this rewarding feeling, or not [if they didn't laugh]," Cox said. "I really enjoyed the energy of the live audience. I mean, it was like doing a one-act play every week with all of us," David Schwimmer chimed in. Fans can see these and more heartwarming moments now that the "Friends" reunion special is streaming on HBO Max.