The Truth About Teresa Giudice And Dolores Catania's Relationship
Jim Spellman/Getty Images
Teresa Giudice and Dolores Catania may be co-stars on "The Real Housewives of New Jersey," but they weren't just placed together and forced to be friends by the show's casting team. In fact, the women have known one another and been close for decades.
"I've known Teresa so long I have actually a specific memory, like here I am nine months pregnant from my daughter, Gabrielle who's now gonna be 21 in September," Catania said during a 2016 interview with Bravo's "The Daily Dish," as she looked back on key moments with her castmate. "I was the first to get married and here's my cousin Tanya and Teresa Gorga coming over to hang out at my Shore house, getting ready to go to Temptations" (via Bravo).
That same year, in the trailer clip for "The Real Housewives of New Jersey," Season 7, Giudice was seen saying that she and Catania are cut from the same cloth.
"We're true Italians. We'll stick with you until the end," Giudice added (via Bravo).
Years later, however, it was rumored that Giudice and Catania had suffered a falling out amid production on the 11th season of "The Real Housewives of New Jersey."
Dolores Catania is happy Teresa Giudice has found love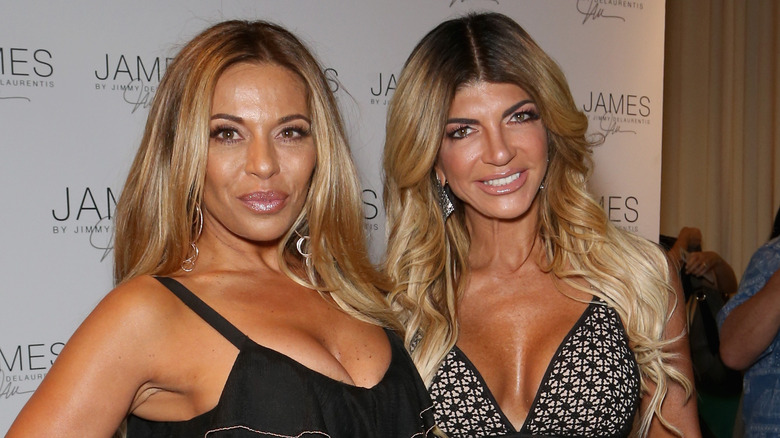 Gabe Ginsberg/Getty Images
"Dolores has been complaining to friends about Teresa," an insider told The Sun in September 2020. "She actually wants her off the show. Dolores knows she has no power to make that happen and seems very frustrated. She is tired of her being the center of attention and feels she overstayed her welcome."
According to the insider, Catania had started to feel that Giudice was being "really fake" and was using her split from Joe Giudice for a storyline. 
Months later, after Giudice brought up a rumor suggesting Evan Goldschneider, the husband of Jackie Goldschneider, was cheating, Catania said on Access Hollywood's "Housewives Nightcap" that she wasn't picking sides amid their feud.
"I never take sides with my friends. Because it's like when sisters fight, you take a side — My mother taught me this a long time ago. I'm one of five [children], and my mother's like, when I call her and complain about my sister or my sister will call and complain about me, she sits silently on the phone," she explained, via Monsters and Critics. "Because if you take a side, they're gonna get back together and then where do you stand? So, but I try to like not let them really hurt each other."
More recently, in April 2021, while discussing Giudice's boyfriend of several months, Luis Ruelas, Catania seemingly shut down the rumors of trouble between them by confirming to Hollywood Life that she is "so happy" her friend found love. "It's such a beautiful thing," she noted.