The Truth About Erin Kellyman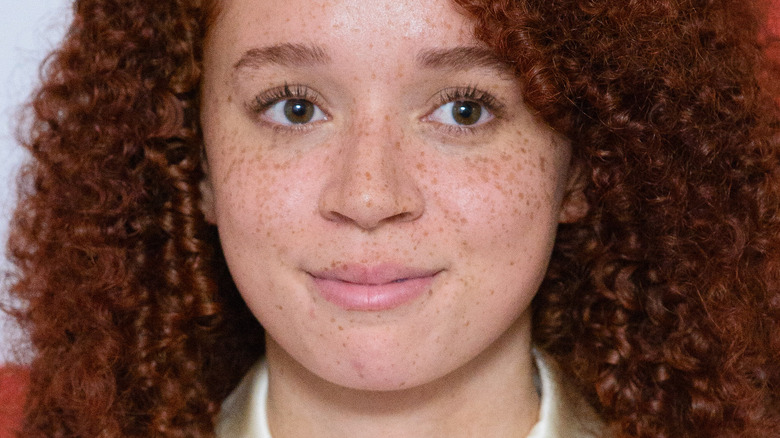 Joe Maher/Getty Images
Marvel fans are anxiously awaiting the studio's many projects set to hit theaters and Disney+ throughout 2021, 2022, and into 2023 (via Collider). But because waiting is hard, Marvel has released plenty of binge-worthy series and films on the streaming platform, including the notable Marvel Studios' miniseries "The Falcon and the Winter Soldier," starring Sebastian Stan, Anthony Mackie, and Erin Kellyman.
Kellyman is already known for her role as Enfys Nest in 2018's "Solo: A Star Wars Story," but she is gaining more attention for her entrance into the Marvel franchise as Karli Morgenthau, the leader of the Flag Smashers.
The daughter of a Jamaican father and a white mother, Kellyman is just getting started in leaving her mark on action films as she redefines roles typically led by men (per TV Overmind). The 22-year-old is offering the world much more than just superhero realness in her kick-a** female lead roles as she helps empower others in her personal life.
Kellyman was a Marvel fan
The British actor's introduction to the Marvel world began when she was 11, according to BuzzFeed. Back then, Erin Kellyman spent her weekends watching Marvel movies and focusing on what interested her. Namely playing pretend and acting out parts, which set her apart from her friends who were more focused on boys.
It was her decision to stay true to herself and not give in to pretending to be interested in what typical tweens deem important that helped her follow her passion for acting at Nottingham Television Workshop (via NottinghamshireLive).
Attitude.co.uk reports Kellyman entered the TV scene in 2015 as a teenager in "Raised By Wolves." She played teenager Cathy in the comedy series, and later appeared in "The Coopers Vs The Rest" and in "Les Misérables" as Éponine, according to the outlet.
Since then, WalesOnline reports Kellyman has been cast as Maya in the popular BBC drama "Life," where she plays a teenager living with an aunt who isn't too keen on raising a child. In the show, Maya tries to find her place in the world as a daughter of a mentally ill mom and an aunt who makes life at home anything but comfortable.
She's breaking gender-role barriers
Queer Marvel fans celebrated Disney and Marvel Studios' move toward inclusivity after learning Erin Kellyman is in fact gay. Although the actor did not hide her relationship with girlfriend Jordan O'Coy, as evidenced by her Instagram posts, it took fans some scrolling through the couple's social posts to confirm that yes, they are very much in a relationship (via Out). Kellyman quickly moved from "that actress in those Star Wars and Marvel projects" to LGBTQ+ icon.
Unafraid and unapologetically authentic, Kellyman is breaking down gender barriers as evidenced in her role as Karli. Marvel Studios shocked fans by gender-swapping the comic's male character, Karl Morgenthau, with Karli. In the comics, Flag Smasher Karl Morgenthau led the Flag Smashers anarchist group, U.L.T.I.M.T.UM. on a quest to fight nationalism (via The News Fetcher). Now Karli does all that.
Kellyman explains Marvel's decision to swap a male-led antagonist with a female makes the series more inclusive and empowering to female viewers. "It's so important. I feel like young women and girls are going to have this character to look up to and relate to now, which they wouldn't have done if it were played by a man. Or not in the same way, at least," she tells ET.