The Eyebrow Trick That Kendall Jenner's Makeup Artist Swears By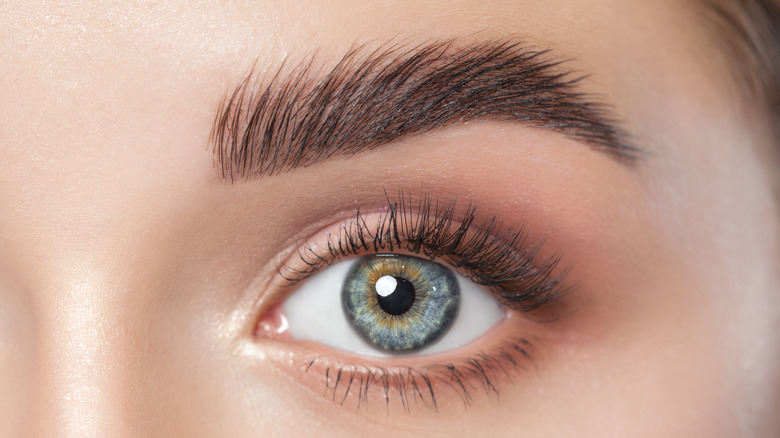 Shutterstock
If you lived through the skinny eyebrow trend in the late 1990s and early 2000s (via Byrdie), chances are you have tried several tricks to enhance your brows game. You might have overplucked the hairs over your eyes during those thinner brow years, leaving you with a smaller brow line, which might leave you making some aging eyebrow mistakes. Perhaps you even have to take the time to fill in your eyebrows every day. Eyebrow shapes come and go, and some of the worst eyebrow trends ever happened in recent decades. 
To help correct past mistakes, the internet and social media have no shortage of great ways to thicken your eyebrows into something fierce, so it's not surprising that Kendall Jenner's makeup artist has her own take on how to get the stylishly thick brow of today (via Refinery 29). 
Mary Philips, who also serves celebrity clients including Hailey Bieber and Priyanka Chopra, shared her best tips for creating gorgeously feathered full brows, and it's surprisingly doable for almost everyone. Read on to find out how to get the gorgeous eyebrows of your dreams.
Here's the surprisingly easy trick for an amazing eyebrow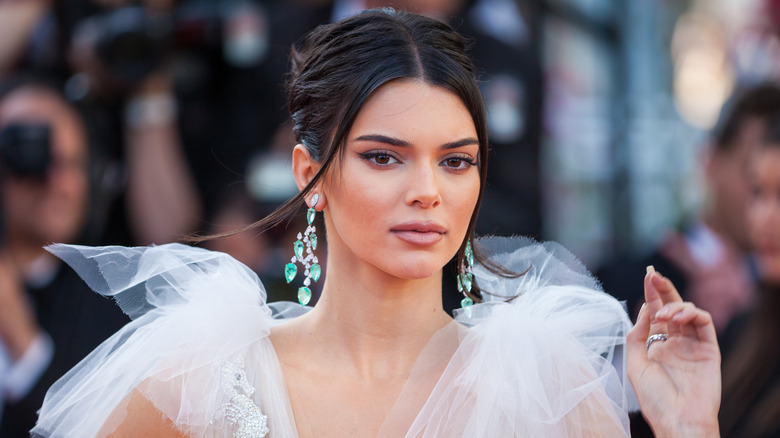 Shutterstock
Makeup artist Mary Philips revealed that the eyebrow is the beginning of the gorgeous makeup looks she create for Kendall Jenner, Hailey Bieber, and Priyanka Chopra. "I always start make-up with a good brow clean-up," Mary told Refinery 29. "I use my fingers to fan the brow hairs up and full, then use slanted tweezers to pluck any strays that fall outside the natural brow line. But I always tell people: If you're unsure about removing a hair, don't."
Philips notes she also ensures that her clients' eyelashes are on point to finish the framing she started at the brow line to go along with the complete look. "I always define the lashes, too, because it's the bottom part of the frame," Phillips revealed. "I'll apply individual [false lashes] using a lash-assist tool, or just Armani's Eyes To Kill mascara for length. Then I always use a crimper to give the outer lashes extra lift."
To go with the perfect frame, Philips enjoys adding small pops of color on the lash line, which is something you might be interested in trying as the weather heats up. All it takes is a good pair of tweezers, an eyelash curler, and a great mascara to try out Philips' eyebrow trick yourself.