What Jeanne Covey From My 600-Lb Life Is Doing Today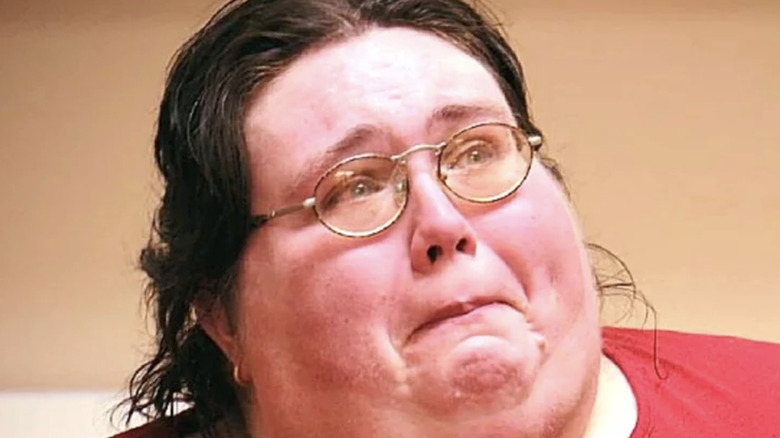 TLC
TLC's "My 600-Lb. Life" follows the incredible weight-loss journeys of morbidly obese individuals who are looking to turn their lives around by shedding pounds through weight-loss surgery and lifestyle changes. 
Throughout their experiences on the hit reality show, contestants are faced with a whole new diet and exercise plan, curated by the show's resident surgeon, Dr. Younan Nowzaradan, aka Dr. Now. He ultimately decides whether or not participants are permitted to receive potentially life-changing weight-loss surgery.
One memorable individual featured in the series was Jeanne Covey of Season 7. According to Distractify, when viewers first met Covey, she was living in rural Texas with her dogs and weighed more than 600 pounds. 
She revealed that her weight issues began at an early age, and Dr. Now described Covey's situation as "extremely critical." At the time of filming, Covey spent the majority of her time in a chair and was waited on hand and foot by her schizophrenic father and her mother, who was also suffering with an illness. 
On the show, it was also revealed that, because she couldn't fit inside the bathroom or shower, her ailing mother would have to clean her with a washcloth. Covey revealed that she felt she was a burden on her own parents. "It's so humiliating to be almost 40 and rely on my mom and dad to do everything for me," she confessed.
So, what did Jeanne Covey accomplish on "My 600-Lb. Life" — and what is she up to today?
Jeanne Covey pulled out of My 600-Lb. Life
According to The Cinemaholic, Jeanne Covey struggled to follow her new diet plan but eventually started to make progress in her weight loss journey. However, things soon went downhill when her mother became extremely ill and was forced to undergo surgery. 
Soon afterward, Covey became concerned that she hadn't heard from her father for quite a while. Since this was very much out of character for him, she decided to contact the authorities to check on her dad. Sadly, it was revealed that Covey's father had passed away at his home. Following the devastating news, things became too much for Covey to bear, and she pulled out of Dr. Now's weight-loss program after just six months. Her final weigh-in revealed that she lost 32 pounds since the start of her journey.
Speaking of her decision to walk away from the reality series, Covey explained that she was not in the right place to continue. "I talked to my mom, and we both decided we're not going back to Houston," she said on the show. "With my dad gone, we can't leave the dogs alone, and I can't go by myself. So I'm just not in a place to do Dr. Now's program." 
She added: "I know I have to lose weight, and I don't have a lot of time if I don't, but I don't know what to do about it right now."
She filed a lawsuit against the show
According to Starcasm, Jeanne Covey has kept a fairly low profile since leaving the show in December 2018. However, in one rare social media post, the former "My 600-Lb. Life" star claims to have lost a massive 230 pounds since filming wrapped.
Another update has to do with Covey's canine pals. During her episodes, viewers couldn't miss the nine dogs that the reality TV star shared with her mother, Barbara. Sadly, since appearing on the show, Barbara revealed on social media that she was forced to have one of the dogs euthanized after vets discovered it had been suffering from advanced cancer. Writing on social media, Covey revealed, "I had to put him down Friday morning ... He had a stomach full of cancer but hadn't shown any signs. He was wonderful on Tuesday ... thank God for the timing. He didn't suffer very long" (per Starcasm).
As The Cinemaholic reported, Jeanne also later became the series' fifth star suing the "My 600-Lb. Life" production company, Megalomedia. Covey and her mother claim that they asked the production company to "discontinue" their episode following the death of her father and that they were "threatened with a lawsuit" if they "did not comply with all of their production demands." 
Meanwhile, Covey's mother also alleges that Megalomedia "offered to pay for all of her surgical costs" for an unexpected surgery. However, she claims that they have since refused to pay the hefty $70,000 medical bill. Even though she's no longer in front of the camera, the drama with Jeanne Covey just continues to unfold.