What Watching sMothered For The First Time Is Like, According To Its Stars - Exclusive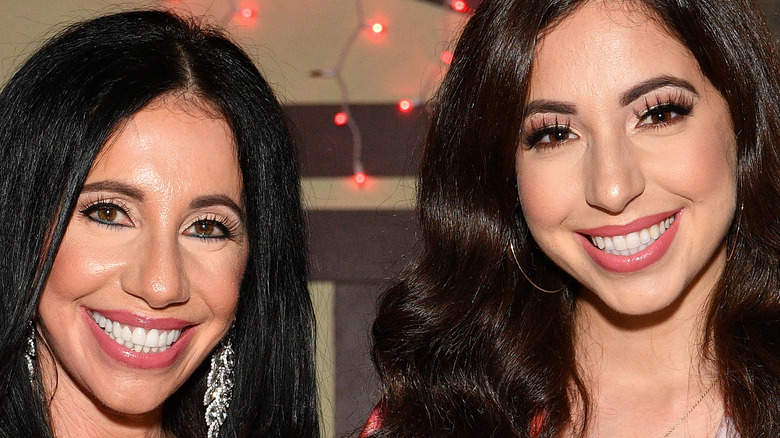 Dia Dipasupil/Getty Images
One of the best feelings in the world is curling up on the couch and turning on the TV to watch the latest episode of your favorite series. However, for the stars of the reality show "sMothered," this is a completely different experience. They're watching themselves — and they don't even get to see what's included in the episodes until they air. "And so I have to prepare myself," Cher Hubsher exclusively told The List. "What's about to go down on Twitter?"
Though these stars have opened up their lives to viewers everywhere, a lot is still cut out to accommodate the hour-long time slot. "I feel they're only getting to see a part of who you are," her mother, Dawn Hubsher, told us.
Needless to say, watching yourself on reality TV can be quite a nerve-wracking experience. We sat down with this mother and daughter, who shared all about what it's like to watch themselves on the show for the very first time.
Cher and Dawn Hubsher have each other's backs -- even off screen
When Dawn and Cher watch "sMothered" each week, "it's always a little scary, exciting," Cher told us. "A lot of emotions come through." As they watch, they're wondering: What will the world think?
Yet, what's even more personal is seeing what their family says about their relationship — on national television. "It's definitely eye-opening," Cher admitted. "And makes you question things and think about things a little bit differently." However, one thing will never change: Cher and Dawn will always have each other's backs. Every single Sunday — and now Monday — night, they watch "sMothered" while on speakerphone. During the commercial breaks is when they chat all about what they just saw on TV.
Perhaps the best part is getting a glimpse of their own memories from the outside looking in. After all, there's something special about seeing yourself on television. "Re-living the whole — all these experiences — all over again is just amazing," Dawn told us.
Though it's exciting to see themselves, they're also interested in what the other mother-daughter duos are doing. Though they've never met, it's exciting to share the screen with them. "We like talking about other duos, their drama and stuff. It's fun," Cher said. "We're fans of the show just like anybody else."
TLC's "sMothered" airs Mondays at 9 p.m. ET/PT.