How To Get Princess Diana's Makeup Look According To Her Makeup Artist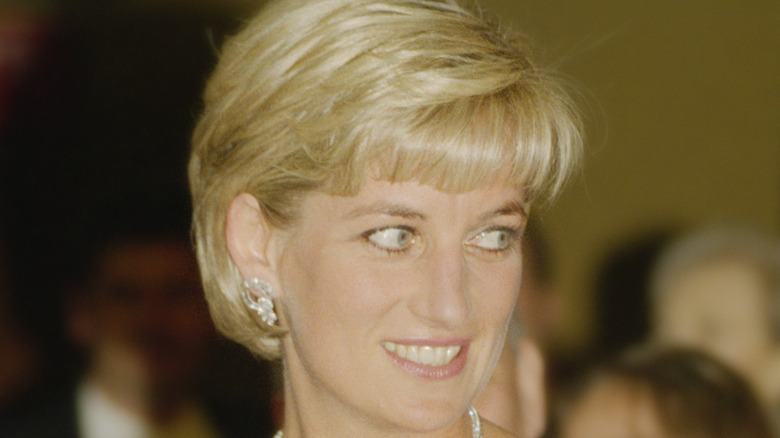 David M. Benett/Getty Images
Known for her signature blue eyeliner, the Princess of Wales quickly rose to become a style and fashion icon of the 1980s and 1990s.
As a celebration of the 20th anniversary of Princess Diana Spencer's untimely death, YouTuber Lisa Eldridge partnered with Mary Greenwell, Princess Diana's makeup artist, to show her go-to look (via YouTube). First working together during British Vogue's iconic cover shoot with photographer Patrick Demarchelier, Greenwell and the princess quickly became a tight-knit team. Two makeup lovers at heart, Greenwell and the Princess of Wales created some of the most timeless makeup looks together (via CR Fashion Book).
As Season 4 of "The Crown" introduced young Diana into the royal family's story, fans around the world were reminded of their love for the young princess. While the show depicted her in the early days of her relationship with Prince Charles — before she became the fashion icon we now know her for — the Netflix original restarted the Diana-mania of the 1990s. Thanks to Greenwell's makeup tutorial, you'll be able to achieve her effortlessly classic (and buildable) makeup look.
Diana's Vogue cover photoshoot launched her makeup looks onto the main stage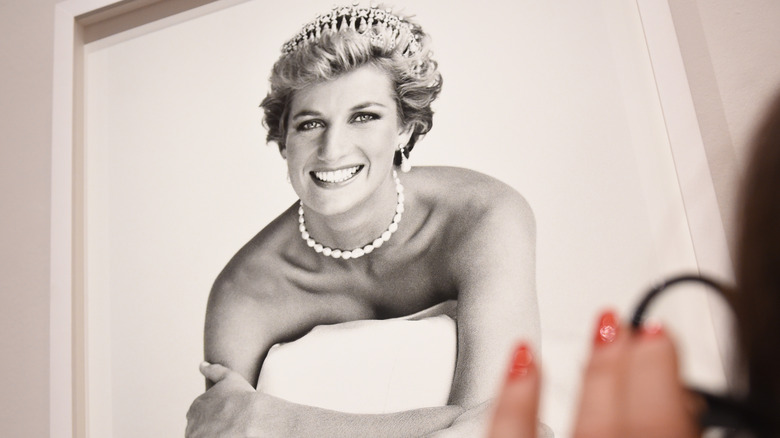 Stuart C. Wilson/Getty Images
Perhaps the biggest launching pad for Princess Diana Spencer's fame as a fashion icon was the 1990 Vogue UK cover shoot. Pictured wearing a beautiful white gown, crown, and smiling towards the camera with an effortless smokey eye, the photos captured of Diana on the day still stand as a testament to her beauty. Indeed, it was in this set that Mary Greenwell first met the Princess of Wales. After the shoot, Greenwell became Diana's go-to makeup artist, styling her for day-time charity events and night-time galas alike.
"I loved enhancing her beauty, making her look glamorous for the red carpet and then making her look and feel relaxed in her own skin the rest of the time," Greenwell told Vogue. "She was obviously one of the biggest celebrities I've ever worked with, so my approach when I'm working with someone of that caliber ... is to make them feel relaxed and good." 
After Diana's death, Greenwell continued to work with famous celebrities and royals alike, even styling Meghan Markle for her famous 2017 Vanity Fair cover (via Hello!)
Princess Diana's eyes were the star of the makeup show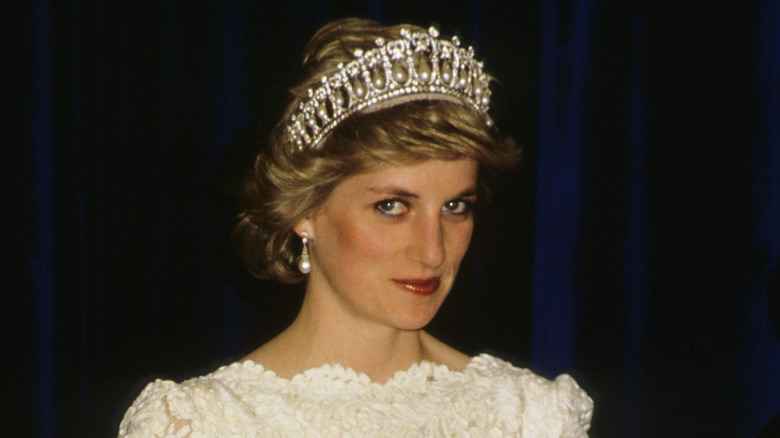 Georges De Keerle/Getty Images
After shifting away from her signature blue eyeliner, Mary Greenwell said the Princess of Wales stuck to the neutrals for a timeless and elegant look.
In a YouTube video recreating some of Diana's best looks, Greenwell started from the basics: skincare. A fan of highly moisturized skin, Greenwell started with some lip balm and a three-step moisturizer program that included everything from a cream moisturizer, a gel moisturizer, and some eye cream. After applying a Laura Mercier primer, Greenwell went in with a YSL Beauty cushion powder as "the underneath foundation" to create an even base for the look. 
"We used to love talking product," Greenwell recalled about her time working with Diana — it turns out that time at the makeup chair with Greenwell was time to relax for the Princess of Wales. Opting to focus on the eyes, Greenwell chose to highlight Diana's beautiful eyes to keep the look both elegant and buildable. While she used very different products on the princess 20 years ago, Greenwell modernized the look for recreation.
For Diana's blue eyes, Greenwell was most excited about moving away from the blue eyeliner and onto something more sophisticated. Sticking to warm brown tones, she added a medium brown color to the lid, before adding darker tones to the lash line and the outer corners of the under eye. She then finished off the eyes with a heavy swoop of mascara and some brow shaping. 
With Greenwell's tips in hands, you are also now ready to recreate Diana's iconic look.