The Truth About Chelsea Handler And Jennifer Aniston's Friendship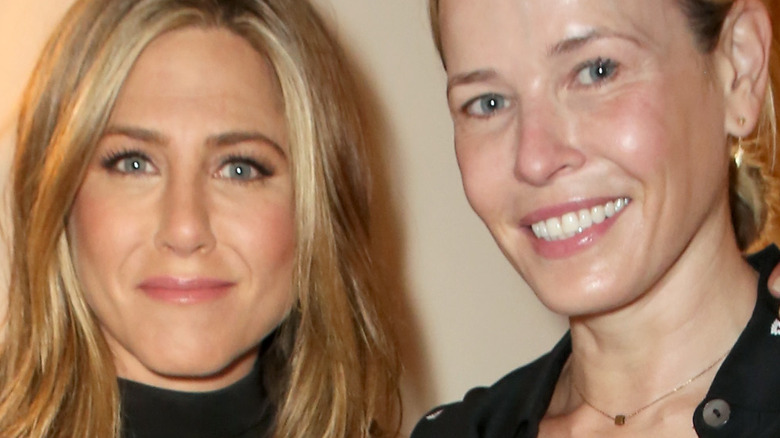 Ari Perilstein/Getty Images
The friendship between opinionated comedian Chelsea Handler and "Friends" actor Jennifer Aniston proves that opposites attract. For several years the two celebs were well-known as besties, with Handler famously sticking up for her friend by telling jokes at the expense of Aniston's ex-husband Brad Pitt and Angelina Jolie.
But like some of the best love stories, Aniston and Handler's friendship seemed to come to an abrupt end in 2017, per OK!. Outsiders were led to believe the friendship had fizzled out since the two celebs were not seen together in public as often. However, Handler set the record straight in a 2019 interview with Australian talk show The Project, saying the tabloids were wrong (via Stylist). "We're friends. Don't worry ... I love Jen," she said.
Here is what we know about what may have caused the "Dumplin'" actor and book author to shelve their friendship for a few years.
Chelsea Handler admits to cutting friends out of her life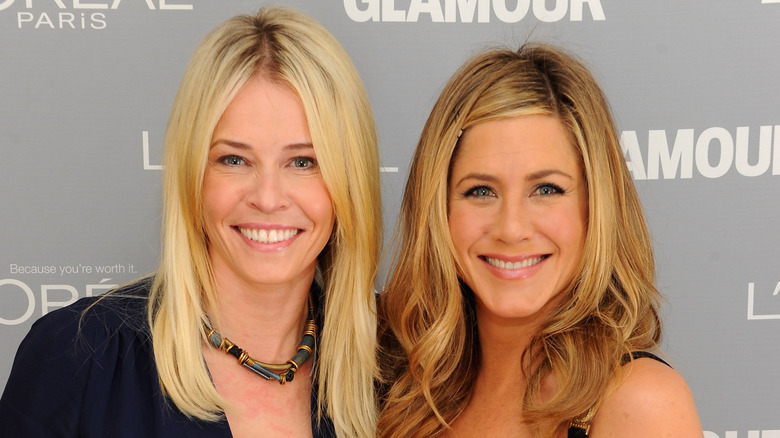 Dimitrios Kambouris/Getty Images
Speculation surrounding the fallout between the two BFFs pointed at three possible scenarios: Chelsea Handler was talking to others about Jennifer Aniston's marriage to Justin Theroux, which led to "The Morning Show" actor cutting the comedian out of her friend's group (via YourTango); the two grew apart as friends do (per Life & Style); or, Handler may have been the one to end the friendship since she's known to cut people out of her life.
Radar Online in 2019 reported that Handler opened up about her past struggles maintaining friendships because her go-to reaction is to sever ties with anyone who makes her mad. In her memoir, "Life Will Be The Death Of Me ... And You Too!," the author tells readers about her time in therapy working on her anger issues and learning how she uses anger to protect herself, according to the outlet.
Was it that anger that kept Aniston and the executive producer of "Hello, Privilege. It's Me, Chelsea," apart?
Jennifer Aniston and Chelsea Handler have made amends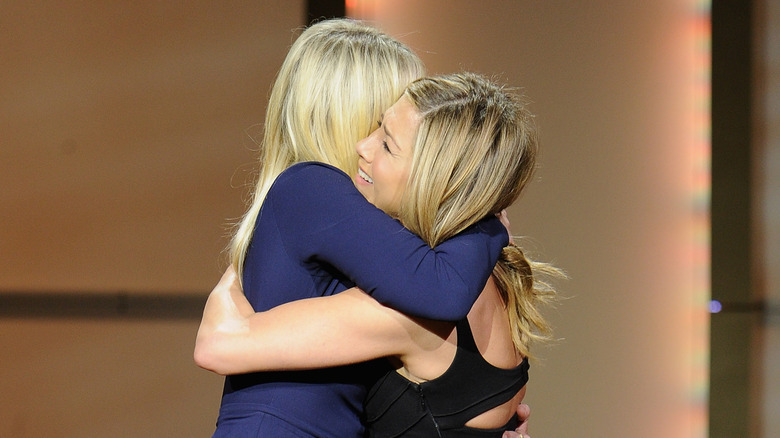 Theo Wargo/Getty Images
Whether it was therapy or just time that helped close the wounds, their friendship appeared to be back on track when Chelsea Handler attended Jennifer Aniston's 50th birthday party in 2019 (per Radar Online). To be fair, Chelsea was actually one of several of Aniston's famous exes who were invited to the party, including ex-husbands Brad Pitt and Justin Theroux, according to YourTango. Either Aniston was in a forgiving mood when she made her invite list or she was just ready to rise about the BS of the past. Whatever the case, Handler was in attendance, and fans were cheering on their relationship.
The party may have been the first step toward the former-besties' reconciliation. While not besties, these two appear to have pushed ill feelings aside to support one another again. Just take a look at Handler's Instagram where Aniston liked the post of the executive producer and host in a white bikini (via Hello!).
Fans are not sure what ultimately caused these two to work on their friendship but they're glad both women are back to supporting one another again.