The Truth About Gabrielle Union's Skin Care Routine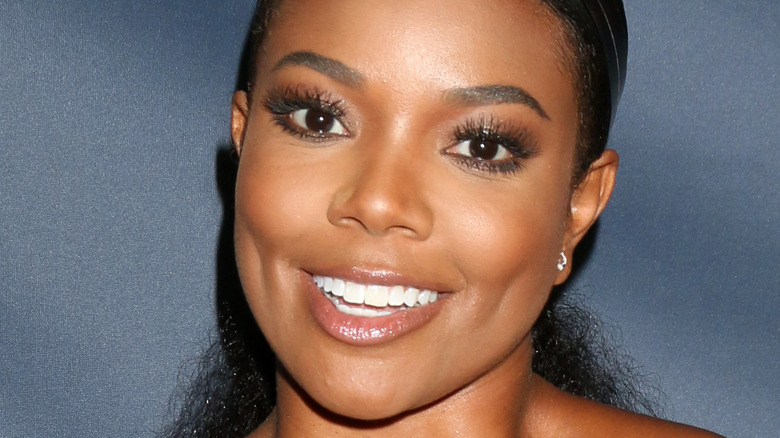 Shutterstock
Skincare has evolved tremendously over the past century, from the Coco Chanel inspired tanning oil trend of the twenties to the Preparation H beauty hack of the '70s, which had people rubbing hemorrhoid cream under their eyes for depuffing purposes (via Allure). Living through nearly five decades, actress, author, and activist Gabrielle Union has learned a lot of what works, and what doesn't, when it comes to her own glowing, youthful skin.
The 48-year-old beauty tells Women's Health that her skin is often the topic of conversation, as she is always asked how she stays looking so young. During an interview with US Weekly, she shares that she has always had oily skin, which can wreak havoc on the skin as a teenager, but is super beneficial as an adult, stating, "Whenever you think of blotting, just let it shine." 
When asked about cosmetic treatments or procedures, Union reports that, while she has yet to use Botox or other injectables in her skincare routine, she is not taking them off the table for the future, telling Women's Health, "I'm not going to rule out Botox, but the idea of putting a needle in my face ... I'm not there yet."
Gabrielle Union's skincare starts from within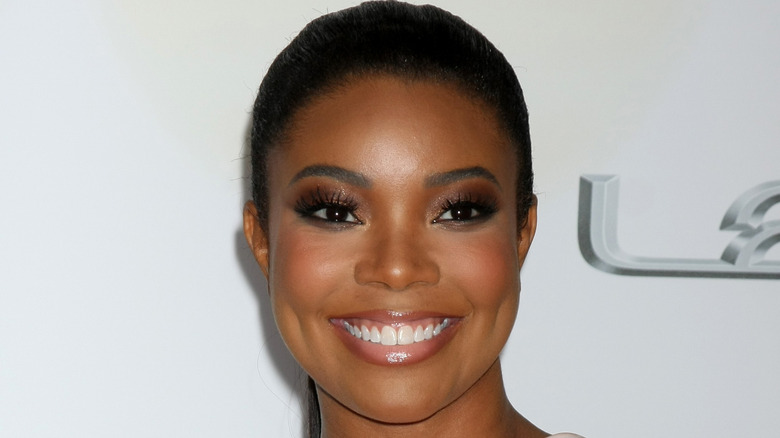 Shutterstock
Keeping her youthful glow starts with how she treats her mind and body, Gabrielle Union tells Women's Health, "I drink a lot of water, I don't smoke, and I don't have a hard life." She shares with US Weekly that she chooses water, a gallon a day, over sugary drinks which the beauty says is helpful for the "mind, body, and soul — anti-aging." Union says that sleep is also essential, as it helps with recovery, and she makes an effort to get at least eight hours a night.
The actress does offer a big piece of advice for maintaining healthy, younger looking skin, telling Women's Health "My best anti-aging tip is the ability to say no, no, and hell, no. We run ourselves ragged saying yes to every freaking thing, whether it's to our family, spouses, or careers. I sleep eight hours a day and don't let myself stress out. A lot of people call it selfish, but I don't have any wrinkles."
Skincare products Gabrielle Union uses for a healthy, youthful glow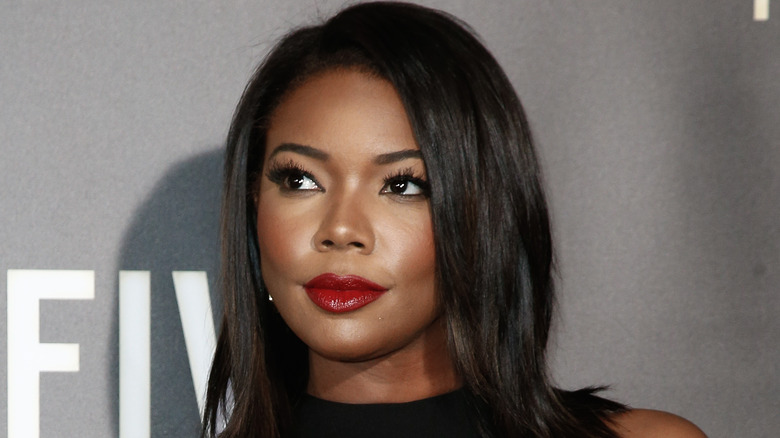 Shutterstock
The "Being Mary Jane" actress, while convinced that her self-care routine is the best anti-aging remedy, does use some OTC products, including Neutrogena Oil-Free Acne Wash Pink Grapefruit Facial Cleanser, which she uses in the shower (via The Skincare Edit). 
She also exfoliates with Neutrogena Oil-Free Acne Wash Pink Grapefruit Foaming Scrub, sharing that she trusts this long standing brand, not only because she was a spokesperson with them for over a decade, but also because the "products speak for themselves." 
Sticking with the brand for her SPF, Union uses Neutrogena Age Shield Face Oil-Free Sunscreen SPF 110, stating "I was a Neutrogena spokesperson for 10 years, and they taught me the importance of daily sunscreen. I go SPF 110. I don't mess around." 
The "You Got Anything Stronger?" author also loves Mario Badescu Toner and products by Luzern Laboratories, stating "I'm kind of obsessed with the Luzern line; I use a lot of their products."