What Do The Just-Released Fauci Emails Really Contain?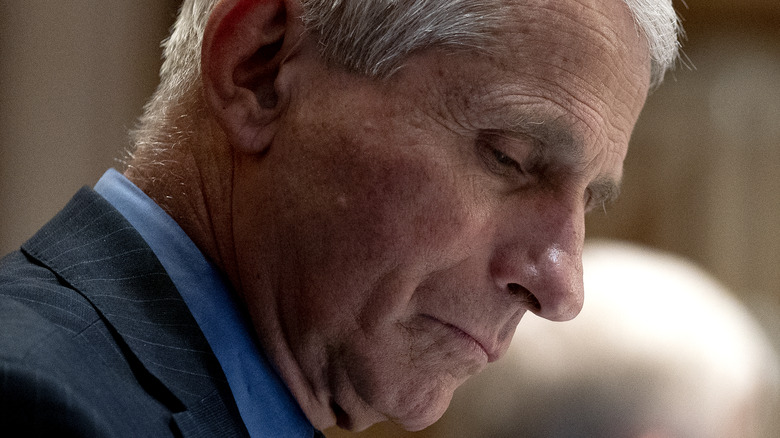 Pool/Getty Images
It may be too soon for us to look to history for an assessment on the way all of us handled the lethal coronavirus pandemic that shut the world down, but enough time has passed to allow publications like The Washington Post and BuzzFeed News to get a glimpse into pandemic expert Dr. Anthony Fauci's work emails which were sent and received between January to June, 2020. The emails were obtained through the Freedom of Information Act, which gives anyone the right to look at federal records excluding those involving national security and personal privacy (via FOIA). 
The Washington Post's document drop covers 866 pages worth of emails  between March and April of 2020, during the earliest and most uncertain days of the COVID-19 pandemic. Fauci was tasked with trying to figure out the Trump's administration's response to the worsening health crisis, even while former President Donald Trump himself was trying to downplay its seriousness. At one point, Fauci says he even received 1,000 messages a day to ask for help, to give advice, or to offer him a boost. 
In one reveal, Dr. Fauci's Chinese counterpart, Dr. George Gao, sent an apology for calling out the U.S. and Europe over their decision to ignore mask-wearing, during an interview with Science. "I saw the Science interview, how could I say such a word 'big mistake' about others? That was journalist's wording. Hope you understand," Gao had written. Fauci's response? "I understand completely. No problem. We will get through this together."
Buzzfeed News obtained more than 3,000 emails under the Freedom of Information Act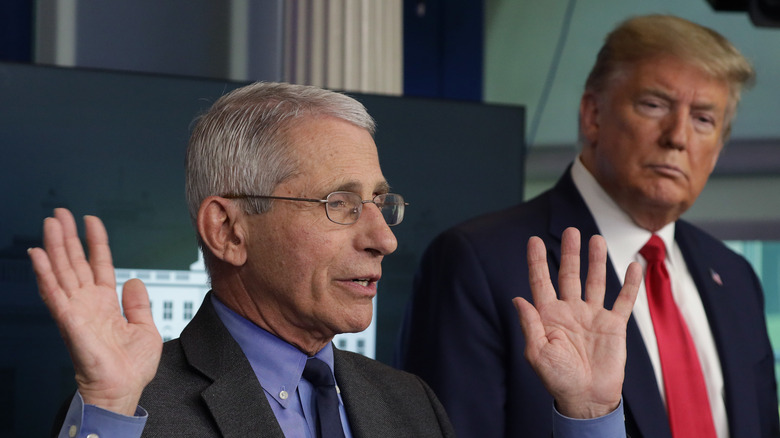 Alex Wong/Getty Images
BuzzFeed News' request covered a much longer period: between January and June, and the request for information yielded more than 3,200 pages. One of the emails reveals an exchange between Dr. Fauci and director of the National Institute of Health Francis Collins, with the subject "conspiracy gains momentum." Dr. Fauci's comments were redacted and could not be read. 
The emails also underscored the limits of what Dr. Fauci and those around him knew about the pandemic and what it could unleash. One from ABC News had asked Dr. Fauci whether he agreed that 98 million people could be infected with COVID-19, and that it could trigger a death toll of half a million, to which he responded "That seems exceptionally high." 
The pandemic has currently infected more than 33.3 million people and killed nearly 600,000 in the United States alone (via The New York Times). Globally, the Worldometer shows that the disease has infected more than a staggering 172 million, and killed more than three and a half million people.