The Real Reason Dove Cameron Changed Her Name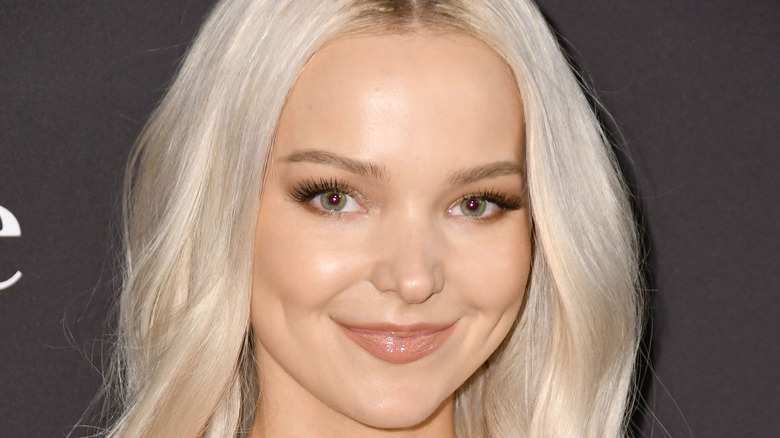 Shutterstock
In Hollywood, having to change your name is nothing new. For decades, many actors and actresses have come up with some very inventive pseudonyms for a variety of reasons, like being eligible to join actors' unions or to avoid being mistaken for other famous faces.
Most of the time, the last names are changed. Katy Hudson changed her name to Katy Perry so she wouldn't be confused for actress Kate Hudson (via Hollywood.com), and David McDonald changed his to David Tennant to meet Screen Actors Guild rules when he joined as a young actor (via the Guardian).
Sometimes, first names are changed. Emily Stone changed her name for the same reason as Tennant, as there was already an Emily Stone in the Screen Actors Guild (via MamaMia). She initially changed it to Riley, but eventually steeled with Emma as it was closer to her real name (via W Magazine).
But for actress Chloe Celeste Hosterman, it was a family tragedy that became the catalyst for her name change to Dove Cameron.
Dove's new name was given to her by her late father
In response to a Twitter user who asked whether the actress came up with her first name, Dove Cameron replied, "My father always called me dove. he took his own life when i was 15, i didn't get to say goodbye, so i changed it in honor of him." Her father, Philip Alan Hosterman, died just a few months before Cameron debuted on the Disney channel series "Liv and Maddie" as a teen.
"He took his own life, and he also was closeted, which we only found out after he died," the actress told Entertainment Weekly. "When I found that out, I was like, everything adds up. He was such a sensitive person. He had bursts of anger, but he was also beautiful and he designed jewelry and went to the Peace Corps." Cameron went on to say that she hopes to "write a movie about him one day, because my dad was just the most fascinating human being."
If you or anyone you know is having suicidal thoughts, please call the National Suicide Prevention Lifeline​ at​ 1-800-273-TALK (8255)​.