Here's What A Microcurrent Facial Really Does For Your Skin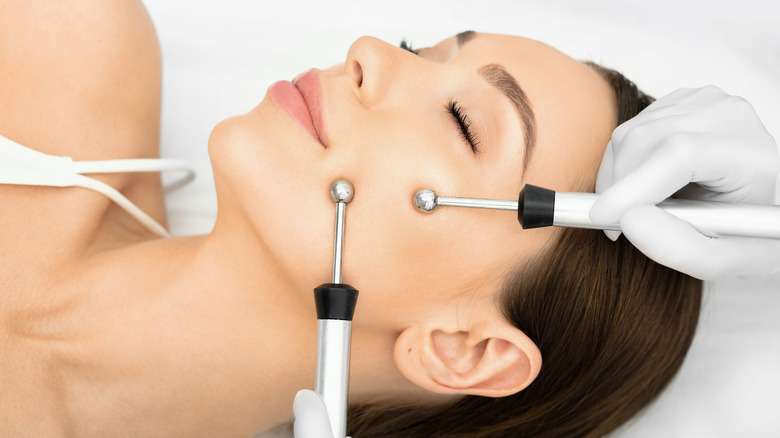 Shutterstock
There's no getting away from the fact that the beauty industry is constantly buzzing with new products, new skincare routine orders, and, of course, news of the newest "miracle" skincare solution. There are so many too-good-to-be-true products and tools out there, that it can be hard to separate the fact from the fiction when it comes to skincare. How do you know when a product really will do what it says it will, and thus is worth the investment?
According to Elle, the microcurrent facial is not another treatment that fails to deliver. It's a treatment that really does offer plenty of bang for your buck and delivers some fantastic results. But what is a microcurrent facial and how does it work? This innovative facial treatment uses a low level electrical current to "train" facial muscles, resulting in skin that looks more youthful.
Byrdie reported that a microcurrent facial works when electrical currents cause the facial muscles to contract, which trains them to sculpt the face — think of it like a gym workout but for your face. The treatment is performed using two handheld tongs that are designed to deliver a precise dose of low-level electrical currents to the muscles and dermis, leaving skin feeling wonderfully supple, toned, and firm, and generally more youthful in appearance. The nickname for this unique treatment is "the non-invasive face lift" as it leaves skin looking more toned, sculpted, and lifted.
What does a microcurrent facial do for your skin?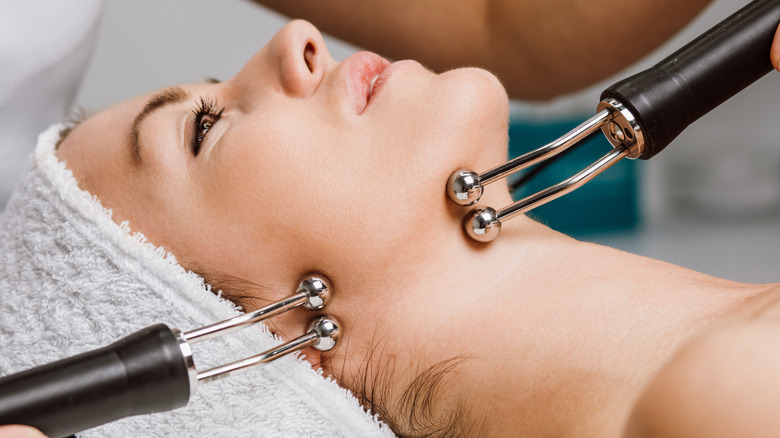 Shutterstock
As per Harper's Bazaar, if you've ever Googled a "microcurrent facial," the chances are that you've been met with some incredible — almost unbelievable — before and after shots of people's faces before and after microcurrent treatment. The results of microcurrent facials are so effective that they have drawn many cosmetic surgery and botox lovers away from invasive treatments.
The microcurrent used in the facial is utilized in a number of ways, from lifting eyebrows and sculpting the cheeks to stimulating collagen and firming skin, according to Byrdie. The idea of having electrical currents pulsed into your skin might sound daunting, but the treatment is perfectly safe and can actually be rather relaxing.
Joanna Vargas, a celebrity facialist, explained that, "This safe and painless facial helps erase fine lines and reduces the look of wrinkles while firming your skin to define your features. It improves muscle tone, reduces puffiness, increases cellular activity, and tightens pores." She concluded by saying that the final result, no matter how old or young you are, is healthier skin. Sign us up.