Simple Hairstyles That Only Require A Silk Scarf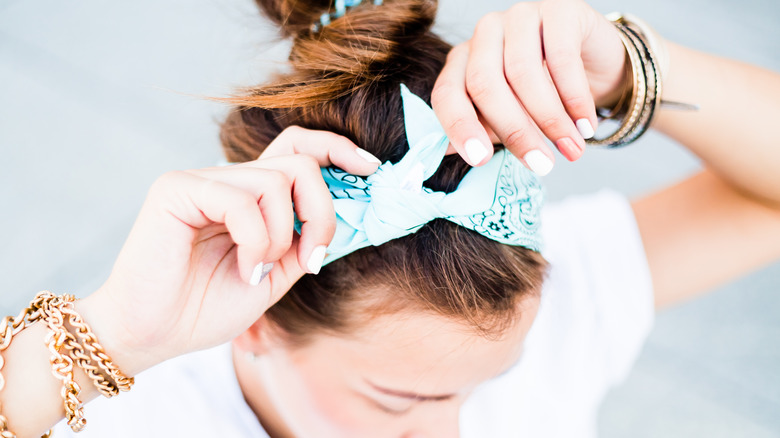 Shutterstock
Silk scarves were popular hair accessories in the 1970s, and some say that wrapping your hair in a silk scarf at night will prevent your hair from drying out. They're both fashionable and serve a purpose — our favorite kind of accessory. This makes them particularly poignant for creating simple hairstyles that only require a scarf, without needing extra accessories or gadgets. Whether you're low on time or just love a no-fuss look, these looks are for you.
One of the quickest and cutest ways to wear a scarf is in lieu of a hair band. You can pull your hair into a low ponytail and tie the hair together with a scarf, which will add a pop of color to your hair while adding dimension due to the rest of the scarf hanging down along with your hair (via The Mom Edit). Similarly, you can do a half-up look with a scarf, which will achieve a similar look as the ponytail in that you'll have loose scarf elegantly hanging down, but this time with half of your hair in a pony and half draping down your back. Both of these looks are timeless. 
There remain plenty of ways to style your hair with a scarf outside of ponytails. For example, The Mom Edit suggests using scarves to wrap a bun, using scarves as headbands, and wearing scarves as short wraps a la vintage Hollywood glamor. The buns can be high or low depending on whether you want all of your hair held together or if you want some to hang free, but either way, the scarf would be a fun spin on the traditionally used scrunchie or hair tie. PureWow notes that you can make a longer wrap that trains downward, which covers bad hair days.
These hair looks only require an extra bobby pin or two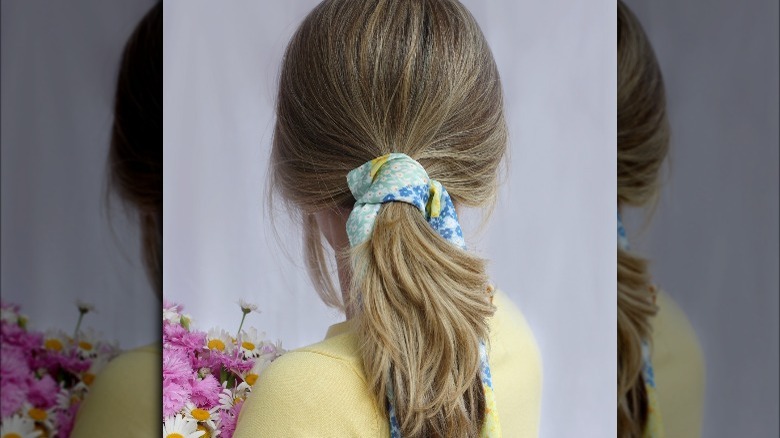 Shutterstock
All of the aforementioned looks can be completed without any hair accessories or gadgets outside of a scarf, but if you have a few hair ties and want to do something especially magical, the following looks will put you on cloud nine. The first look has been dubbed the Coachella Braid and involves a scarf being woven throughout your braid. It starts at the top of your head and snakes down your back as part of your braid, creating a colorful streak in your hair (via Cityline). A second option is a simpler braid that solely involves the scarf being twisted and tied together throughout the hair, instead of the scarf wrapping around the hair line, and then flowing into the braid as in the first hairstyle.
Finally, Cityline recommends trying the summer in St. Tropez look. This hairstyle revolves around you bringing a folded scarf around your hairline again, but this time pulling its tails underneath your ponytail and then bringing them up and over the ponytail to tie them off. This will make the scarf essentially hug your ponytail and hold it in place, and they even say you can then pull that ponytail into a bun afterward, which would create another unique look.
These three looks only require bobby pins or a hair tie which most of us always have on hand, so essentially, all you need is a silk scarf to completely transform for your everyday look.