What We Know About The Obamas' New Animated Netflix Series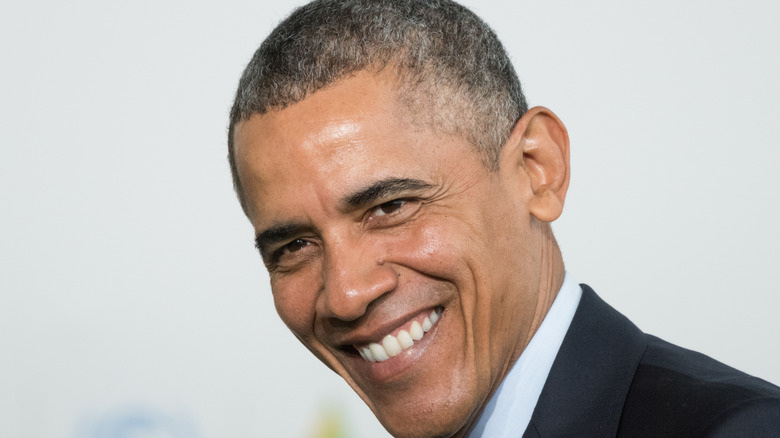 Shutterstock
Michelle Obama and former President Barack Obama have been quite busy ever since Barack exited the White House after back-to-back presidential terms. Although he mostly stepped away from the political spotlight — save for his commentary about former President Donald Trump's time in office, including a "blistering" speech about Trump while on the campaign trail supporting his former vice president, Joe Biden, during the 2020 election (via CNN) — Barack has mostly focused on his endeavors outside the political ring. He's ventured into the entertainment realm, with projects including his podcast with Bruce Springsteen called "Renegades: Born in the USA," as well as his and Michelle's production company, Higher Ground Productions.
"We created Higher Ground to tell great stories," the Obamas said in a statement (via Variety). "This group of projects builds upon that goal and the incredible path forged by films like 'Crip Camp,' 'Becoming,' and the Oscar-winning 'American Factory.'" The Obamas also noted that their production company would focus on a variety of genres, ranging from science fiction to environmentalism, and would allow them to reach viewers everywhere. "We couldn't be more proud to team up with the brilliant artists behind each of these stories. Each of them has something important to say," the couple noted. So what new project do they have up their sleeves? 
Barack and Michelle Obama's new animated Netflix series has people talking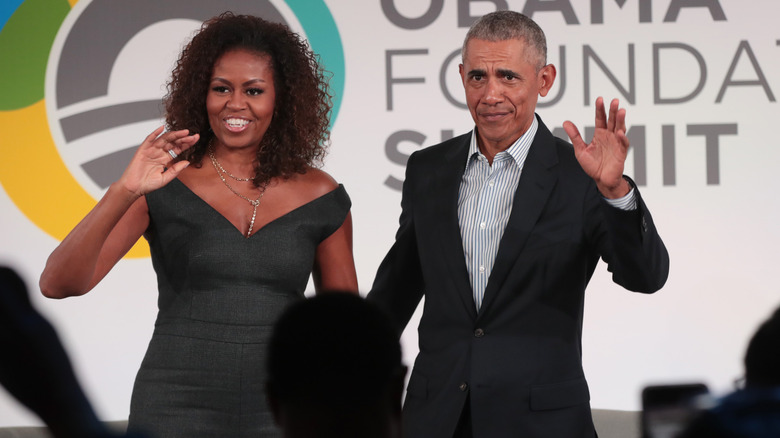 Scott Olson/Getty Images
Barack and Michelle Obama recently announced that their newest Netflix series, "We The People," will premiere on the streaming service on July 4, 2021, which is fitting considering the series is aimed at educating children on United States civic lessons. Per a press release, Entertainment Weekly slates the show as "an exuberant call to action for everyone to rethink civics as a living, breathing thing and to reframe their understanding of what government and citizenship mean in a modern world."
The series — which will feature ten episodes consisting of three-minute long music videos that cover a wide range of civics topics — will features artists like H.E.R., Janelle Monáe, Brandi Carlile, Lin-Manuel Miranda, Adam Lambert, and more. Poet Amanda Gorman is also set to perform in one of the episodes (via People).
After Barack took to Twitter to announce his and Michelle's latest project, social media users everywhere showed their support over the modern-day "Schoolhouse Rock!" series. "As an American citizen I can truly say you are the greatest president of all time," one Twitter fan wrote, while another said, "Thank you President Obama. #WeThePeople are so thankful to have had you and Michelle as our #President and First Lady." 
It sounds like the new Netflix series is a hit before it's even dropped, so time will tell just how impactful the series is once it becomes available on Netflix.