Skincare Products You Can't Live Without This Summer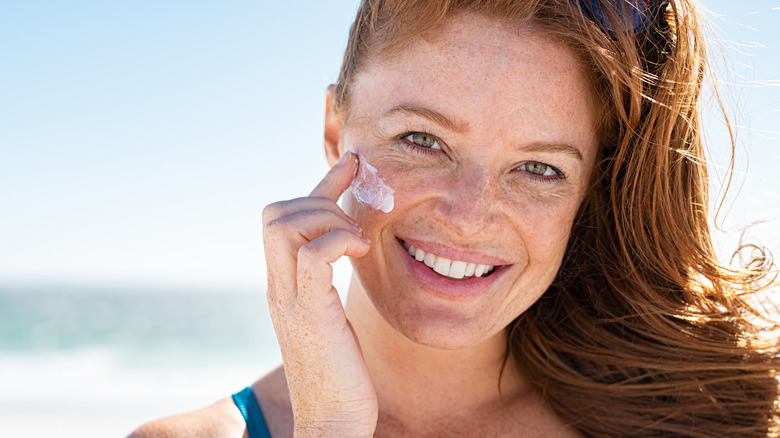 Shutterstock
You may think you're ready for summer with a new swimsuit, but don't forget to put summer skincare on your shopping list. As the seasons change, so should your skincare. The same way you wouldn't wear a winter coat and boots to the beach in July, you should consider the best skincare for the season. Here are some dermatologist recommendations for your summer skincare.
Obviously there's sunscreen, and you'll want to make sure that you're using mineral sunscreens that use zinc oxide that can help keep you safe from damaging UV rays and — bonus! — it helps keep reefs safe (via Save the Reef). For a mineral sunscreen ideal for doing anything active, Dermatologist Cynthia Bailey likes using Raw Elements Eco Formula SPF 30 pure 23% zinc oxide sunscreen (from $18.99), saying, "I wear this tenacious high-performance sunscreen when I need a product that I can't budge, rub, or easily wash off my skin" (via Dermatologist Dr. Cynthia Bailey's Skincare Advice Blog).
Once you get back from the beach or the pool or a hike, it may be tempting to scrub your face clean, but resist temptation. Dr. Julie Russak of Russak Dermatology recommends using a cleanser that will "remove sweat and sunscreen build-up without stripping the skin," like Gladskin Face Wash ($16). Another good option for a summer-friendly facial cleanser comes from Dermatologist David Lortscher, MD, who told The Healthy, "If you have oily skin in the summer, opt for a foaming cleanser such as CeraVe Foaming Cleanser" (from $13.48).
Keep your skin happy in summer with the right products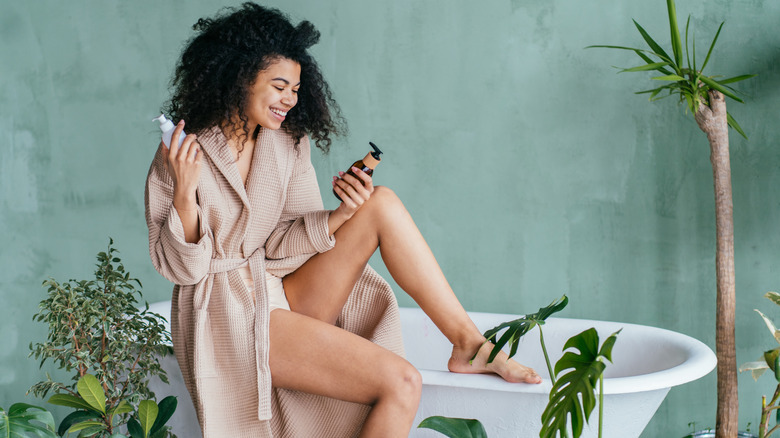 Shutterstock
And it's not just your face that can get stripped of the natural oils you want if you're using a harsh cleanser, your body can too. For washing your body, Dr. Russak likes Gladskin Body Wash ($20), it's gentle and designed for sensitive skin. And if your skin is feeling dry, Dermatologist Sapna Palep suggests Dove Body Wash, Deep Moisture (from $5.99), describing it as "like washing your body with a lotion" — plus it's paraben- and sulfate-free (via The Strategist).
If you've got eczema, summer can be tough, with flare-ups caused by excess heat. Dermatologist Erin Gilbert told Allure that, for those who have eczema, "put cornstarch or talc-free baby powder on areas where you tend to accumulate sweat to keep your skin drier. I like Burt's Bees Talc-Free Dusting Powder" (from $8.99). Another option from Dr. Russak is to use Gladskin Eczema Cream ($35). She said it will "restore balance in the skin's microbiome which can have an effect on redness, itchiness and overall discomfort."