Who Is The Bachelorette's Joshua Tylerbest?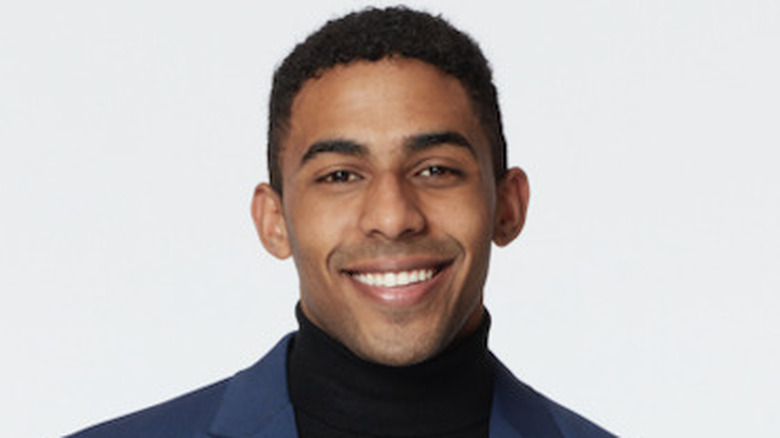 ABC/Craig Sjodin
Easily one of the most enduring reality show franchises in television history, "The Bachelor" and "The Bachelorette," have had quite the reckoning in the last year. Plagued by a slew of race-related controversies, for a while it seemed as if the reality juggernaut might not weather the storm. Well, it seems as though it has (for now), as Season 17 of "The Bachelorette" is about to drop — and we admit, we're excited.
One thing that producers of "The Bachelor" and "The Bachelorette" seemed to figure out in time for Matt James' season of "The Bachelor" was that the cast would benefit from an infusion of diversity (via Entertainment Weekly). And even though Matt's "After the Rose" special was essentially a train wreck, with him telling winner Rachel Kirkconnell that things were over (temporarily, as noted by People), it looks like there have been some lessons learned; according to E! News, the Season 17 cast of "The Bachelorette" is looking just as diverse as it is sexy, and we love to see it.
One of the hotties who will be vying for vying for bachelorette Katie Thurston's heart is Josh Tylerbest, an IT consultant from sunny Miami, Florida. Here's what we know about this super handsome hunk.
Josh Tylerbest is a self-professed hopeless romantic
According to Josh Tylerbest's profile on ABC, he's a self-professed "hopeless romantic who has always been very in touch with his emotions." He's also open about the fact that he is "extremely family oriented," and that he's seeking a partner who would enjoy spending time with his family playing card games and noshing on barbecue — sign us up! Tylerbest also dreams of visiting the continent of Asia one day, and revealed that he's a super-fan of the Christmas holiday.
In addition to those wholesome facts, Tylerbest has revealed a bit more about himself on his Instagram page. For one, he's a graduate of the lauded University of Florida, a feat he celebrated in May of 2018. While attending college there, Tylerbest was an active member of the cheering squad, which landed him some appearances on ESPN.
There's one more thing to know about Tylerbest, and we saved the best for last. As he posted in June of 2020, Tylerbest is proud to be a Black man, and is deeply invested in supporting his fellow Black men in all of their pursuits. We sure hope he fares well on "The Bachelorette" on this season, and in Bachelor Nation going forward!